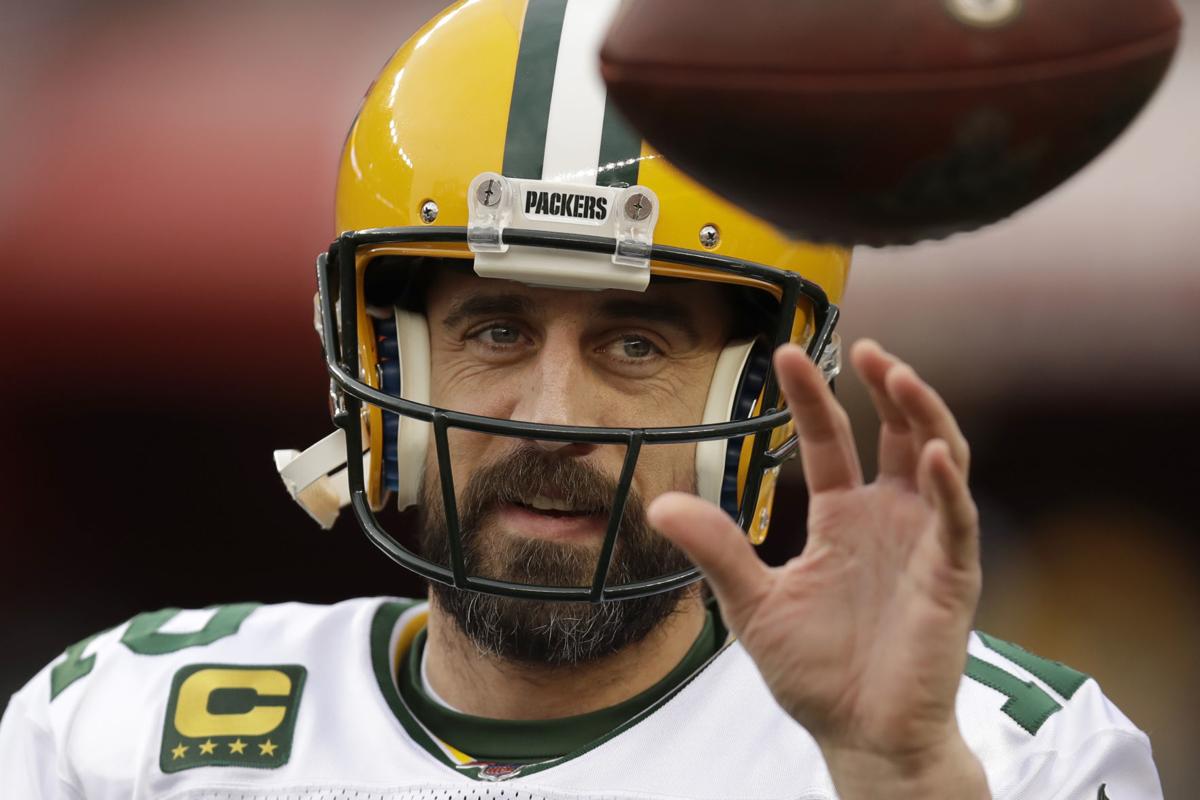 If you think Green Bay Packers general manager Brian Gutekunst wouldn't dare draft the heir apparent to 36-year-old quarterback Aaron Rodgers early in this year's NFL draft, consider the following.
Multiple reports after last year's draft indicated Gutekunst was willing to use his second-round pick — No. 44 overall — on Missouri quarterback Drew Lock. We'll never know, of course, because Denver made a trade and jumped two draft slots ahead of Green Bay to snag Lock, but the Packers had done extensive homework on Lock and clearly were interested.
The most interesting discussion entering this year's draft is whether Gutekunst would use his first-round pick — No. 30 overall — on a quarterback of the future. He said in February he wouldn't hesitate to take the plunge if the right quarterback was available, not unlike what the Packers did in 2005 when Hall of Famer Brett Favre was 36 and Rodgers unexpectedly slipped to them at the 24th pick in the first round. The gutsy decision to take Rodgers instead of giving Favre more help has led to 28 consecutive seasons of championship-level quarterbacking for the Packers.
Should one of the top four quarterbacks in this year's draft slide to the 30th pick or if the Packers have a first-round grade on one of the second-tier guys, Gutekunst will have to ask himself one question during Thursday's first round: Can he afford to spend that much draft capital on a quarterback of the future when he has pressing needs at several other positions and a still-elite quarterback on a team that finished one victory short of the Super Bowl?
The answer is, no, he can't. Gutekunst doesn't have the luxury of using a first-round pick on a quarterback who won't play for several years when his contending team has holes to fill at wide receiver, offensive tackle, defensive end and inside linebacker in a draft that should offer immediate-impact players at most or all of those positions.
Gutekunst has said it's difficult to pass on a quarterback you have graded as a potential NFL starter, a lesson he learned from former Packers general managers Ron Wolf and Ted Thompson. Rodgers sat for three seasons behind Favre but has started for 12 and is a sure-fire Hall of Famer. Still, comparing this year's draft to the 2005 version is largely invalid, and there are good reasons for that.
First, Rodgers isn't going anywhere in the immediate future.
By 2005, Favre was threatening to retire every offseason. He didn't for another five years, but the Packers didn't know that at the time. They had a right to feel a pressing need to find a successor.
Rodgers, on the other hand, has said he wants to play into his 40s and his performance last season, though slightly off by his standards, was still good enough for the Packers to go 13-3 and reach the NFC title game. He should be even better during his second year in coach Matt LaFleur's system, especially if the Packers can find a playmaking threat at wide receiver.
Besides, Rodgers' contract, which has four years remaining, virtually assures he will be the team's quarterback for at least the next two. Should the Packers release or trade Rodgers, the hit in dead salary-cap money would be $39.7 million in 2020 and $31.6 million in 2021, figures that would handcuff the Packers and derail the promising roster rebuild Gutekunst has been conducting since 2018.
Second, there won't be another Rodgers available late in the first round like there was in 2005.
Rodgers landing in Green Bay was one of the greatest flukes in draft history. San Francisco had the first pick overall in the 2005 draft, a need at quarterback and considered Rodgers and Alex Smith for that spot before choosing Smith. Because no team selecting between No. 2 and No. 23 needed a quarterback badly, Rodgers sat unpicked in the green room for hours before the Packers rescued him.
Fifteen years later, the situation is different. LSU's Joe Burrow, Alabama's Tua Tagovailoa and Oregon's Justin Herbert are likely to go in the top six picks. The only one who could do a Rodgers-like slide is Tagovailoa, whose hip injury scares some teams, but it wouldn't be all the way to 30.
Utah State's Jordan Love has all the tools to be a top NFL quarterback but is a project because he is a suspect decision-maker who played in a simplistic offense. Sitting behind Rodgers might be a perfect learning experience for him, but the NFL's need for quarterbacks has escalated since 2005. Love is unlikely to be on the board at No. 30 and the Packers have too many needs to trade up and get him.
Another option would be to take Oklahoma's Jalen Hurts or Washington's Jacob Eason in that spot, though most teams rate them as second-round picks and Gutekunst would be unwise to reach for one of them.
Third, this draft is capable of providing exactly what the Packers need to take the next step.
The draft board is loaded at wide receiver and offensive tackle, two areas of dire need. It's also possible a top-tier inside linebacker or defensive end could slide to No. 30. Those needs were exposed when San Francisco rushed for 285 yards against Green Bay in the NFC title game.
Clearly, the Packers must develop a succession strategy for Rodgers at some point. One of these years they'll have to bite the bullet and find a potential starter, maybe even with a first-round pick. But with Rodgers still in fine form and the team only a few pieces away from the Super Bowl, now is not that time.
---
NFL draft 2020 | Quarterbacks: Another year to wonder if Packers will have 'courage' to pick Aaron Rodgers' successor
NFL draft 2020 | Quarterbacks: Another year to wonder if Packers will have 'courage' to pick Aaron Rodgers' successor
Would Packers really pick a QB early in draft?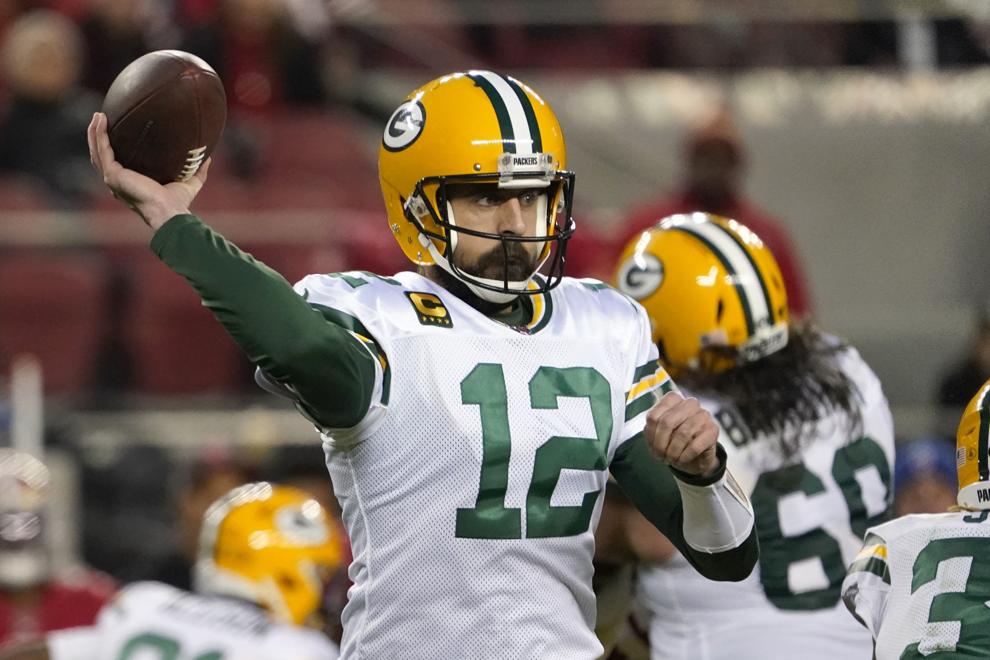 To hear Gutekunst tell it … yes.
Rodgers (above) finished his first season in head coach Matt LaFleur's offense having completed 353 of 569 passes (62.0 percent) for 4,002 yards with 26 touchdowns, four interceptions and 36 sacks for a passer rating of 95.4 — the third-lowest single-season passer rating of his career. Only his 93.8 rating in 2008, his first year as the starter, and his 92.7 rating in 2015 were lower.
Asked during a Q&A session with beat writers before leaving for the annual NFL combine in February if he thought it was too early to consider picking Rodgers' successor, Gutekunst replied, "Obviously he's still playing at an elite level. But for me, I was raised (in scouting) by Ron Wolf and Ted Thompson. If there's a quarterback we think can play, that's a starter in the National Football League, we'll never pass that up.
"But I'm really glad '12' is back there, again really excited to see what he can do in Year 2. I know Matt talks a lot about Matt Ryan (in Atlanta) and what he did in Year 2, the comparatives there. Obviously, Aaron has played at an elite level for a long time. Seeing what (Rodgers) did in Year 1 with Matt, I'm just really excited where the offense and he can go."
Gutekunst, who was the Packers' southeast area scout when Thompson picked Rodgers in the first round of the 2005 NFL Draft despite having Brett Favre in the middle of a Pro Football Hall of Fame career, said he isn't worried about how Rodgers would react to him taking a quarterback. That said, Gutekunst did call Thompson's decision "courageous" because not everyone was on board with the pick.
"I do remember Mike Sherman was our head coach and there were a lot of people not real thrilled about that (pick) at the time," Gutekunst remembered. "Ted had been back (as GM) for, what, three months? Something like that.
"If you really look back at that, Brett Favre is your quarterback, the coaching staff had been here, and Ted was (just) coming in. To have the courage at that time to do that, and what that one decision did for the organization for how many years later? That stuck with me. It could have been real easy to do something different. He thought that was the right thing to do, and he did it. That's always stuck with me."
Rodgers is under contract through the 2023 season and unlike his predecessor, Rodgers hasn't hemmed and hawed about possibly retiring the way Favre did annually. But, Rodgers seems to have prepared himself for the possibility of Gutekunst using a Day 1 or Day 2 pick on his position, even with the team coming off an NFC Championship Game appearance and with holes elsewhere needing to be filled.
"Look, I'm realistic; I know where we're at as an organization and where I'm at in my career," Rodgers said in an ESPN Wisconsin interview earlier this offseason. "I still feel like I have a ton of years left playing at a high level. I'm confident enough. I've always felt like it doesn't matter who you bring in, they're not going to be able to beat me out any time soon. I feel really confident about my abilities and my play.
"We've drafted guys over the years. My first year starting we drafted two quarterbacks in 2008. We've drafted various guys over the years. I understand the business and the nature of it. I'd obviously love to bring guys in that are going to be able to play and compete right away. I understand it's a business. I wouldn't have a problem."
Best in class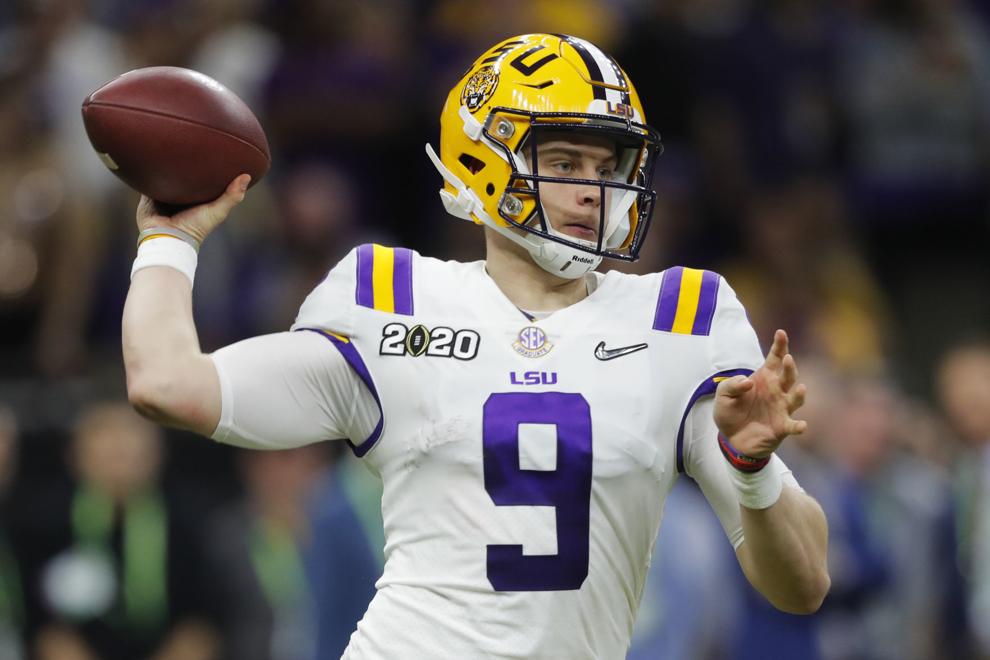 Joe Burrow, LSU
From an unhappy backup at Ohio State to a Heisman Trophy-winner and national champion, the next line item on Burrow's checklist is being the No. 1 overall pick by the Cincinnati Bengals. He'll mark that one off on opening night, with good reason: He has size (6-foot-3, 221 pounds), arm talent (downfield accuracy, excellent touch) and intangibles (intensely competitive, confident). After some talk that he might not play for the Bengals, Burrow has made it clear that he will go to Cincinnati, where he'll get to play in his home state.
"It's 2 hours, 15 minutes from my house. I could go home for dinner if I wanted to. Not a lot of pro athletes could get to do that," Burrow said. "I'm not going to not play. I'm a ballplayer. Whoever takes me, I'm going to go show up."
Next men up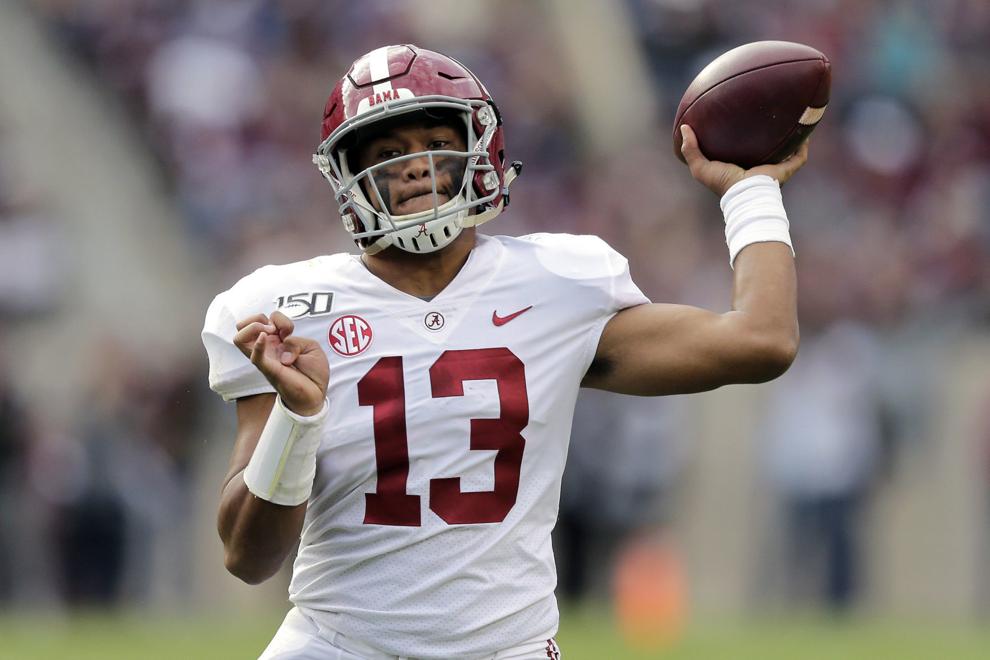 Tua Tagovailoa (above) — Alabama
Pick to click
Jordan Love, Utah State
The Packers were among the teams to hold "virtual" visits with Love, who was terrific as a first-year starter as a sophomore in 2018 (32 touchdown passes against six interceptions) but regressed statistically last year after a coaching change and the departure of nine offensive starters (20 TD passes versus 17 INTs). Most scouts feel he's a high-upside quarterback who would benefit from a year or two of developing as a backup behind a proven starter, as Rodgers did behind Favre. If he's still on the board at No. 30, he certainly could tempt the Packers.
"I feel that I still have a lot to improve on, but I'm getting better each and every day on the field," Love said. "In college, obviously, I ran a spread/high-tempo offense, and that's a bit different than the offenses they run in the NFL. I've got a lot of room to improve and learn.
"The most important thing to be is to be more consistent. You watch my film, there are some plays where I make an incredible throw, and the next thing you know, I miss a swing route on a checkdown. Being more consistent in all my throws, my footwork, in the pocket, under center, doing dropbacks and things like that. It's something I've practiced since the season ended."
Buy local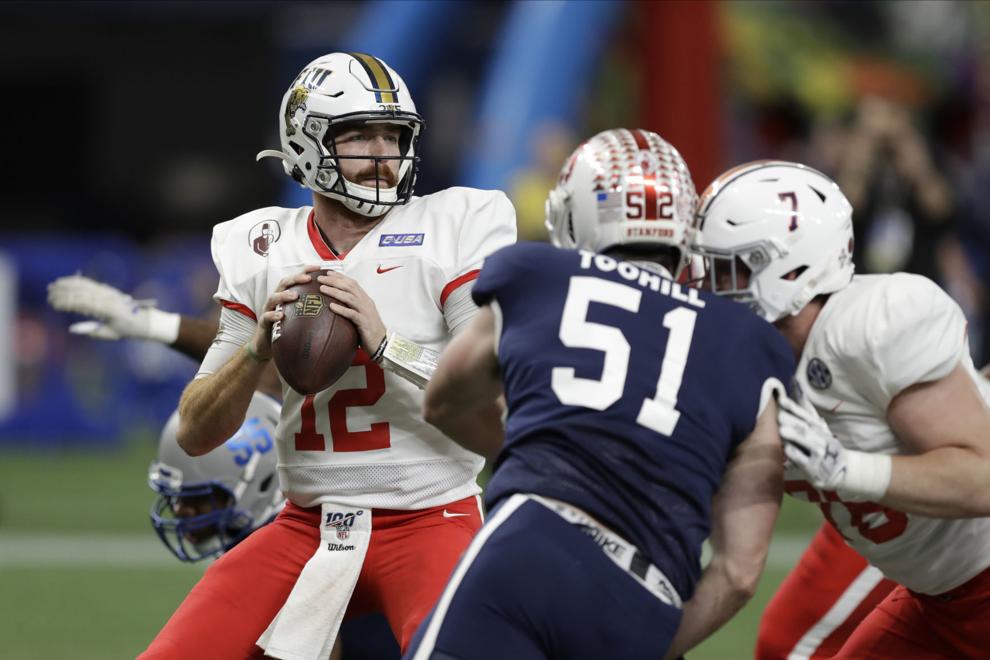 James Morgan, Florida International
Historically, the Packers have used late-round picks to take fliers on quarterbacks they saw as developmental prospects. It worked well under Wolf, who picked seven quarterbacks in the nine drafts he ran in Green Bay and flipped Mark Brunell (fifth round, 1993), Matt Hasselbeck (sixth round, 1998) and Aaron Brooks (fourth round, 1999) for extra draft picks after they served as backups behind Favre. Under Thompson, the Packers took fewer late-round chances on quarterbacks, as Thompson — after taking Rodgers with his first ever pick as GM — took only five other quarterbacks in his next 12 drafts: Furman's Ingle Martin (fifth round, 2006); Louisville's Brian Brohm (second round, 2008); LSU's Matt Flynn (seventh round, 2008); Tennessee-Chattanooga's B.J. Coleman (seventh round, 2012) and UCLA's Brett Hundley (fifth round, 2015).
Morgan, who grew up in the Green Bay area and attended Ashwaubenon High School just down Ridge Road from Lambeau Field, was one of the stars of the annual NFL the Packers could add another Day 3 quarterback well worth developing.
"It would be phenomenal. Obviously, that's my dream growing up," Morgan said. "Whatever team takes a chance on me I'm extremely excited for. If it works out for the Packers that would be a dream for me obviously, but really excited to be on an active roster."
Next: Running backs
---
Jason Wilde covers the Packers for ESPN Wisconsin. Listen to him with former Packers and Badgers offensive lineman Mark Tauscher weekdays from 9 a.m. until noon on "Wilde & Tausch" on 100.5 FM ESPN Madison.