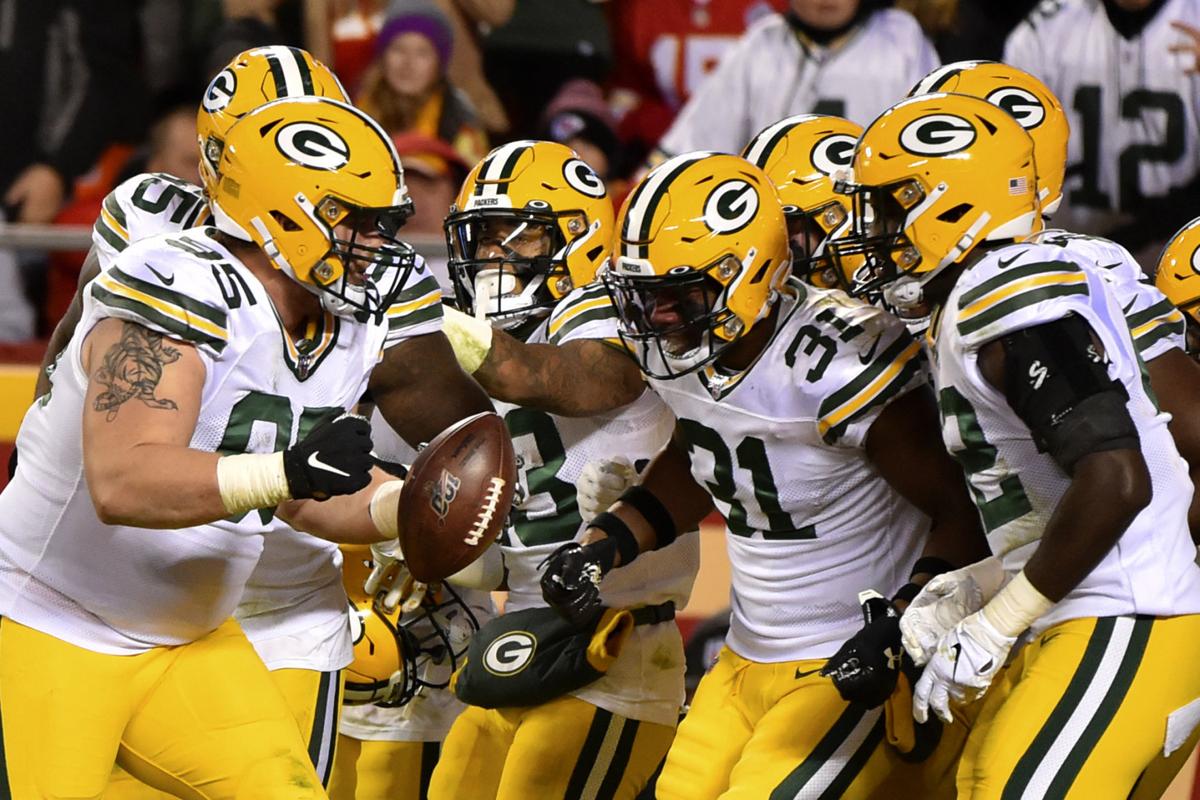 GREEN BAY — The trade deadline came and went Tuesday without the Green Bay Packers making a deal, which means they're happy with their current roster or the asking prices were out of line.
You have free articles remaining.
Based on the lack of trades in the NFL, it likely was due to the exorbitant price tags teams were putting on their players. Besides, it might not matter. The Packers have had so many pleasant surprises in the first half of the season that they might not need any help to close it out right.
The Packers might get another surprise or two in the second half, but here are the major ones so far:
I thought the Packers would be improved, maybe going 10-6 and making the playoffs as a wild card. Their 7-1 record exceeds even the most optimistic expectations, in part because they've been finding ways to win even though they haven't been dominant, in part because they're 3-0 on the road, all against teams — Chicago, Dallas and Kansas City — that won their divisions last season. There are three or four daunting road games in the second half, starting Sunday at the Los Angeles Chargers, but a 12-4 record isn't out of the question.
The relationship between first-year coach Matt LaFleur and veteran quarterback Aaron Rodgers was bound to draw scrutiny, but I thought all along LaFleur would be good for Rodgers. The quarterback needed a new challenge and his relationship with former coach Mike McCarthy had grown stale. Enter LaFleur, one of several offensive boy wonders around the NFL. While the flap over audibles dominated the early discussion, the real question was whether Rodgers could change his game by getting the ball out more quickly and throwing within the rhythm of the offense instead of constantly hunting the big play. Rodgers' low sack totals and use of the entire field and skill group in the passing game are signs he has bought into the scheme. Perhaps he has been forced to trust other receivers and spread the ball around in the absence of wide receiver Davante Adams, but Rodgers is too smart to ignore how the offense has thrived even without its No. 1 target.
General manager Brian Gutekunst's foray into free agency was a surprise to begin with, but his success — he's 4-for-4 — has been doubly surprising. The Smiths — Za'Darius and Preston — have energized the pass rush and the locker room. Adrian Amos has provided a veteran presence on defense and is a tough, in-the-box safety. And guard Billy Turner, though he doesn't always look pretty, usually gets the job done.
The top of Gutekunst's draft class has been a mixed bag of surprises. First-round outside linebacker Rashan Gary has shown he needs more work to effectively utilize his combination of size and speed. First-round safety Darnell Savage became an instant starter and has flashed playmaking ability. Second-round guard Elgton Jenkins displaced veteran Lane Taylor and has made a huge impact. Third-rounder Jace Sternberger has yet to see the field due to injury, but he's about to return. If he can fill a void as a tight end who can get deep, he could become a key to any continued improvement on offense.
Except for safety, guard was the Packers' weakest position last season. Gutekunst added Turner and Jenkins and together they have turned a weakness into a strength. Jenkins is the team's most powerful run-blocker and has held his own as a pass-blocker. Turner is a reliable veteran who doesn't get rattled.
Who knew running back Aaron Jones could be so valuable? Jones averaged 5.5 yards per carry in his first two seasons but couldn't stay healthy. Now the debate is whether the Packers are using him too much. Jones became the team's No. 1 playmaker after Adams went down, flashing as both a runner and receiver. He leads the NFL with 11 touchdowns and has the speed and cutting ability to take it to the house on any play.
LaFleur is the only first-year coach in the NFL with a winning record, proving he's more than just a cutting-edge offensive mind. As advertised, his deception-filled offensive scheme uses the entire field, his game plans are creative and he finds ways to get production out of every player. Jones is the best example. As a receiver under McCarthy, he was used mostly as a check-down guy. LaFleur has turned him into a matchup nightmare for defenses, even splitting him wide at times. More important, LaFleur was hired to help Rodgers get back to elite status and it appears he's doing that.
I thought this would be the year Marquez Valdes-Scantling would emerge as a solid No. 2 wide receiver behind Adams. So far, all MVS has shown is he's a deep receiving threat and little else. That being said, the wide receiving corps has shown it has complementary skills, especially MVS, Allen Lazard and Jake Kumerow. When Adams gets back, the group should be just fine, one reason the Packers didn't trade for a wide receiver this week.
After years of struggle, the defense has finally turned the corner under imaginative coordinator Mike Pettine. Sure, the porous run defense ranks 24th in the NFL and help is needed at inside linebacker, but Pettine's bend-but-don't-break approach has made it tough on opponents in the red zone, which is why the Packers rank 11th in scoring defense. They rank sixth in takeaways with 14, perhaps the biggest improvement on defense.
The big leg of punter JK Scott has bailed out the Packers on numerous occasions. He's fifth in the NFL in net yards per punt, which has zipped the lips of those who criticized Gutekunst for using a draft pick on a punter.
And in an area that will surprise no one, the special teams' return game has been pitiful. Beyond pitiful, really. The Packers rank 30th in kickoff returns and 32nd in punt returns, somehow managing to return punts for a minus-1.6-yard average.