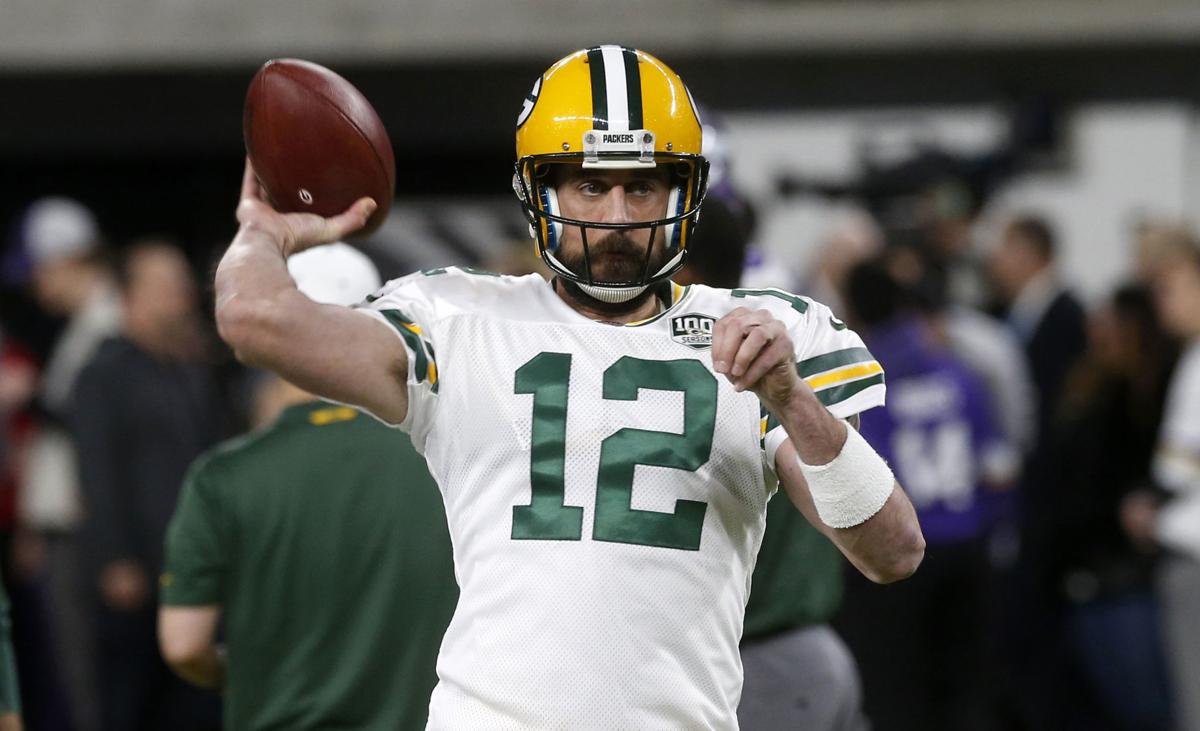 GREEN BAY — As a nation of quarterback coaches debates what has happened to Aaron Rodgers' fundamentals, the leader of the Green Bay Packers says he's just fine.
And he's got the hardware to prove it.
"I'm a two-time All-USA Fundamental Team (pick)," Rodgers said Wednesday. "I have the big helmets in my office."
Then the two-time NFL MVP turned serious.
"I don't think I need to respond about fundamentals," he said. "I mean, I drill the fundamentals. I throw how I throw. I'm not playing any different this year. It's just we're not completing as many passes percentage-wise."
The Packers aren't scoring as many points as they usually do either, which is why they are on the brink of playoff elimination with five games to play. Rodgers' occasional accuracy issues were the subject of debate locally for awhile, then ignited into a national discussion after he threw off-target passes to Davante Adams and Equanimeous St. Brown late in Sunday night's loss at Minnesota.
Suddenly, the finger of blame, which had been pointing at coach Mike McCarthy, shifted to Rodgers as people sought to explain the Packers' 4-6-1 record. On Wednesday, McCarthy and Rodgers were asked repeatedly about the growing notion Rodgers has abandoned his fundamentals in this, his 14th NFL season.
McCarthy basically said any problems Rodgers had were due to a combination of factors, including inconsistent pass protection, too many rookie wide receivers forced to play major roles, Rodgers' mobility being compromised by the injury to his left knee in the opener and his chemistry with the new receivers suffering because he wasn't able to practice after the injury. McCarthy also said the Packers drill quarterback fundamentals such as footwork every week, just like they always have.
"All those things are part of the way we've always played here and obviously Aaron has done it at an incredibly high level," he said. "You've got to remember what's on the other side of that (debate). On the other side of that is the time clock of the route, the type of coverage you're getting and so forth. When it's really good, it's nice to stand in here and say great things about individuals, but I'm not going to get into (a critique). That's about as specific as I think I can give you right now. To sit there and go through every throw and every footwork, it takes two. It takes the guy throwing it and the guy running the route. The biggest part of it, too, is the protection and the (throwing) platform that he's dealing with."
You have free articles remaining.
I'm inclined to agree that Rodgers' accuracy issues stem in part from the Packers' offensive problems in general. However, when I put on my own quarterback-coach hat, evidence tells me Rodgers' injury, the severity of which has never been reported, has indeed changed the way he has played, physically and/or mentally.
First, he isn't stepping into his throws as much as he used to, which affects accuracy. Is that a byproduct of pain in his knee or a natural reaction to keep the knee out of harm's way? Only Rodgers knows that.
Second, he isn't avoiding the rush and escaping the pocket with the same quickness. Rodgers was always good for two or three running first downs per game. Not this year. Often, he's getting caught from behind while leaving the pocket, a sign that the knee isn't 100 percent.
Finally, he's not throwing as well on the move as we're used to seeing, especially running to his left. It looks like he's not able to snap his feet back underneath him and fire a pass as quickly as he usually does.
Those deviations from the norm must be injury-related because this is the first time in Rodgers' career we've seen them. That means one of two things: Either the injury is limiting him or his skills vanished overnight at age 34 (he turns 35 on Sunday). Since few players decline that quickly, it seems logical that the injury has compromised his fundamentals at least somewhat.
Rodgers, like most football players, is loathe to admit that an injury is affecting performance.
"I don't put a lot of weight into a pundit on ESPN talking about fundamentals," he said. "I listen to my quarterback coach and my offensive coordinator and my head coach. My study of myself, I'm very critical of my own film. I'm not playing any differently, fundamental-wise. You can't have it both ways. You can't love it when it's a certain way and then critique it when it's the other way."
Critics have also fixated on Rodgers' decision-making, saying he holds the ball too long trying to make big plays. Duh, what have they been watching? Rodgers has always played with his eyes downfield and has made hundreds of big plays that way.
"I'm comfortable with the decision-making," McCarthy said.
Rodgers said the team's emphasis in 2018 was to add speed and go downfield more because his yards-per-attempt had been in decline. Interestingly, he said when he takes shots downfield, he usually has a three-man progression before he gets to a check-down pass, and that looking at only one receiver before going to a check down would require a different offensive mindset.
It seems obvious Rodgers' accuracy issues are a product of many things, not all of which are under his control.