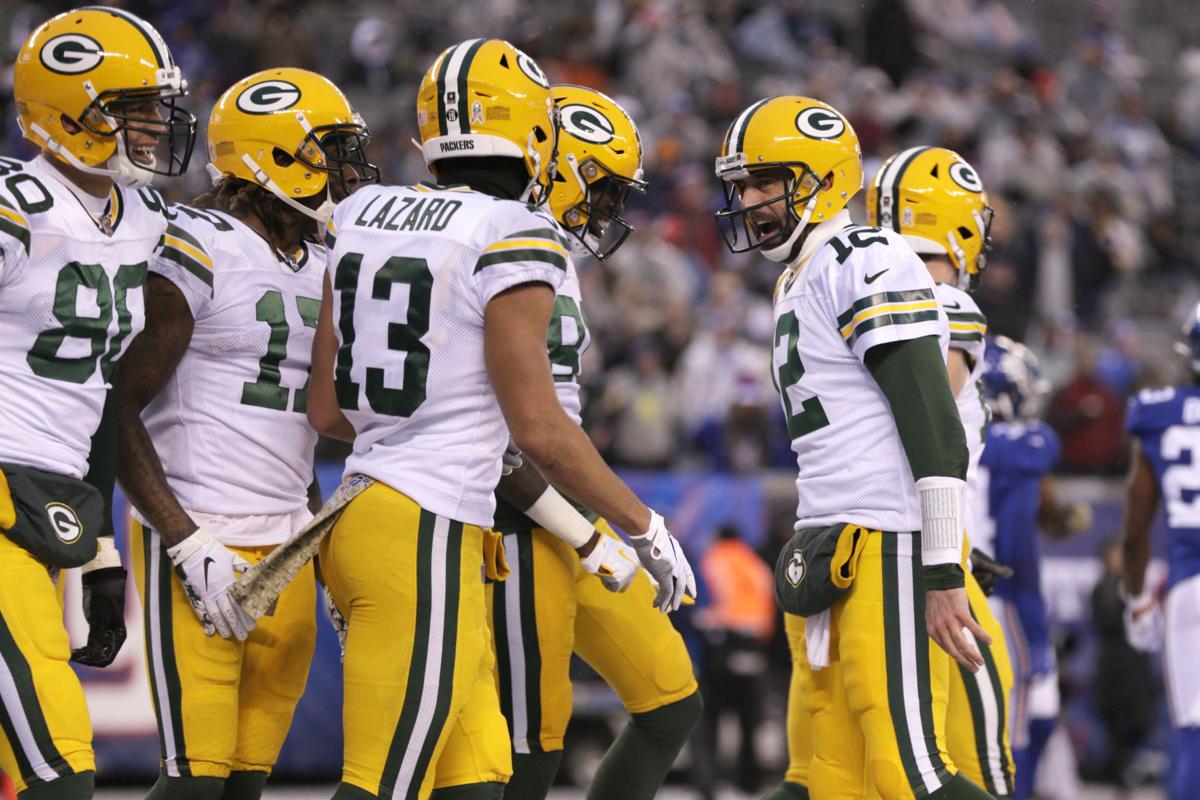 GREEN BAY — With only four regular-season games left, the Green Bay Packers still haven't formed a clear-cut identity under first-year coach Matt LaFleur.
Whether on offense or defense, the Packers haven't found anything that works consistently from game to game, something they can hang their helmets on whether they're facing a playoff contender or a team that's playing only for pride.
However, faced with a choice between building his team's long-term identity or figuring out how to win the next game on the schedule, LaFleur's game plan never changes. Or it always changes, if that's how you want to look at it.
"We're going to do whatever it takes to win," LaFleur said Wednesday. "I'll leave (the identity) up to you guys."
OK then, here goes: At this point in the season, forging an identity is no longer important for the Packers. They can concentrate on doing that in future years under LaFleur, when they get the roster filled with players who better fit what they want to do.
With a 9-3 record that puts them right in the thick of a five-team scrum at the top of the NFC, the Packers have a great opportunity and need only to continue doing what they're doing to capitalize on that. They must keep on finding ways to win despite an offense that sometimes runs well, sometimes throws well but seldom does both at the same time and a defense that forces turnovers but can't consistently stop the run or prevent big plays.
People are concerned that winning by hook or by crook as Green Bay has done won't be sustainable in the playoffs and they might be right. At this point, however, other things are more important to the Packers.
Standing atop the list is getting to 12 wins and securing the first or second seed in the NFC playoffs, largely because of the home-field advantage and the bye week that goes with it. Those things are always important, but with the NFC looking top-heavy this season, they are more important than ever, especially for a team that can use all the help it can get.
"I think the NFC is as deep as I've seen it in a long time, especially with the number of teams that have eight or more wins," quarterback Aaron Rodgers said. "I think home-field advantage will definitely help. You've seen some of the bigger games this year from some of the top seeds, home-field advantage has meant something in those games. So we'd love to be one of those top-two seeds and have to have a team come to us after a week break. But we have a long way to go until we get there."
You have free articles remaining.
The final stretch of road for the Packers starts Sunday when Washington comes to Lambeau Field. After that, they play Chicago at home before finishing with games at Minnesota and Detroit.
Meanwhile, the logjam atop the NFC looks like this: New Orleans, Seattle and San Francisco at 10-2, Green Bay at 9-3 and Minnesota at 8-4. Everyone points to the trip to Minnesota on Dec. 23 as the most important game on the Packers schedule, but the opposite might be true. If the Packers win their other three games and lose at Minnesota, they will finish 12-4 and claim the NFC North Division title based on having a better division record than the Vikings.
If they get to 12 wins, the Packers can think about overtaking some of the teams that currently have 10. Reeling in the Saints might be hard, but the three West Division teams — the Seahawks, 49ers and Los Angeles Rams (7-5) — play a late-season round-robin and should beat each other up. San Francisco must also play at New Orleans.
That means an opening likely will exist for the Packers if they can just win the games they're supposed to win.
"We're taking it game by game, but obviously big picture, we'd love to have as many games here in January as we can," wide receiver Davante Adams said. "We've put ourselves in a good position right now, but (it's) making sure we go out and handle business and win those games leading up to the playoffs."
As a team that hasn't fired on all cylinders yet and doesn't seem likely to find that football nirvana this season, the Packers' postseason future depends on it. The NFL playoffs once were known as a land of opportunity and never was that more true than in 2010 when the Packers won the Super Bowl as the NFC's sixth seed. But such rags-to-riches stories haven't been the case lately.
In the past six years, only No. 1 and No. 2 seeds have reached the Super Bowl. Eight No. 1s and four No. 2s got that far, a sign that the inherent advantages of playing on your home field and taking a week off are becoming greater factors in playoff success.
That might be especially true this season when the No. 3 and No. 4 seeds — also division winners — will be hosting stronger-than-usual wild card teams from the West and North. Avoiding the first weekend of the playoffs should be the Packers' top priority. Well, other than themselves.
"I think you have to have a general view of the landscape of the league, but ultimately it comes back to us and us taking care of our own business," LaFleur said. "It's the same message. Go 1-0 this week. And that's the mentality our guys have really taken to this year and I think they've taken that to heart and they've done a really good job with that."
Their week-to-week adaptability has served the Packers well. It still can, too.