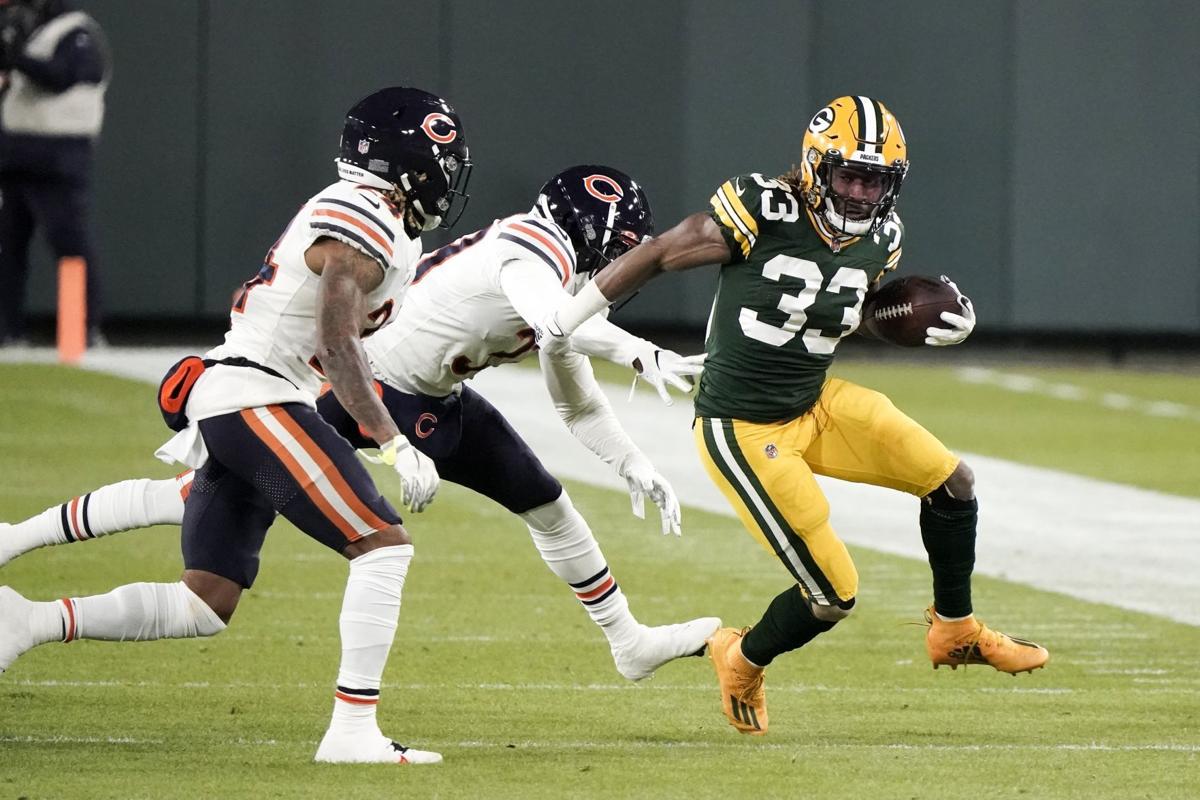 Tom Oates grades the Green Bay Packers' performance as they improved to 8-3 with a 41-25 victory over the Chicago Bears in an NFC North showdown Sunday night at Lambeau Field in Green Bay. 
Offense: B-plus
Aaron Jones ran the ball five times for 33 yards on the first touchdown drive. That set the tone for an offense that kept the Bears on their heels. Aaron Rodgers-to-Davante Adams never gets old — unless, of course, you're from Chicago. Corey Linsley had to leave for the second straight game, but rookie Jon Runyan stepped up again.
Defense: B
After one running play, Chicago was averaging 57 yards per carry. The Packers buckled down against the run after that. The Smiths were back at it — finally — on Za'Darius' sack-fumble and Preston's recovery for a touchdown. On his two interceptions, Darnell Savage showed the speed and range Green Bay was seeking when it drafted him.
Special teams: C-plus
Mason Crosby won his battle with elite kickoff returner Cordarrelle Patterson, though he struck his first kick into the wind poorly, sacrificing field position. With the wind, Crosby either pinned Patterson in a corner or pounded it deep into the end zone. Shawn Mennenga wisely replaced Darrius Shepherd with Malik Taylor on kickoff returns.
Coaching: B
Matt LaFleur could have settled for a field goal and a 16-3 lead but went for it on fourth-and-2 from the 28 and eventually got a touchdown. He's shown that kind of aggressiveness all season. The play-action bootleg pass near the goal line works every time. Mike Pettine should be prevented from ever employing a prevent defense again.
Overall: B
The Packers haven't lost two games in a row since LaFleur and Rodgers teamed up and they bounced back after a tough loss to Indianapolis. Their 8-3 record is the only winning mark in the NFC North, all but guaranteeing the Packers the division title. There are more important prizes out there, though, and the defense still needs work.
---
Photos: Packers cruise past Bears to stay in control of NFC North