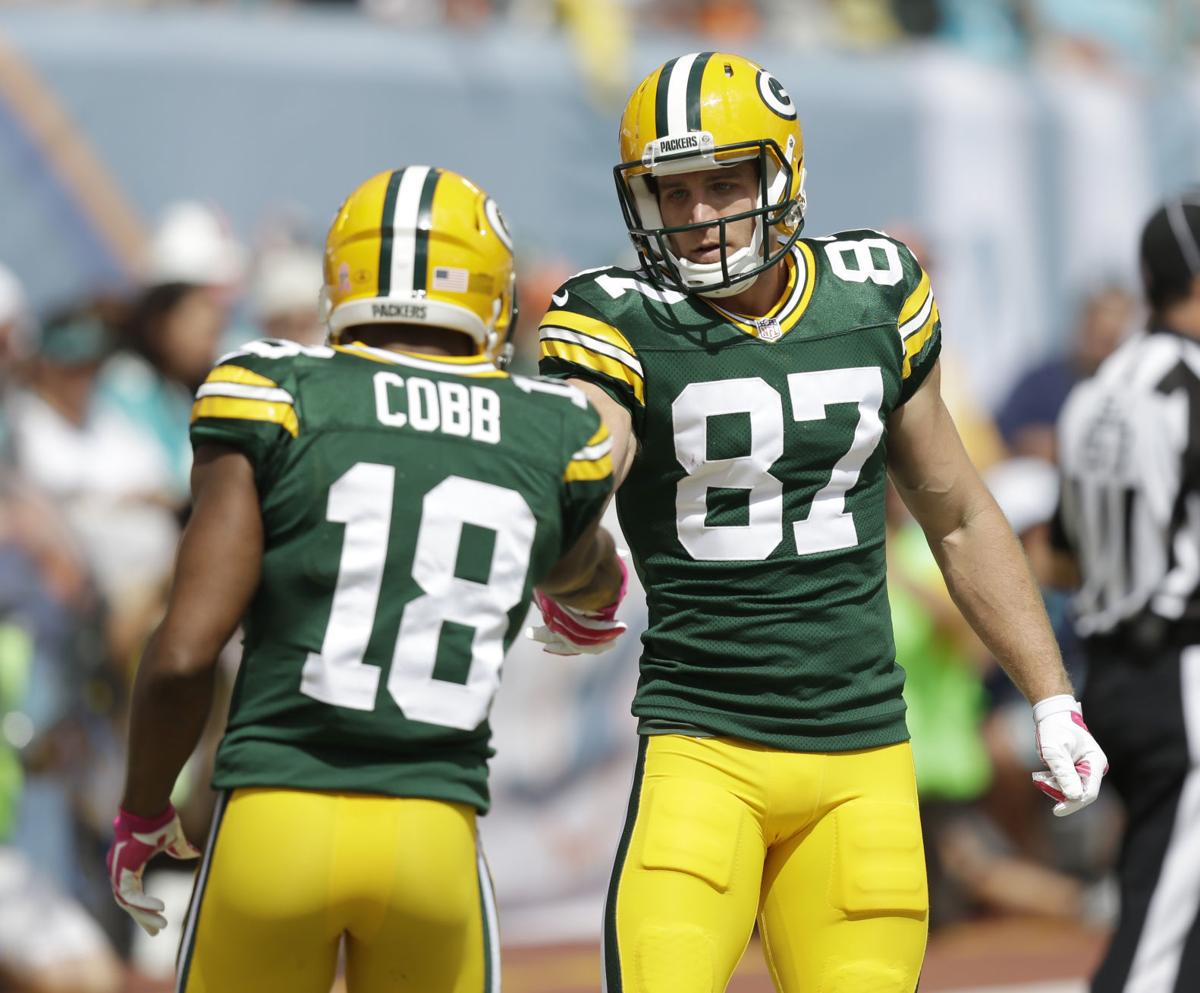 GREEN BAY — James Jones admits he's biased when it comes to Jordy Nelson and Randall Cobb. Then again, the ex-Green Bay Packers wide receiver was willing to call Nelson "old," so maybe Jones is able to look at his two former teammates more objectively than he thinks.
But as Packers new general manager Brian Gutekunst and coach Mike McCarthy mull whether the team can afford to have three wide receivers — Nelson, Cobb and No. 1 receiver Davante Adams — with salary-cap numbers of over $10 million on the roster, Jones has some advice:
Don't make a decision based on dollars and cents that doesn't make football sense — and leaves star quarterback Aaron Rodgers without two of his favorite weapons and closest friends and teammates.
"It's crazy, because once you get money involved, really all the loyalty and everything goes out the window. (The team) has to really do right by money," Jones, who played nine NFL seasons (eight with Green Bay) before retiring in 2016, said during an interview on ESPN Wisconsin's "Wilde & Tausch" at midweek.
"If I was the GM, knowing that Jordy probably only wants to play one more year, I sit Jordy down and I say, 'Look, how can we restructure you? How can we get this done so you can come back? I want you, Davante and Randall on the field so we can make another run at the Super Bowl (now that) we get Aaron back.' How can we work this out so it's good for both parties and you can retire as a Green Bay Packer?'
"As for Randall, I've been in that offensive room with Coach Mike and him putting in the game plan. So I understand how valuable Randall is — to all of the packages. You can put him in the backfield, you can line him up in the slot, you can line him up outside, he can run the ball.
"I think Randall is too young to take a pay cut. Jordy? He's old. Jordy's on his way out. So you get one, two more good years out of Jordy, that's good. … But I would definitely keep both of them."
The Packers signed the ascending Adams to a four-year, $58 million extension that included an $18 million signing bonus and $30 million in guaranteed money in late December.
Nelson, who turns 33 in May, is entering the final year of a four-year, $39.05 million extension ($11.5 million signing bonus) he signed before the 2014 season. He's scheduled to earn a $9.2 million base salary in 2018, and the Packers would save more than $10 million in cap space if they cut him.
The 27-year-old Cobb is entering the final year of a four-year, $40 million deal he signed in March 2015 and is set to count $12.7 million against the salary cap this season. His scheduled 2018 base salary is $8.6 million, and the Packers would save roughly $9.5 million in cap room if they released him.
Forced to play with backup quarterback Brett Hundley in the wake of Rodgers' Oct. 15 broken right collarbone, which cost the two-time NFL MVP 10 games last season, Nelson caught 53 receptions for 482 yards (9.1 yards per catch) and six touchdowns in essentially 14 games last season — one year removed from catching 97 passes for 1,257 yards and a league-leading 14 touchdowns and winning the 2016 NFL comeback player of the year award.
Including a seven-snap, catch-less stint at Atlanta in Week 2 when he suffered a quadriceps injury early in the game, Nelson caught 20 passes for 240 yards and six TDs before Rodgers' went down and had three receptions for 28 yards in Rodgers' one-game return against Carolina on Dec. 17. With Hundley, Nelson caught just 30 passes for 214 yards and no TDs.
"Let's not forget, Jordy was leading the league in touchdowns when Aaron was healthy. And then Brett came in and his stats fell down," Jones said. "I still believe Jordy has one to two good years left in him at a high level."
"That's an issue for them to figure out, what they want to do. But I think there's ways to get it accomplished, so I'm not worried about it," Nelson said. "And if they give me a call, I'll listen and see what they want to do."
Jones argued that Nelson can still be effective with Rodgers, who is supremely accurate, can throw into tighter windows than Hundley and has a lightning-quick release. And Jones should know: When he came back in 2015 after Nelson's season-ending knee injury that summer, Jones — by his own admission no longer fast — caught 50 passes for 890 yards and eight touchdowns after being cut by the Oakland Raiders and New York Giants.
"When you come out of your break, even if you ain't fast and you've got one inch of separation, the ball is there right when you come out of your break," Jones explained. "You could treat me like a gunner — and Deion Sanders and Richard Sherman are both out there (in coverage) — if the ball's on time like Aaron's throwing it, I'm going to have an opportunity to catch it.
"When you've got a quarterback who throws with anticipation and is able to get the ball out on time right when you get out of your break, if you're an older receiver, that's going to benefit you. And that's why I'm saying, 'Let's keep Jordy around.' Because '12' is going to be healthy. Yeah, Jordy's getting a little bit on the older side, but he's still understands how to run routes. I'm sure Mike McCarthy will do some things where he's putting him in the slot some, putting him in stacked formations, giving him off coverage so he can create some separation, and the ball will be on time. I think he'll pick up where he started off this past year."
Cobb, meanwhile, is another issue. After a boffo contract year in 2014 (91 receptions, 1,287 yards, 12 touchdowns), Cobb battled season-long shoulder problems in 2015 (71 catches, 829 yards, six TDs) and missed three games and parts of two others with various leg injuries in 2016 (60 receptions, 610 yards, four touchdowns). Cobb was healthy most of last season, but Rodgers wasn't — which led to another down statistical year (66 receptions, 653 yards, four touchdowns).
McCarthy has frequently spoken of the importance of getting Cobb involved, saying the Packers' offense is more dynamic when Cobb is getting the ball. Cobb grew understandably frustrated during the second half of the season because of his limited involvement — although he never expressed his irritation publicly — and it's unclear whether the Packers feel his limited production in 2017 was largely Hundley-related.
"To me, for Randall, I say you pay him that money this year and you let him go out there with a healthy Aaron," Jones said. "You utilize him like you've been utilizing him, moving him all over the place, and I think we'll see the Randall that we're used to seeing."