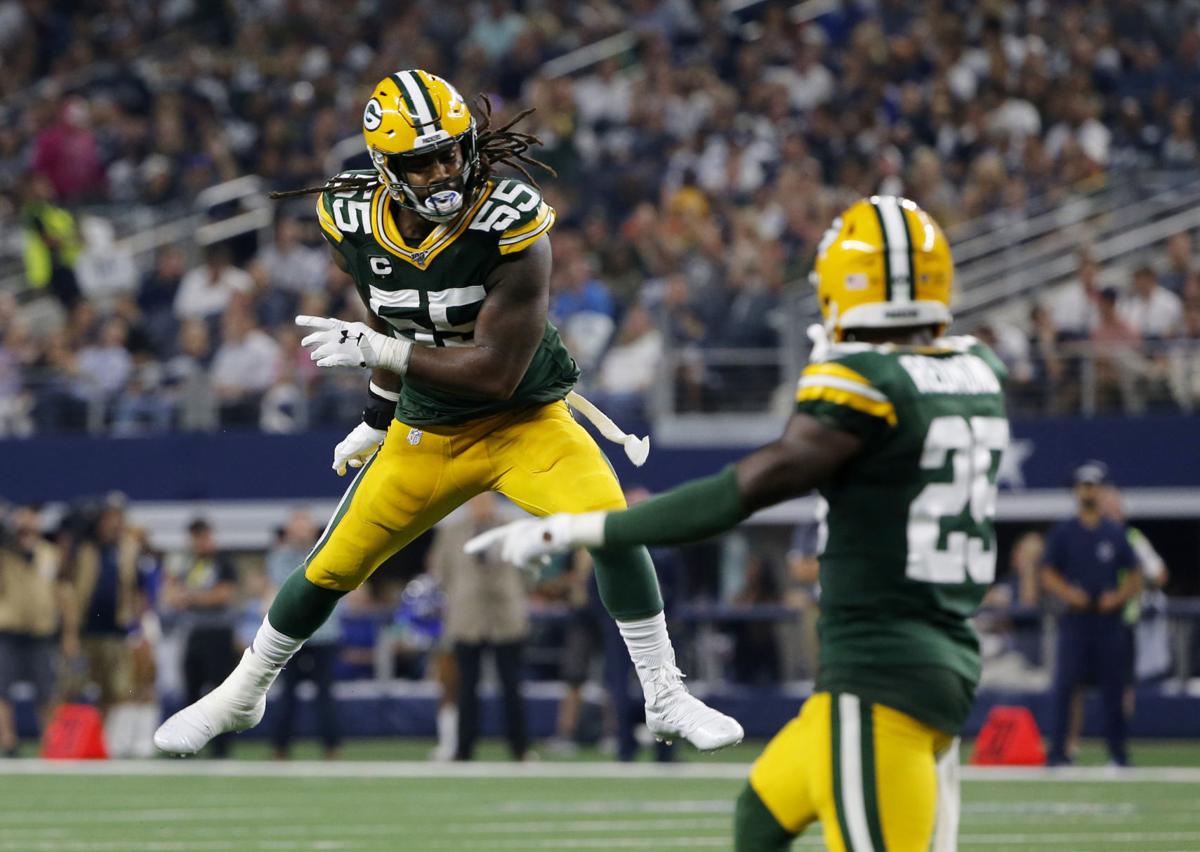 GREEN BAY — The Green Bay Packers' dressing room was almost silent Saturday afternoon, save for the murmur of a few low-volume conversations.
Most of Za'Darius Smith's teammates had long since departed Lambeau Field following the team's final full-fledged practice of the week in advance of Monday night's game against the Detroit Lions. But there the Packers veteran outside linebacker and defensive team captain sat at his locker, an acquaintance's iPhone pressed against his ear.
The previous Saturday, Smith had come across on social media a video clip of Pro Football Hall of Fame linebacker Ray Lewis, speaking on Showtime's "Inside the NFL." A Packers fan had tagged Smith's Twitter handle (@TheRealZSmith), and he'd noticed.
"The Green Bay Packers have a real issue on defense," Lewis was saying. "And that is, in that front seven, they don't have that dictator no more."
It's hard to say exactly what Lewis — an NFL icon who made 13 Pro Bowls during his 17 NFL seasons, all with the Baltimore Ravens — meant by his ambiguous "dictator" word choice. But Smith, and others inside the Packers locker room, interpreted it as a shot at the team's defensive leadership — and, in turn, a shot at Smith.
Now, Smith was listening to an audio clip, one recorded only a scant few minutes earlier, just several feet from Smith's locker. On it was the voice of quarterback Aaron Rodgers, who'd been asked about Lewis' remark and what he himself thought of Smith's leadership ability.
Rodgers has been one of Smith's biggest supporters since Smith arrived on a four-year, $66 million free agent deal. He has talked repeatedly about the "energy" and "vibe" and "leadership" that he believes Smith has been integral in creating. In fact, when asked about Smith on Saturday, Rodgers' initial response was a smiling "Haven't I said enough about him already?" before relenting. Then, Rodgers leaned against a nearby trash can and answered.
And now, Smith was listening to that reply.
"I think it's dangerous for any person to use conjecture as fact," Smith heard Rodgers say. "Especially someone who's not in this locker room.
"Everybody in this locker room not only respects 'Z' as a player, but I think genuinely loves him as a person. Because he has contagious, infectious energy and a great charisma about him where, when he talks, everybody listens. But he does it in a way that's coming from a positivity and love and a general passion for the game. You add all that up, and in my humble opinion, that's what makes a great leader."
You have free articles remaining.
Several times, Smith nodded. When the clip ended, he smiled.
"That means a lot," he said softly.
He was then asked if, in contrast, Lewis' words had hurt him. Smith had come to the Packers from the Ravens, having met Lewis multiple times during his four-year career in Baltimore.
"It really did, because he's a guy who knows me. You know?" Smith replied. "He knew me in Baltimore, he knew what type of player I was. He had (now-Ravens defensive coordinator) Wink Martindale as his linebackers coach. And Wink has known me since I first got there. So to hear that from him, man, and knowing I'm in a new position and a new place and knowing what I'm bringing to this team, that disrespect, it hit home for me."
Smith said he has not heard from Lewis since the show aired but that Packers outside linebackers coach Mike Smith, who played with Lewis in Baltimore, got a call from Lewis earlier this week.
"I feel like this has been a new start for me. I learned (leadership) from some legendary guys, and I took that and put it in my pocket and brought it with me here. Here, I was expected to be a leader, with the deal that I got from the Packers. That leadership comes with it. So I felt no hesitation. Just be myself — be the guy who I am. And it'll all work out."
It's working out quite well — no matter what Lewis may have implied to the contrary. And while Smith's statistical impact on the Packers defense has been undeniable (five sacks, 17 quarterback hits, 30 quarterback pressures in just five games), the leadership he has brought to that side of the ball has been unquantifiable — but no less tangible.
The day after hearing Lewis' comment, Smith sacked Dallas Cowboys quarterback Dak Prescott twice in the Packers' 34-24 victory at AT&T Stadium. After one of the sacks, Smith imitated Lewis' infamous dancing celebration, much to the delight of his teammates.
But by Monday, he was back to leading the only way he knows how. Last week, the Packers added a young outside linebacker named Tim Williams via the waiver wire. Williams had been a third-round pick by the Ravens in 2017, and had been Smith's teammate in Baltimore for those two years. Having been cut by the Ravens after four games, Williams' fresh start also came with a new playbook that bears only a passing resemblance to the Ravens' version.
So he's been spending several nights a week at Smith's house, getting 1-on-1 tutoring.
"He's like a big brother to me," Williams said. "We really just talk football, but also, I tell him how much I'm proud of him — seeing him with the Ravens and now come into a situation like this where he's 'The Guy' and making a lot of plays.
"Being around a guy like that makes you want to play harder and makes you want to attack the playbook hard. It really motivates you, being around a guy like that."