Jason Wilde offers three keys for the Green Bay Packers in their Week 8 matchup with the Los Angeles Rams on Sunday at Los Angeles Memorial Coliseum. 
1. THE EYES HAVE IT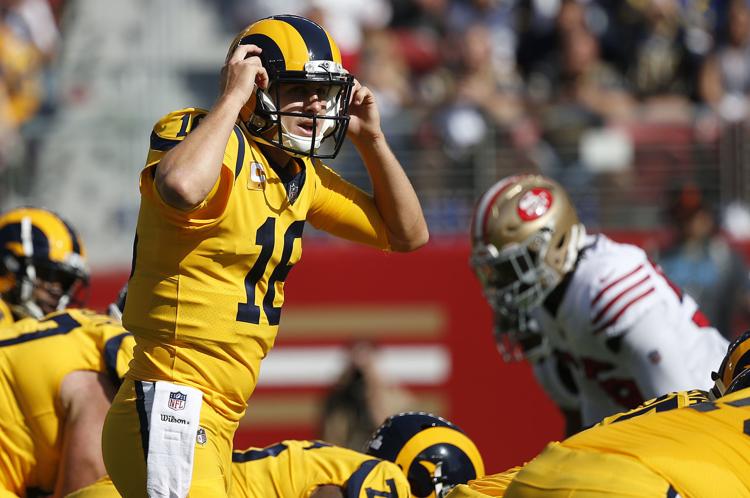 With all the motioning, pre-snap movement and general misdirection – not to mention extensive play-action – the Rams do on offense, Packers defensive coordinator Mike Pettine has talked extensively with his charges about maintaining good "eye control." That means making sure they're reading the right keys and not being fooled by all the confusing things that the Rams do to throw off opponents. Play-action passes are perhaps the biggest challenge, as Rams quarterback Jared Goff has thrown a higher percentage of his passes on play-action than any other quarterback in the league.
"They do it a lot. They do a good job of disguising their intentions," Pettine explained. "The offense, as far as what their actual play is, it's not that complicated. But when you add in the formations and the shifts and the motions, they dress it all up. They do a great job of doing some things that test your rules. If I'm dropping off the second receiver and all of a sudden he becomes the third receiver right before the snap and I have to think and all that is happening fast, that causes some issues.
"(As a defensive coordinator), you have to build some things that are relatively simple. You can't be ultra-complicated on defense against them. The biggest thing and it's what we've stressed going back to the spring – and there will be no bigger game to prove it than this one – that it's not what we're playing, it's how we play it. The scheme is important, but this one here, you can't get overly complicated on defense because of what they do. You just have to go out there and play."
Rams coach Sean McVay downplayed how creative his scheme is – "We've done some different things as far as some pre-snap things that there's a little bit more movement, but, really, it's about our players," he said – but admitted some of his ideas are taken from other teams, including the Packers.
"I'm certainly not afraid to admit if there's some good plays you see around this league – I'm not afraid to admit we'll copy them. I've done that with things that you guys (the Packers) do," McVay told Wisconsin reporters. "There's a lot of really smart coaches and players around this league that you'd be silly not to try to use some of their ideas when you have the ability to see all of their film on a week-to-week basis."
2. 99 PROBLEMS AND DONALD IS (NO. 1)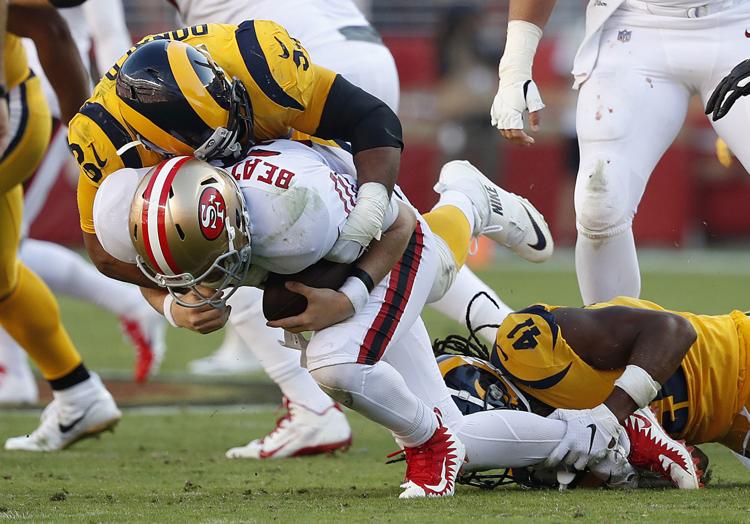 For all the talk about the Rams' explosive offense, there may not be a more game-changing defensive player in the NFL right now than defensive tackle Aaron Donald, whom Packers quarterback Aaron Rodgers called "one of the more dominant players that the league has seen in a number of years."
"He's got it all. He's got speed, he's got power, he's got a high motor. He's the guy you've seen on film," Packers center Corey Linsley said.
Added left guard Lane Taylor: "He's really athletic. He can bend the corner like no other defensive tackle can. He's got rare athleticism. He's one of those once-in-a-generation type of players."
In last week's win over San Francisco, Donald was a one-man wrecking crew, registering four sacks, nine total tackles, six tackles for loss, five quarterback hits, a forced fumble and a fumble recovery. No wonder the Packers spent the week of practice prepping for Donald on every play, using practice-squad defensive tackle James Looney as his stunt double, wearing Donald's No. 99 on the scout team.
"Certainly, we'll have a plan in place for him. He's an excellent football player," Packers offensive coordinator Joe Philbin said. "This week we've given a lot of thought to every single pass route that we put up on the board and we draw up and we diagram and we give to the players. We want to know where '99' is. We want to know how we're going to handle '99,' who's going to be responsible and those types of things. They've got some other good defensive linemen too. Those four guys that they have are very, very good."
3. GURLEY MAN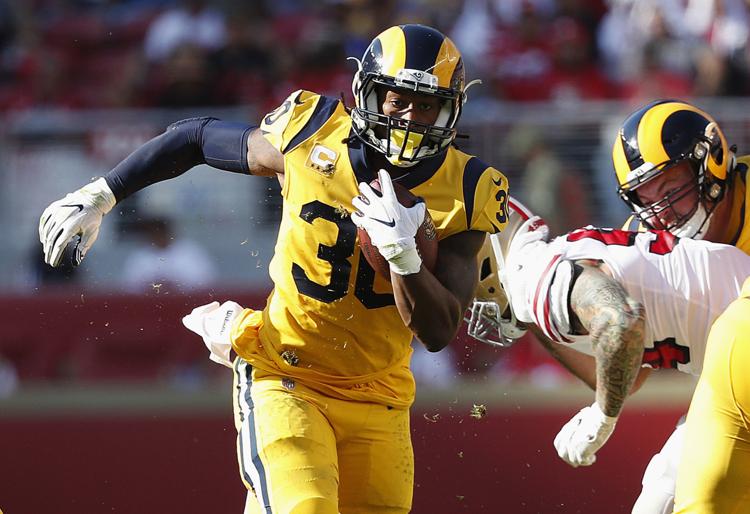 There's a reason why the Rams' play-action passing game is so effective: They have arguably the best running back in the NFL that they're faking the handoffs to.
Todd Gurley entered the week leading the NFL in rushing yards (686 yards, or nearly 100 per game) and in rushing touchdowns (11) – and the season isn't even half over. The Packers defense, meanwhile, is 22nd against the run (116.5 yards per game) and are allowing 4.5 yards per carry, tied for 10th-worst in the league. And Gurley's productivity makes everyone, including Goff, better.
"You have one of the best backs, if not the best back, in football. And it's a real good offensive line, and I think one of the best groups of skill players in the league, and the quarterback running it all has taken a huge step last year and has improved even more this year," Pettine said. "There's a lot they can get you on in a lot of different ways. That's the hard part, it's why they're averaging what they're averaging and giving defenses so much trouble."
In addition to what he's done on the ground, Gurley has also caught 25 passes for 270 yards and three touchdowns, making him a threat in the passing game, too.
"He's just a big, explosive back. He does it all real well," Packers linebacker Clay Matthews said. "They use him in the passing game, he's got the speed to get to the outside, and obviously vision between the tackles. He's a good back. He's been like that since Year 1. He's probably the best back in the game right now, and they're playing really well."
---
Jason Wilde covers the Packers for ESPN Wisconsin. Listen to him with former Packers and Badgers offensive lineman Mark Tauscher weekdays from 9-11 on "Wilde & Tausch" on 100.5 FM ESPN Madison.