Jason Wilde offers three keys for the Green Bay Packers when they host the Detroit Lions in their final game of the season on Sunday at Lambeau Field in Green Bay. 
1. ONE LAST TIME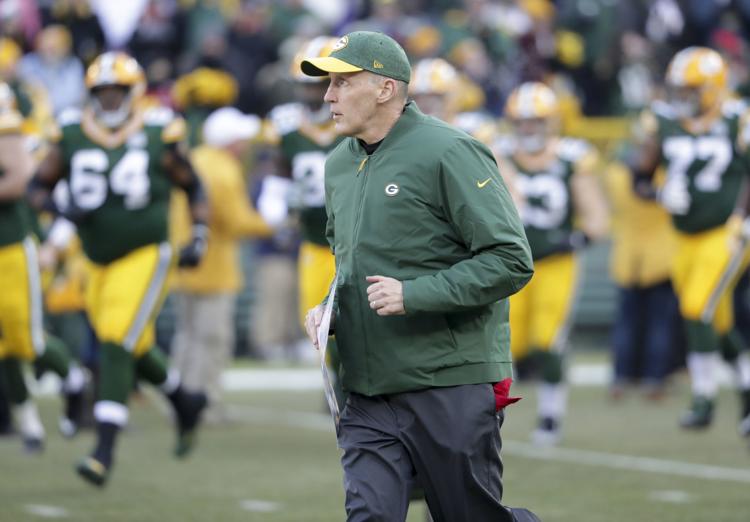 For two going-nowhere teams with no playoff hopes, this one doesn't matter much. But before last week's win over the New York Jets, Packers center Corey Linsley admitted that his team wasn't "as prepared as we should have been" for the final two games last year, including a pathetic season-ending loss at Detroit in which Linsley admitted the Packers were "embarrassed" and made to "look like a fool." To their credit, the Packers played hard against the Jets, rallying from deficits of 14-0, 21-7 and 35-20 – all points in the game in which quitting would have been easy.
It also appears that some of the team's highest profile players are motivated to give Joe Philbin every opportunity to have the interim tag removed from his title – including wide receiver Davante Adams, who has been the most outspoken of any player in his support of Philbin. A 3-1 finish in their final four games with Philbin in charge following Mike McCarthy's Dec. 2 firing would certainly help their case.
"To represent this organization as the interim head coach is an honor. To lead this staff and group of players has been a lot of fun. It's certainly been a privilege – for however longer it lasts," Philbin said. "I told the guys that (on Friday) morning. They came to report (to the offseason program), a lot of the veterans, 257 days ago. 'It was April 16. That's really when this journey began. Those days are gone. We're not going to undo any of those days, but the next three days – what we do today, what we do tomorrow, what we do on Sunday – still matters. Like I've said before, you take advantage of the opportunities that you have and you do the best you can. Then you can go to bed at night and deal with whatever happens."
2. FOR THE RECORD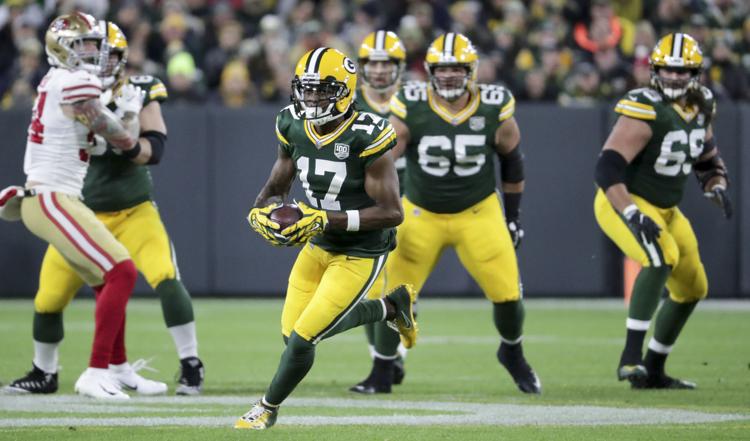 Davante Adams, who sat out Wednesday and Thursday's practices with a knee injury sustained against the Jets, needs two receptions and 134 receiving yards to break the Packers' single-season franchise records in those departments. While his injury meant some uncertainty about his availability – the Packers officially listed him as questionable on their injury report – Adams said at midweek that he expects to play. The injury occurred early in the game against the Jets, but he played through it the remainder of the game before it tightened up on him afterward.
Asked if the records would mean a lot to him, Adams replied, "Yeah, that would be sweet. We'll see exactly how it goes. Obviously, I've got my sights set on trying to win a football game, and if we can accomplish that in the meantime, it would be great."
Sterling Sharpe set the franchise record for receptions with 112 in 1993, while Jordy Nelson set the record for receiving yards with 1,519 in 2014.
"I'd like to hit him on a touchdown pass for any type of record he's breaking," quarterback Aaron Rodgers said. "Get it a little more dramatic."
3. KUUUUUUUMEROW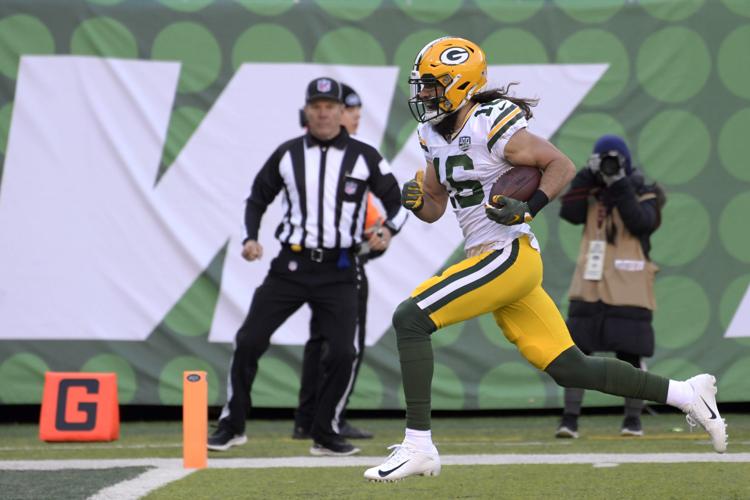 Adams comes into the finale with 111 receptions for 1,386 yards, but former UW-Whitewater standout Jake Kumerow is nipping at his heels – with five catches for 84 yards, including last week's 49-yard touchdown from Rodgers against the Jets. Kumerow, who spent most of the season on injured reserve after suffering a shoulder injury while diving into the end zone at the end of an 82-yard preseason touchdown, was the star of training camp and had made the most of the 89 snaps he's played in his four games since being activated.
"What a rocky, crazy road for him," Rodgers said. "To come in, very little expectations, then he has a hell of a preseason, he scores the long touchdown, he dives in the end zone, hurts his shoulder and he goes on (IR). There was a time when I think a lot of us thought he might not come off IR. … When he's out there, he makes plays. I just think he's such a good guy, good teammate. He practices the right way. He's been around. He's been cut by a number of teams. Just his story is so incredible. It was fun to be able to get him his first touchdown."
A year ago at this time, Kumerow was a late addition to the team's practice squad. Now, he'll look to leave one more good impression on decision-makers as he aims to be a bigger part of the offense in 2019.
"It meant a lot," Kumerow said of his journey this season. "It was a lot of fun being out there, playing with the guys. I'm glad to help out the team in any way possible. I have to get better on special teams, get my blocks down and finish the game the right way."
---
Jason Wilde covers the Packers for ESPN Wisconsin. Listen to him with former Packers and Badgers offensive lineman Mark Tauscher weekdays from 9-11 on "Wilde & Tausch" on 100.5 FM ESPN Madison.