Jason Wilde offers three keys for the Green Bay Packers when they host the Detroit Lions on Monday night at Lambeau Field in Green Bay. 
1. RUN FOR COVER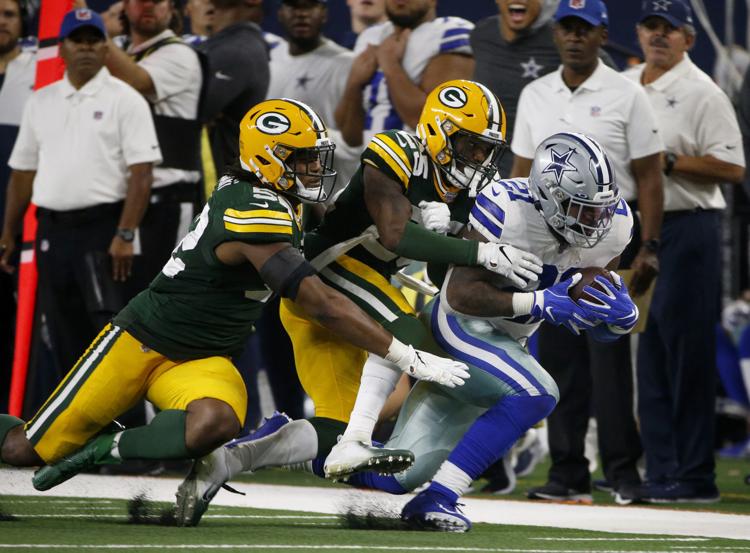 Packers defensive coordinator Mike Pettine was asked a host of questions last week about his unit's run defense, after the Philadelphia Eagles hung 176 yards on Green Bay and dominated the line of scrimmage during the Packers' first loss of the season. Pettine vowed that the defense wasn't far off from limiting the issues against the run, but the Dallas Cowboys still managed 122 yards on 21 overall attempts (5.8-yard average) and running back Ezekiel Elliott (above) was productive (12 carries, 62 yards, 5.2-yard average) before the Packers built an enormous lead and the Cowboys started throwing almost non-stop.
Nevertheless, Pettine felt there was marked improvement against the Cowboys, if you looked closely enough. Of Elliott's 62 yards, for example, 24 came on back-to-back 12-yard runs on his first two carries of the game. And another 21 yards came on 7- and 14-yard carries in the final 13 seconds of the first half during garbage time. With 45 yards on those four runs, Elliott managed just 17 yards on his other eight carries, an average of just 2.1 yards per attempt.
"When we watched the film, we felt really good about where we were from an execution standpoint in the run game. We felt we gave up a couple of those runs early and made some corrections," Pettine said. "There were some yards they gained before the half that were meaningless to us. And then the score obviously got them out of running the ball.
"We improved from the standpoint of how we were attacking blocks, understanding the call, being where we were supposed to be, and then triggering when it was time to trigger and violently releasing off a block and making a tackle. Still a work in progress, and this week's going to be another big challenge for us."
Head coach Matt LaFleur felt similarly about the run defense, but he admitted there's still work to do.
"It's so week to week, right?" LaFleur said. "Yeah, I do (see improvement), but talk's cheap. You've got to go out and do it."
2. HOCKENSON ENVY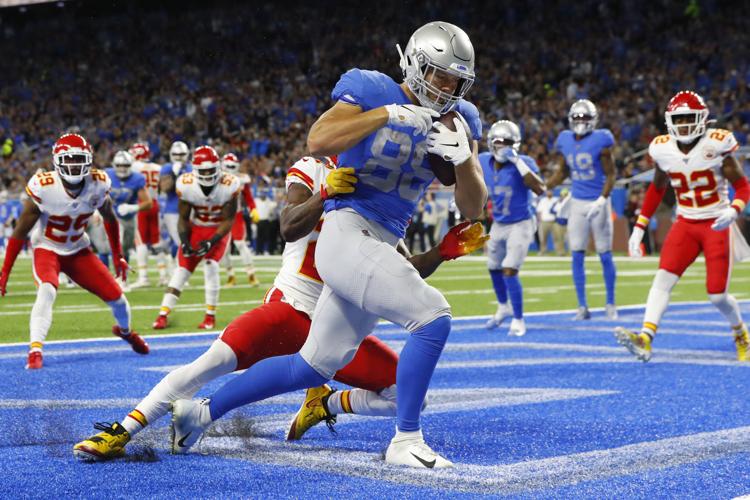 Entering the 2019 NFL Draft, the Packers knew they needed help at tight end — especially considering how valuable the position is in LaFleur's offense. And the college tight end they coveted was Iowa's T.J. Hockenson (above), because he fit the profile for a tight end in LaFleur's offense: He could block, catch the football and make big plays.
The Packers wound up with two first-round picks choosing Michigan edge rusher Rashan Gary at No. 12 and Maryland safety Darnell Savage at No. 21. But listening to LaFleur — and Pettine, who now must defend against Hockenson — it's hard to imagine the Packers would have passed on Hockenson and still taken Gary had they both been on the board.
The Lions prevented such a decision, of course, picking Hockenson eighth overall.
"I think he's a complete football player," LaFleur said of Hockenson. "We did a lot of studying of him coming out in the draft. He's great in both the run and the pass. And anytime you've got a guy that's a complete tight end like that, it certainly is a big challenge for our defense."
It certainly is. Hockenson comes into the game having caught 11 passes for 166 yards and two touchdowns in just four games, and his versatility is what will pose the greatest issues for the Packers defense.
"He was a guy who was highly regarded coming out — and he's been as advertised," Pettine said. "He's that unique blend of, this guy can play tight end, he can block, but he can also essentially take the role of a wideout. That's one thing we've got to make sure we're always aware of where he is and stay on top of him because he's a guy that has certainly made some big plays for them."
3. A FAMILIAR FACE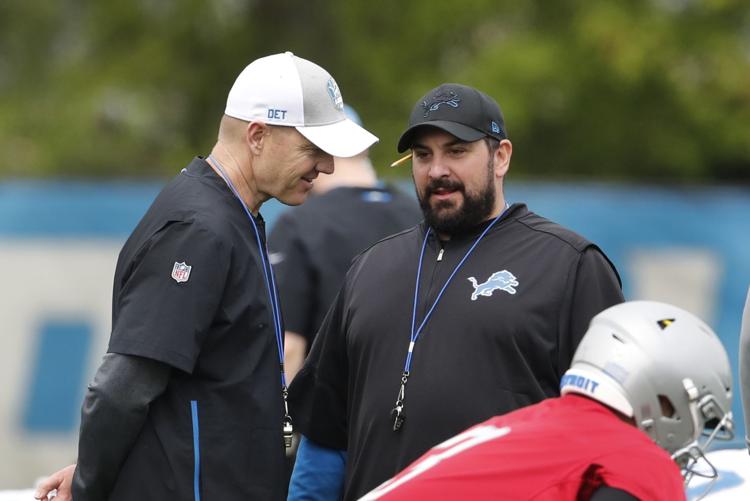 Lions second-year head coach Matt Patricia (above right) decided to change offensive coordinators during the offseason, and he opted for someone Wisconsin football fans know quite well: Ex-University of Wisconsin quarterback Darrell Bevell (above left), who served as a Packers assistant from 2000 to 2005, and as a Minnesota Vikings offensive coordinator from 2006 through 2010.
Not only did Bevell coach quarterbacks Brett Favre and Aaron Rodgers — Bevell's final year on the Packers' staff was Rodgers' rookie season — but Bevell was also obviously at the heart of Favre joining the Vikings for the 2009 and 2010 seasons.
Bevell went on to coordinate the Seattle Seahawks' offense from 2011 through 2017, helping develop quarterback Russell Wilson, who led the Seahawks to back-to-back Super Bowl appearances, including the Super Bowl XLVIII title. He spent last year out of football after Seattle coach Pete Carroll fired him after the 2017 season.
Now, in Detroit, Bevell has quarterback Matthew Stafford playing some of the best football of his career with 1,122 yards, a 62.4 completion percentage and nine touchdowns against two interceptions (102.6 passer rating). Offensively, the Lions rank eighth in total offense (387.5 yards per game) and 12th in scoring offense (24.3 points per game).
"I think (Bevell) has done a great job with the offense and really implementing different schemes and installing the offense — and growing the offense to fit Matthew Stafford and what we're trying to do here with our players," Patricia said. "He's really got a great calmness about him as a teacher, and I think he's someone that sees the game very similar to the way that I see it and how to approach it week-in and week-out and what we need to do to try to win. From the first time I met him and talking with him and talking football philosophy, I think we just kind of hit it off. He's been great."
---
Jason Wilde covers the Packers for ESPN Wisconsin. Listen to him with former Packers and Badgers offensive lineman Mark Tauscher weekdays from 9 a.m. until noon on "Wilde & Tausch" on 100.5 FM ESPN Madison.