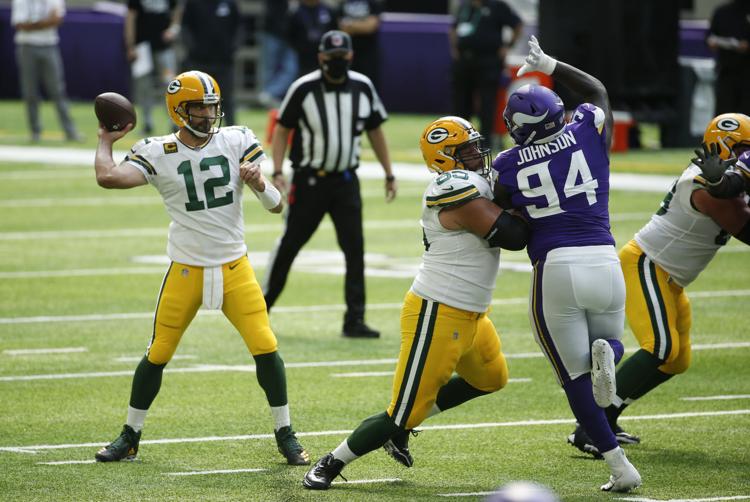 About midway through training camp, Packers quarterback Aaron Rodgers revealed that he'd gone back and looked at some old film of himself — some of it dating back to his Super Bowl XLV-winning season of 2010, some of it from five or so years ago — and incorporated his observations into his current game.
While the two-time NFL MVP has been unwilling to speak to the specifics of his findings, it's hard to argue with the results from last week's season opener, when Rodgers completed 32 of 44 passes for 364 yards with four touchdowns and no interceptions for a 127.5 passer rating in a 43-34 victory over the Minnesota Vikings. From the untrained eye, it appeared Rodgers was much more dedicated to getting the ball out of his hand quickly and on time, and he limited the number of times he extended the play to improvise. When he did, of course, it delivered terrific results, as two of his four touchdown passes (one to Davante Adams, one to Allen Lazard) came when he was on the move outside the pocket after the initial play broke down.
"I'm not going to expand on (what has changed), but I do feel like the key is, when you're throwing the ball in rhythm with good balance, your timing should be pretty good," Rodgers explained. "And when you have all three of those things synched up, the accuracy usually comes as well.
"It wasn't anything super special, it was just some things that kind of hit my brain in the moment, went back and looked at a few more clips and just started incorporating them. When it comes down to quarterback play, it's all about the rhythm and the timing and the balance. I feel like those three were pretty solid on Sunday, and the accuracy followed."
That's certainly what Lions coach Matt Patricia saw.
"I mean, he's just phenomenal. He's so hard to play against, and so difficult to defend," Patricia said at midweek. "One of the things I say about Aaron Rodgers all the time (is), he's so calm, he's just so collected the entire time he's out on the field. Certainly, as a coordinator going against him, trying to frustrate him or trying to stress him, you just can't affect the guy at all. And I think as I watch him the last several years, twice a year to play the guy, to just see his command and the way that he takes over the offense — and especially now in the second year watching the Minnesota game, even more so — the patience that he has to go through the play call, the checks, the adjustments, the take a look at a defense, the coverages, the fronts, he just moves all the pieces into the right spot so they can be successful. So, it is a major problem."