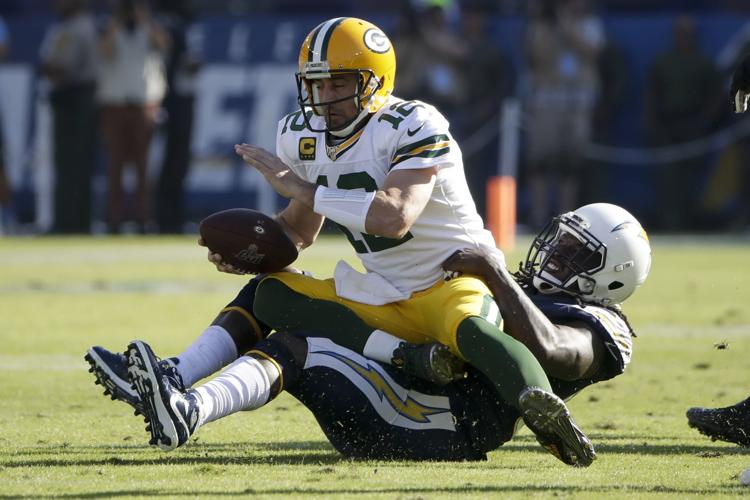 On Monday, in the wake of their pathetic performance against the Los Angeles Chargers, Aaron Rodgers (above) called up every Green Bay Packers player into a post-workout. Following the team's 26-11 loss to the Chargers, Rodgers had sharply criticized the team's readiness and focus entering the game, which he felt contributed to the poor showing.
"It was important for us to be very critical. I don't think it helps to just brush it under the rug," Rodgers explained. "I think it's important to correct the correctable things and then move forward positively and learn from the mistakes and set your eyes on the next performance."
In an effort to move forward "positively," as Rodgers put it, the quarterback gathered everyone together with a message: "Let's get back to being us." Translation? Going forward, and starting with Sunday's game against the Carolina Panthers, play the way you did during that 7-1 start, not the way you did against the Chargers. How the Packers come out of the home tunnel and perform early on in this game will show whether that message got through.
"(As) '12' talked about, it's about us coming back and being us. The energy wasn't there, just the whole vibe wasn't been there," defensive captain Za'Darius Smith said. "(He said), 'We just need to continue to do what we do, have fun, we can't let this loss get to us.' It was a loss for us that a lot of people outside of football felt like we needed because we went 7-1. I'm glad that happened then instead of on down the road when they really count.
"We came in Wednesday and we had a new mindset of, just be us, continue to have fun and continue to know the person beside you has got your back."
Added veteran tight end Jimmy Graham: "You can tell a lot about the character of a team obviously by the way they respond to a loss. Obviously last week was pretty disappointing, but guys seemed really locked in this week and really about the game plan and playing with everything they've got. We're going to find out just what kind of team we have in this game."