Three things to watch when Green Bay Packers face Oakland Raiders in Winnipeg
Jason Wilde offers three keys for the Green Bay Packers when they take on the Oakland Raiders in their third preseason game, which will be played Thursday night north of the U.S.-Canada border at Investors Group Field in Winnipeg, Manitoba.  
1. JONESING FOR ACTION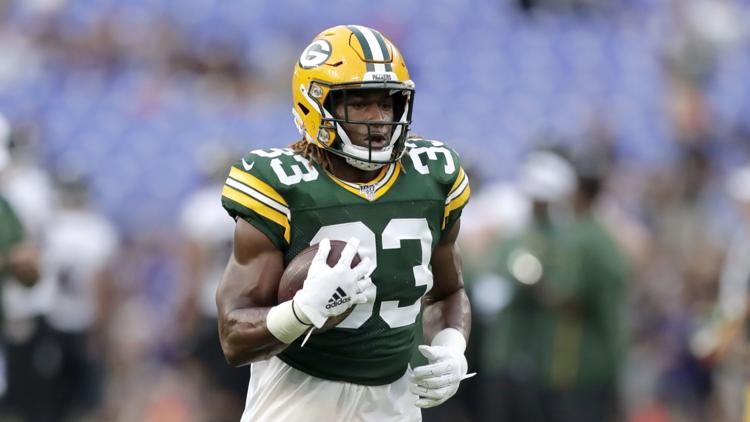 While Packers coach Matt LaFleur wanted to keep everyone guessing as to whether quarterback Aaron Rodgers would play against the Raiders, he was keeping no such secrets about the "other" Aaron who'll be so vital to the offense this year — running back Aaron Jones (above).
"I anticipate him playing a series or so," LaFleur said before the team departed for Winnipeg. Asked if he felt he needed to see Jones in the new outside zone run scheme, LaFleur replied, "I don't think we need to. I just think it's nice for the backs to understand — they haven't been hit in so long. Just to feel what it's like to get hit, making sure that we're protecting the football, that's why you want to get backs out there."
Jones, who has averaged an eye-popping 5.5 yards per carry during his first two NFL seasons but ended both years on injured reserve with knee injuries, did not play in the first two preseason games and didn't take part in the joint practices with the Houston Texans because of a hamstring injury early in camp. So while he might not be looking forward to being tackled, he too knows it's necessary.
"I mean, nobody likes to get hit," Jones said with a laugh. "Hey, football is back. You take the first one or two hits, you know you have to get your pad level low. It starts reminding you, 'Hey, this is football.' It's never a bad thing. I'd rather not be hit and score touchdowns, but it's football. It's going to happen."
2. WIDE OPEN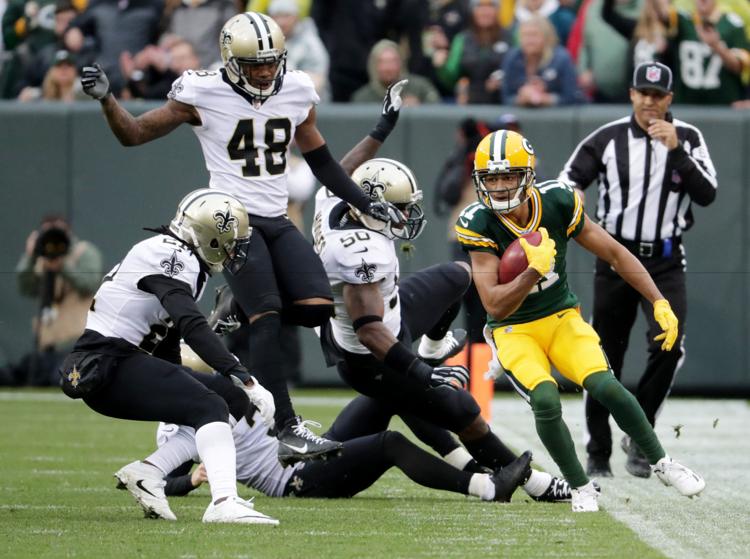 Barring an injury or out-of-the-blue trade, it appears there are four wide receivers who can plan on being on the Packers' 53-man roster when camp ends: Davante Adams, Geronimo Allison, Marquez Valdes-Scantling and Jake Kumerow. After that, a host of receivers are vying for what might be only one or two roster spots. Among the top contenders: Receiver/returner Trevor Davis (above); 2018 draft picks J'Mon Moore and Equanimeous St. Brown; late-season pickup Allen Lazard; and undrafted rookie free agent Darrius Shepherd.
According to quarterback Aaron Rodgers, while that group might not have distinguished résumés, it's "one of the deeper groups we've had" during his run as the starting quarterback.
"Allen is definitely good enough to be an NFL player. I think he's had a fantastic training camp," Rodgers said. "Almost quietly, I think EQ has had a really nice camp. I think he's been very consistent. Obviously, 'MVS' has really jumped up and played well. I think Geronimo has really looked like himself. He's made a number of players where, 'OK, that's the G-Mo that I remember from '16 and '17, making plays down the field and running routes and getting open. I think that J'Mon has improved. Jake, obviously, every game he makes plays. There's not much else to say about him. Darrius Shepherd has obviously made some plays.
"I'm excited about that group. More than any other year, I think, there's just so much competition for spots."
This game could be a tipping point for some of those receivers, and for their part, coach Matt LaFleur and general manager Brian Gutekunst would welcome some separation.
"It's a blessing and a curse," LaFleur said of the receiver depth. "We are so thankful that we have a lot of guys that we feel can play, but it makes it tough when you have to make those final decisions."
3. LET'S GET PHYSICAL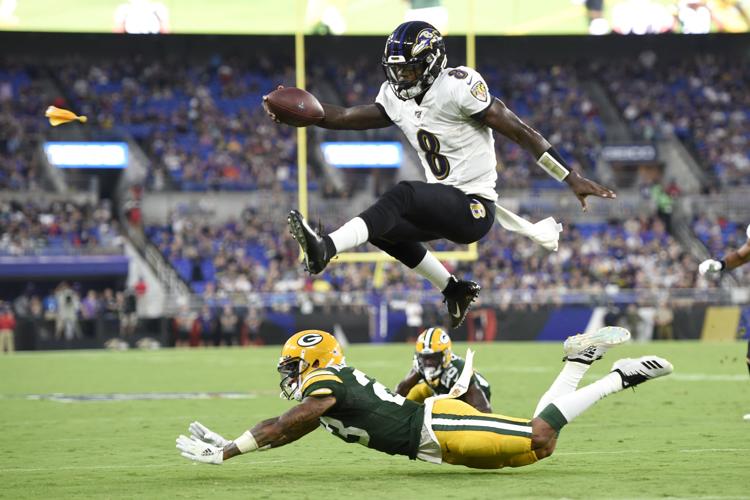 Perturbed by shoddy tackling in both of the first two games — by head coach Matt LaFleur's count, the Packers have missed a whopping 43 tackles the past two weeks — the coaches took a back-to-basics approach in practice throughout the week, emphasizing the importance of taking good angles to the ballcarrier, coming to balance on approach and wrapping up the offensive player upon arrival. While LaFleur did not institute any full-fledged tackling during 11-on-11 periods, there were times when the defense's physicality appeared to take offensive players by surprise.
While the biggest perpetrators on the missed-tackle front have been players who are on the roster bubble, defensive coordinator Mike Pettine made it clear this week that the issue needs to be resolved and that it applies to everyone on that side of the ball — with no excuses or exceptions.
"We have to walk that fine line (in practice)," Pettine explained. "I know every team has their philosophy, but knowing a lot of the coaches around the league, most teams don't do live work in the body of practice. That's something you have to try to simulate the best you can. There's no substitute for those live reps.
"A lot of our misses are with our young guys. I think some of it is just getting used to the speed of the game and some of the athletes they're trying to tackle as opposed to what it was like for them in college. But we're going to continue to work it. We're not going to panic and go to live tackling drills. We understand the issues and who the culprits are, and hopefully we'll take a step forward this week."
---
Jason Wilde covers the Packers for ESPN Wisconsin. Listen to him with former Packers and Badgers offensive lineman Mark Tauscher weekdays from 9 a.m. until noon on "Wilde & Tausch" on 100.5 FM ESPN Madison.