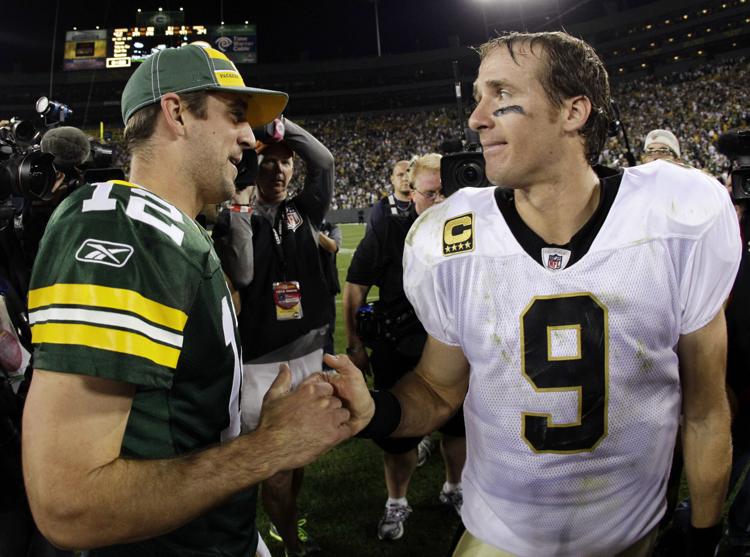 Drew Brees will be 42 in January and has a lucrative gig as a TV analyst waiting for him when he hangs 'em up. Aaron Rodgers will be 37 in December and, while showing zero interest in retiring anytime soon, has seen his team trade up in the first round to draft his potential successor. So barring a rematch in the NFC playoffs, this may very well be the last time the New Orleans Saints future Pro Football Hall of Fame quarterback and the Green Bay Packers future Pro Football Hall of Fame quarterback square off.
The two have faced each other only four times before — in 2008, 2011, 2012 and 2014 — with each of their teams winning two of those matchups. (Brees faced the Brett Favre-led Packers in 2003 with the San Diego Chargers and in 2006 in his first season with the Saints; he also faced — and beat — a Rodgers-less Packers team in 2017 when Brett Hundley was the fill-in starter.)
More significantly, each of them has led their franchise to a Super Bowl, with Brees leading the 2009 Saints to the Super Bowl XLIV title and Rodgers leading the 2010 Packers to the Super Bowl XLV title — but neither has gotten to the big game since.
"We've each been to one, and we've each won one, right? And we've had probably some heartbreaking moments in the playoffs, both teams," Brees pointed out at midweek. "Regardless, each season is a new season, and each team is a new team. And you're going to face your fair share of challenges. Obviously, they've had a ton of success, just like we've had lots of playoffs appearances, lots of playoff wins. And those challenges that we've all faced, (are) in order to try to get to, to the ultimate prize."
After two games, Rodgers and his team appear to have a better shot at that prize than the Saints, who are coming off a disappointing offensive performance in Monday night's loss at Las Vegas. While Brees comes in having completed 64.7% of his passes for 472 yards with three touchdowns and an interception (93.5 rating), Rodgers has completed 67.6% of his throws for 604 yards with six TDs and no INTs (119.4 rating).
While Rodgers isn't as close with Brees as he is with Tom Brady, Alex Smith and other older quarterbacks, he and Brees did work out together earlier in their careers in the San Diego area.
"So, we trained at the same facility and we'd throw together, got to know each other. I got to see his work ethic up close and I believe in those two years he won the Super Bowl and Super Bowl MVP and then then next year, we won the Super Bowl and I won the Super Bowl MVP," Rodgers recalled. "So it was a good couple-year run for us down there.
"He's a talented guy. Has been for a long time. Obviously first-ballot Hall of Famer, one of greatest to ever do it. It's going to be a challenge for our defense."