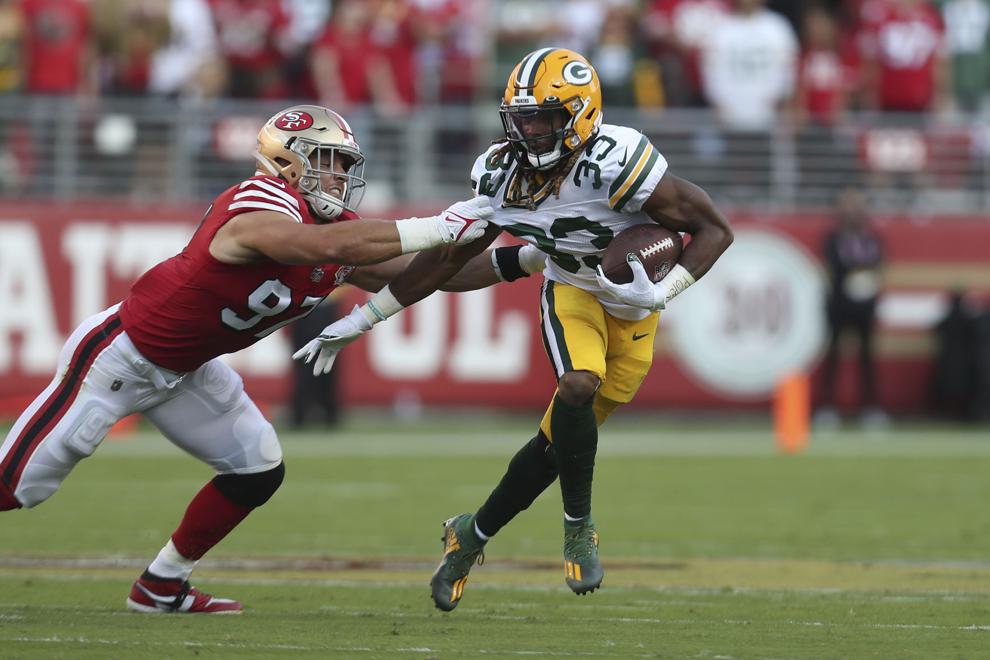 With a head coach who admitted he didn't give the running game a chance in the season opener and an offensive line that's started three different lineups in the first three games, perhaps it shouldn't be a surprise that the Green Bay Packers' running game has gone nowhere so far this season.
Still, Matt LaFleur knows it has to be better than where it stands entering Sunday's game against the Pittsburgh Steelers at Lambeau Field.
"There's definitely more out there for us in that regard," said LaFleur, whose offense is ranked 30th in the 32-team league in rushing yards per game (79.7 yards) and 29th in yards per attempt (3.27 yards). "A lot of it is just making sure that we're more consistent in terms of trying to get into that rhythm, and also just making sure we're picking the best plays to put our guys in the best position possible."
Running back Aaron Jones (above), who averaged 5.2 yards per carry in his first four NFL seasons, is averaging just 3.85 yards per carry this season. Part of that is surely a function of the offensive line, which figures to start four youngsters (left tackle Yosh Nijman, left guard Jon Runyan, rookie center Josh Myers and rookie right guard Royce Newman) against the Steelers with Elgton Jenkins not expected to play because of an ankle injury.
"I think that we've got a long way to go still," offensive coordinator Nathaniel Hackett said of the run game. "It's still early in the season, just kind of as an offense as a whole. There's some things that are really good and then it's just about that consistency. And I think that as we continually run the ball and continually get the guys in a groove, I think that's where those things are going to start popping. So, we've just got to keep running it."