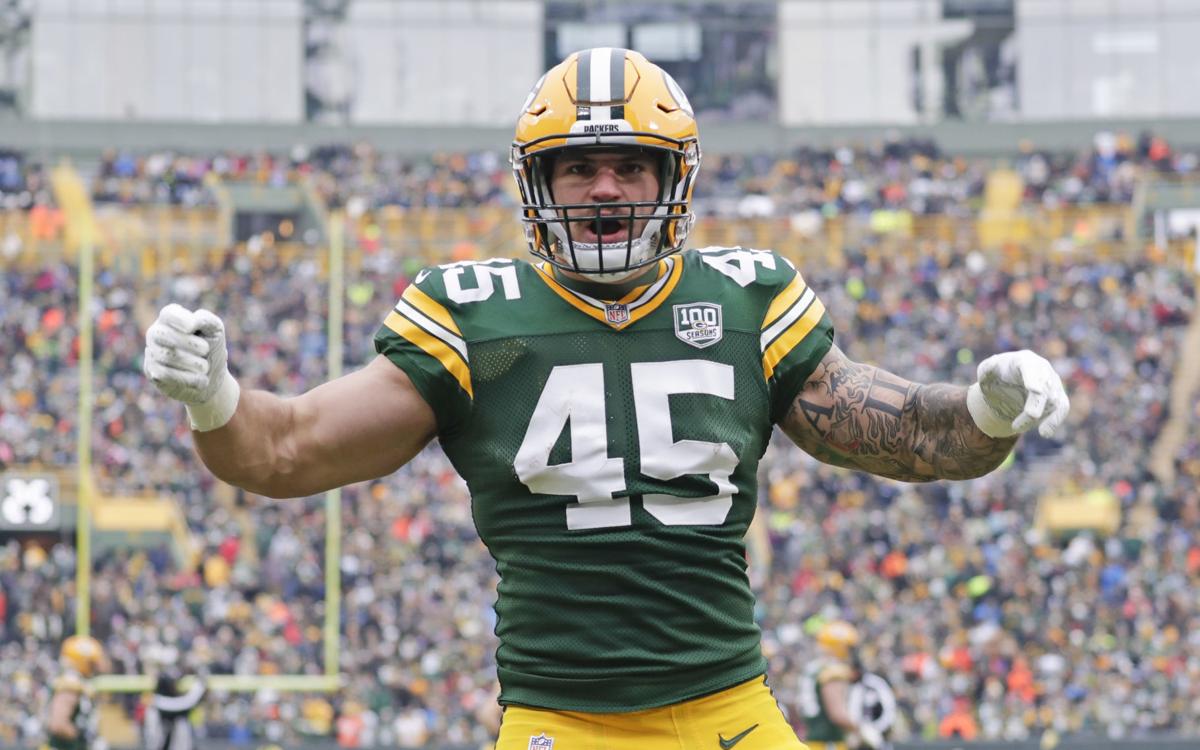 GREEN BAY — Danny Vitale liked the sound of it.
"I definitely like to look at it that way," the Green Bay Packers fullback said with a chuckle Friday as the team prepped for Sunday night's NFC showdown with the San Francisco 49ers — another of the handful of teams in today's NFL that regularly utilize a fullback in their offensive game plan. "This is fun."
Yes, while the fullback position has been a dying breed in the NFL for years, this game pits two of the teams who are keeping it alive against one another. For Vitale, it's a matchup borne out of respect for 49ers fullback Kyle Juszczyk, whom Vitale credits for redefining the position.
Juszczyk missed four games earlier this season with a knee sprain, returning to action two weeks ago against Seattle in the 49ers' first loss of the season. Last week against Arizona, he caught seven passes for 63 yards in 39 offensive snaps, and he figures to have a key role again on Sunday night.
"I think it's a big eye-opener for a lot of people. It's really not dying — and Kyle's one of the ones who did it — where it's really been revolutionized and evolved into that type of player now," Vitale said of the fullback position. "Where you're creating mismatches, running routes out of the backfield, still downhill blocking.
"It's hard to find guys to fit that mold of player, so that's why it might seem like the position is dying, but everyone who's using it is using it a good bit and having success. So clearly it's worth having that position on the roster if you can find that guy."
And the Packers have found that guy in Vitale, though his statistical contributions have been limited through 10 games. He enters Sunday night with six catches for 94 yards and one carry for 3 yards.
"I'm really excited about Danny because I think he's done an excellent job in both the run game and as an element out of the backfield as a receiver," Packers coach Matt LaFleur said.
Asked about how he and 49ers coach Kyle Shanahan view the fullback position philosophically, LaFleur replied: "I just think it never limits you in terms of what personnel you want to use. But you've got to have the right people to do it, and I think we're both in a position we have really good fullbacks. I just think it adds another dimension to your offense, especially if you have a guy that can catch the ball out of the backfield. Because I think traditionally, most people think 'fullback' and they think you're just in there as a thumper to go block. I think the way we've both used the guys that we're fortunate enough to have is a little bit unique."
You have free articles remaining.
For his part, Shanahan said having a fullback such as Vitale or Juszczyk creates matchup problems for defenses who don't know exactly how to counter a guy who isn't just a pure blocker.
"When you have a fullback on the field, you can dictate things a little more," Shanahan said in a conference call with Wisconsin reporters. "When you don't have a fullback on the field, there are certain personnel groupings and certain fronts that a defense can do where you cannot run the ball against them. You're just outnumbered unless you want to put a receiver in there to lead up on a linebacker.
"When you have a fullback in there, the defense knows there are certain blitzes and certain things they can't do because you're going to be able to block it all up. If you have a fullback in, no matter what they do, you have a chance to run the ball, or at least the threat of it. So it changes some looks and allows you to call whatever you want if you really want to do that regardless of what the defense is doing."
Madison tears ACL
First-year guard Cole Madison, who returned to football this year after missing all of last season while overcoming mental-health issues, suffered a torn ACL in his knee during Thursday's practice and is out for the year. Although Madison had not been active for any of the Packers' first 10 games, his practice time had been invaluable after being away from football for a year. His season is over and he'll be placed on injured reserve soon.
"My heart breaks for him," LaFleur said, "because he comes to work every day. He works hard and he's getting better, and it's just one of those bad injuries."
From the infirmary
The Packers listed Vitale (knee) and tight end Robert Tonyan (hip) as questionable, but both are expected to play. Tonyan hasn't played since injuring his hip on a circus catch at Dallas on Oct. 6 but said he is "a lot better — mentally and physically" and expects to play after practicing all week.
"My thought on it is I'm playing Sunday until someone tells me I'm not. But everyone's really on the same page," Tonyan said. "Just looking forward to Sunday night and getting after it."
The 49ers listed tight end George Kittle (knee, ankle), wide receiver Emmanuel Sanders (ribs) and wide receiver Deebo Samuel (shoulder) as questionable and running back Matt Breida (ankle) and kicker Robbie Gould (quadriceps) as doubtful. Kittle expressed confidence during the week that he'd be good to go after missing the past two games.
Defensive end Dee Ford (quadriceps, hamstring) and starting left tackle Joe Staley (finger) were ruled out.