GREEN BAY — Rashan Gary's position group was at the far south end of the Don Hutson Center for individual drills during the Green Bay Packers' rookie minicamp last weekend. But even from that distance, one could easily see the protective harness on his right shoulder, peeking out from beneath his No. 52 green jersey.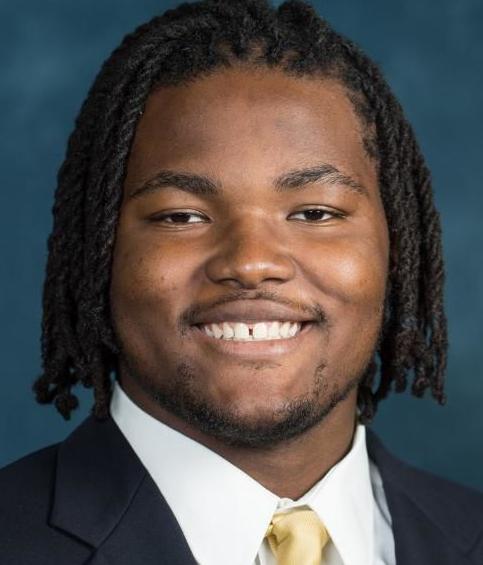 Gary, the first of the Packers' two first-round draft picks, says the shoulder is nothing to worry about. Coach Matt LaFleur says the harness is precautionary. And general manager Brian Gutekunst says he's "very comfortable" with Gary's prognosis.
Now, every injury — and every player — is different, and just because King had issues with his shoulder doesn't mean Gary will have problems with his. And unlike King, Gary's position isn't one where shoulder injuries are common. And, unlike King, who had surgery on his shoulder in college, Gary hasn't had surgery on his shoulder in the past.
But at the very least, given how excited the Packers are about how the versatile 6-foot-4, 277-pound Gary fits defensive coordinator Mike Pettine's scheme, it will be something to watch — and perhaps worry about until he shows he can get through the season without issues.
Gary's shoulder injury flared up prior to the start of last season at Michigan and forced Gary to miss three games and parts of two others. He finished the year with 44 tackles (7½ for loss) and 3½ sacks in nine games, and a week before the draft, NFL Network reported that the injury was a torn labrum and that it would likely need to be surgically repaired after Gary's rookie season in the NFL.
#Michigan DT Rashan Gary, one of the draft's top defensive players, has a shoulder that was flagged, sources say. It's a labral tear from college, and most believe he can play this season, then possibly have surgery afterward. It will likely have to be managed or harnessed, tho

— Ian Rapoport (@RapSheet) April 23, 2019
Asked after practice about the harness, LaFleur said "our medical people" made the call on having Gary wear it and that the decision was "just totally precautionary." The camp was limited to individual drill work and 7-on-7 periods and conducted in helmets and shorts, so how Gary's shoulder holds up when the pads come on in training camp in late July will be a truer test.
"When I got hurt at Michigan, I came back and wore the brace," Gary said following the first rookie practice. "I'm comfortable with it. Me and the trainers decided just to (have me) wear it. I feel comfortable playing with it, so I'm rocking with it."
If not for the shoulder injury, Gary, who ran an eye-popping 4.58-second 40-yard dash at the NFL scouting combine in February, was projected to be a top-5 pick. That he was available to the Packers at No. 12 was likely at least in part because of some teams' reticence about his shoulder. His Michigan teammate, Devin Bush, ended up going before Gary at No. 10 to Pittsburgh.
"Obviously we go through a thorough medical evaluation on all these guys. That's part of the process. I felt very comfortable long term that that issue was going to be resolved," Gutekunst said.
Asked if it might require surgery, Gutekunst didn't completely rule out the possibility.
"He obviously played through it this year. He feels good," Gutekunst said. "It's kind of one of those things where we'll see how it goes. We don't anticipate anything initially."
In King's case, he had surgery for a torn labrum as a freshman at Washington, then aggravated the shoulder as a junior, forcing him to spend his final college season and all of his first NFL season wearing a protective shoulder harness in order to play. There were times when the shoulder would hurt so much, though, that he couldn't lift his arm over his head and had to come out of games until the pain subsided. The Packers finally pulled the plug on his rookie season in early December.
King admitted after being placed on injured reserve that he first started having problems with the shoulder when it "came out" of joint during a training camp practice. It then happened more frequently during the season, leading to surgery.
"I kind of knew (I'd eventually need surgery)," King said at the time. "When I was going to get it done, that was the big question. I was trying to fight through, but it got to a point where it was better that I just get (surgery) done.
"Surgery wasn't always in the picture. In college, I rehabbed and I was fine. I was hoping I'd get through the season and maybe it wouldn't get worse. There were a few games where it didn't bother me and I could play the whole game without coming out. It's a pain tolerance issue."
Jason Wilde covers the Packers for ESPN Wisconsin. Listen to him with former Packers and Badgers offensive lineman Mark Tauscher weekdays from 9-11 on "Wilde & Tausch" on your local ESPN station.