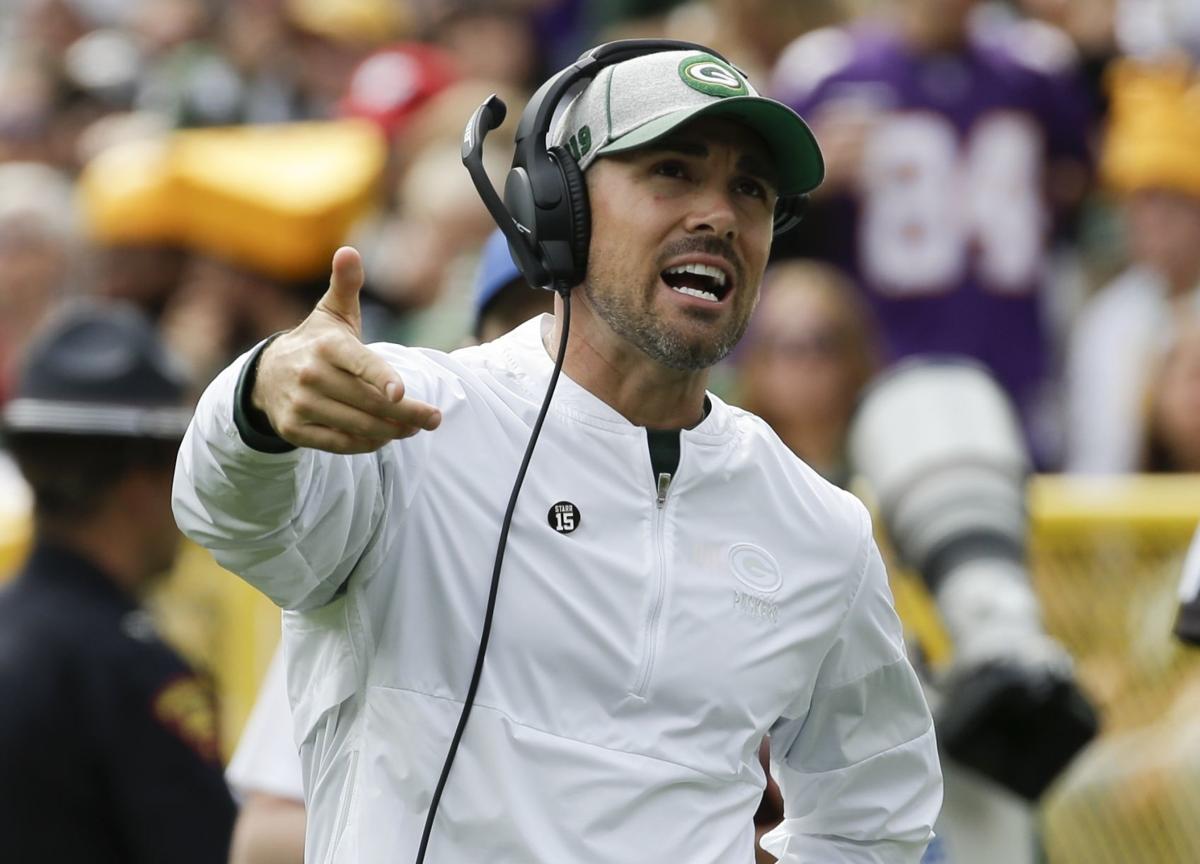 GREEN BAY — Aaron Rodgers didn't need the NFL and NBC's Sunday Night Football to tell him that the Green Bay Packers' Nov. 24 showdown with the San Francisco 49ers was a big game. As the veteran quarterback bid his teammates farewell before going their separate ways for this week's bye, Rodgers gave them a gentle reminder.
"I hope guys realize that and how important this week is to mentally get balanced," Rodgers said before players were given Tuesday through Sunday off by head coach Matt LaFleur. "(We need to) come back and get ready for a tough road trip."
That tough road trip has now become a prime-time showdown, as the NFL flexed Packers-49ers to Sunday night, replacing the scheduled Seattle Seahawks-Philadelphia Eagles matchup that had been scheduled. The Packers and 49ers had been scheduled to face off at Levi's Stadium in Santa Clara, California, at 3:25 p.m. Central time.
The game will be the Packers' fifth prime-time game of the season, following their season-opening victory at Chicago on Sept. 5 to kick off the NFL's 100th season; their Sept. 26 loss to the Eagles on Thursday Night Football; their Oct. 14 win over the Detroit Lions on Monday Night Football; and their Oct. 28 win over the Kansas City Chiefs on Sunday Night Football.
The Packers also are slated to play again on ESPN's Monday Night Football for their Dec. 23 meeting with the Minnesota Vikings at U.S. Bank Stadium in Minneapolis.
The drawback for the Packers is that they'll now face a lengthy flight home from the West Coast after a night game with another road game looming the following Sunday. After playing the 49ers, the Packers' next game is Dec. 1 against the New York Giants at MetLife Stadium in East Rutherford, New Jersey.
You have free articles remaining.
The 49ers' 27-24 overtime loss Monday night at home to the Seahawks ended their undefeated start and dropped them to 8-1. If the playoffs began today, the 49ers would be the NFC's No. 1 seed, by virtue of their half-game lead on the Packers (8-2). The New Orleans Saints (7-2) would be the No. 3 seed, the Dallas Cowboys (5-4) would be the No. 4 seed and the Seahawks (8-2) and Vikings (7-3) would be the wild cards.
The 49ers host the Arizona Cardinals (3-6-1) on Sunday.
"Obviously it's important to everybody," Packers defensive coordinator Mike Pettine replied Tuesday when asked about the importance of home-field advantage in the postseason. "You just look statistically at home teams in the playoffs, I think have a higher win percentage than I think in any other sport, so it's huge. And then certainly here, with the possibility of getting the conditions that would favor a team that resides here, is big as well. Plus, I think we have a great crowd, our guys feed off of that.
"So it's important, but again, it's nothing that's going to affect how we prepare for (San Francisco). We know the next one is going to be a big one and probably will go a long way toward determining that. Right now, at 8-2, the only thing we've guaranteed is that we won't have a losing season. But it's important. I think Lambeau's special and obviously we'd love to be here throughout the NFC playoffs."
The Packers-49ers game includes some interesting connections. Not only did 49ers head coach Kyle Shanahan serve as Pettine's offensive coordinator when Pettine was the Cleveland Browns' head coach in 2014, but LaFleur's brother, Mike, is on Shanahan's staff as the offensive passing-game coordinator.
"I always keep close eye on them," LaFleur said of the 49ers. "I have a lot of friends on that staff, got a lot of respect for what they do. I think they're pretty innovative. Shoot, the defensive coordinator, Robert Saleh, is one of my closest buddies in the profession. He's one of the guys who actually got me into the National Football League. So, yeah, I'm always keeping an eye on what they're doing."
Asked if he would avoid talking to his brother in advance of the game, LaFleur said no — especially since his wife, BreAnne, and their two sons, Luke and Ty, are headed to the Bay Area early to spend time with Uncle Mike, Aunt Lauren and their two children.
"We just won't talk about football. We'll still talk," LaFleur said. "Shoot, my wife and my kids are going to go out a couple days early and they're going to be staying at their house. So hopefully she can do some recon for me."