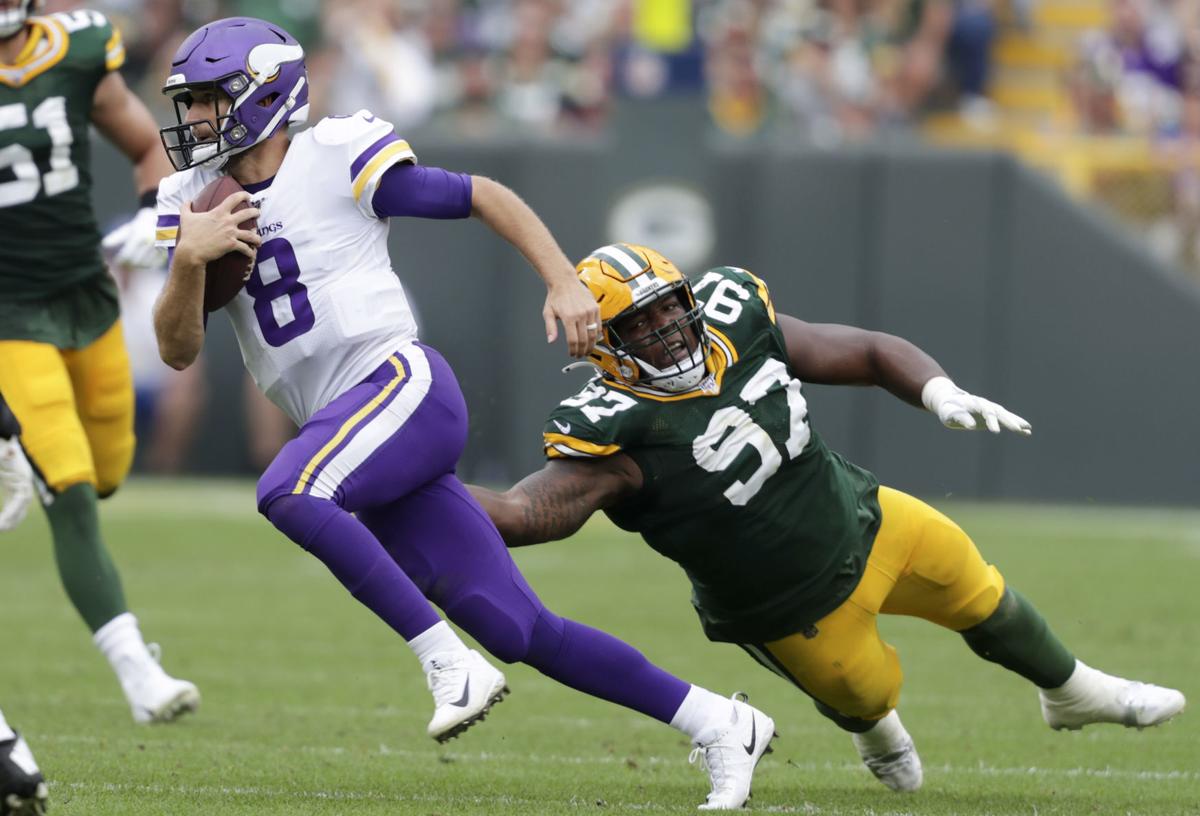 GREEN BAY — Kenny Clark pulls his iPad from his locker.
A few swipes, a couple of taps, and his video library is open. A clip of the Los Angeles Rams' Aaron Donald plays. Then the Cincinnati Bengals' Geno Atkins. Then the Atlanta Falcons' Grady Jarrett. Then the Tennessee Titans' Jurrell Casey. Then the Philadelphia Eagles' Fletcher Cox.
"I watch all those guys," the Green Bay Packers fourth-year defensive tackle said. "I try to take just little pieces from different guys and see if I can put them to use. I like watching them — how they play with leverage, how they move. It's pretty cool, watching different guys and their techniques. I try to take something from their games that at least I can use to make my game better — my hands better, my leverage better, something better."
Clark pauses. He points out his shortcomings ("I'm not as fast or as explosive as Aaron Donald," he said) and then downplays his strengths ("I know I've got a pretty good get-off and I can do some stuff with my hands and I've got pretty good leverage," he said).
When it's pointed out to him that perhaps Donald or Atkins or Jarrett or Casey or Cox has a few Kenny Clark film clips on their iPads, Clark blushes.
"That'd be cool," he said.
It would also be wise. While Clark may not be as well-known as some of those other names on his iPad, through two games he's been doing what he does every year: Elevating his game and further establishing himself as one of the cornerstones of the Packers franchise. He enters Sunday's Week 3 game against the Denver Broncos at Lambeau Field second on the team in tackles (15, including seven solo stops), tied for the team lead in sacks (1.5), and having forced a fumble and recorded two tackles for loss, five quarterback hits and four QB pressures.
His quarterback, thankful he doesn't have to face Clark in a game, has certainly noticed.
"I think one guy who is maybe the quietest, underrated star in this league is Kenny Clark. The way that he played last week was incredible," Aaron Rodgers said of Clark, who had a strip-sack fumble of Minnesota quarterback Kirk Cousins, seven tackles, five QB hits and a pair of QB pressures in last week's 21-16 victory over the Vikings. "He does it all the time, but he doesn't do it with the boisterous, crazy loud celebrations or animated press conferences. He just goes about it and does his business."
Rodgers isn't the only one who's happy that he doesn't have to worry about Clark on game day. First-year coach Matt LaFleur, the Packers' offensive play-caller, knows what players like Clark can do to a game plan.
You have free articles remaining.
"He's such a challenge because he's as dangerous in the run game as the pass game. You've just got to be conscious of what you're asking from the guy that's trying to block him — and always have him at the forefront of your mind in terms of the pass game protections," LaFleur said. "He's a guy that jumps out when you put on the tape. And then, shoot, if you just watch what he did last week, just the constant penetration, both in the run and the pass? He's disruptive."
One reason Clark, who was a Pro Bowl alternate last season after setting a career high with six sacks, has been so disruptive so far this season is how, with experience, he has figured out when he can take chances and when he has to merely do the thankless, not-so-glamorous work his position requires.
"That's part of what it is, knowing when to do my job and stay in my gap, and then knowing when to cut it loose and when I can penetrate and get off the ball and just play," Clark said. "I'm just trying to find different ways, whether it's looking at offensive formations, the way a guy's set is, or cadences, whatever it is.
"That's what got me drafted in the first round, that's what got me here, being able to play the run real good, just doing my job. I make plays that come to me, honestly. That's honestly what got me here. That's my primary focus. All that other stuff is secondary. But when I do get a chance to make a play, I'm trying to be a better pass rusher. I wasn't a pass rusher in college. I'm constantly just trying to get better at something. It's working out for me."
Defensive coordinator Mike Pettine has given his players a few more opportunities to take chances this season, and his trust in Clark's ability to know when to take chances and when to play it safe is part of the equation. He's also given linemen the green light to call twists and stunts on their own if they see something that tips them off.
"We give our guys some freedom, especially when we're in some of our five-down (lineman) fronts. If they do get a pass clue, they're free to game it up," Pettine said. "Kenny's another guy that has great practice habits and is only going to get better at his craft. And he works at it. There's no substitute for that. He's never real high or real low, he's just kind of the same guy."
That's another reason why the Packers have made it a priority to get a long-term deal done with Clark — and general manager Brian Gutekunst even took the unusual step of publicly saying so. When the team released veteran defensive lineman Mike Daniels on the eve of training camp in late July, Gutekunst acknowledged that part of the reasoning was to marshal resources for a Clark extension.
"Kenny Clark is a dominant player in the NFL," Gutekunst said then, "and we would certainly like to get that done at some point."
That point could be coming soon. Clark, who doesn't turn 24 until next month, is playing this season for a $1.727 million base salary and is counting $2.979 million against the salary cap. The Packers have already exercised their fifth-year option on him for 2020, which will pay him $9.451 million if a new deal isn't struck.
But Clark is convinced an extension will happen sooner rather than later.
"As far as what Gutey said, I 100% believe him. I have full confidence that something's going to happen and we'll get something done," Clark said. "I'm just excited. Something's going to happen. But honestly I don't know (when).
"All my life I've been playing nose tackle — a position not a lot of people notice, or know exactly what I do. For Aaron to say something, or Gutey to say something, that's cool. Knowing how much you mean to the team, that's pretty cool to hear — especially from the quarterback and the general manager.
"I feel like I'm at a great spot. I feel like I'm playing really well, my mind is clear, I'm playing fast, not worried about anything. I've just got to stay healthy and keep bringing that same intensity, that same focus I bring every week."