Photos: Packers introduce new head coach Matt LaFleur in Green Bay
The Packers held a news conference on Wednesday to welcome new head coach Matt LaFleur to Green Bay. 
The 39-year-old first-time head coach reportedly agreed to a four-year contract, with the option for a fifth year, on Tuesday night after arriving in Green Bay.
Mark Murphy introduces Matt LaFluer, AP photo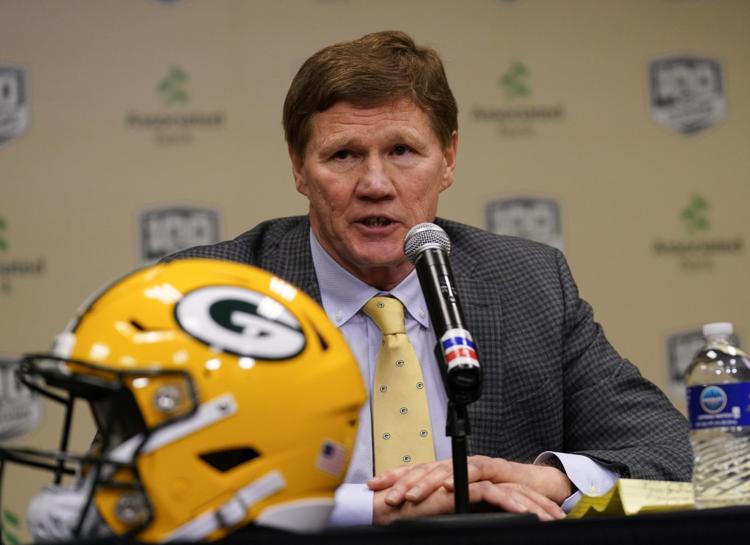 Matt LaFleur addresses media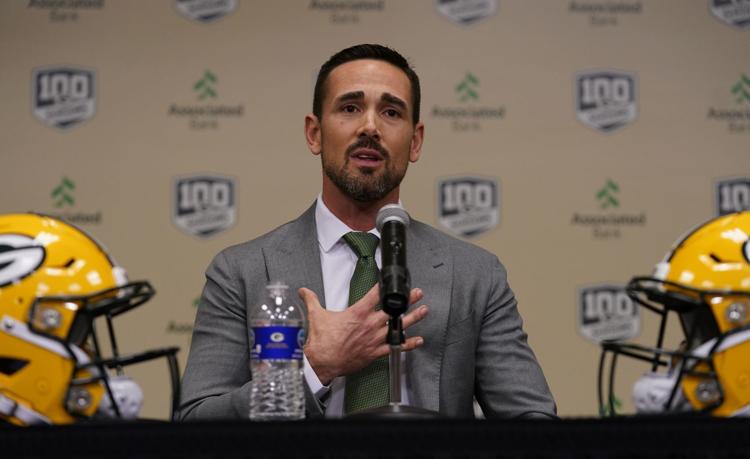 Matt LaFleur addresses media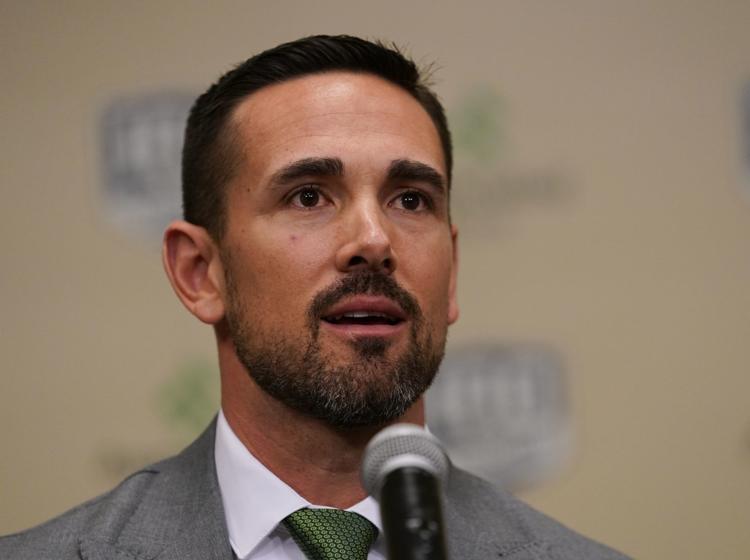 Brian Gutekunst discusses new coach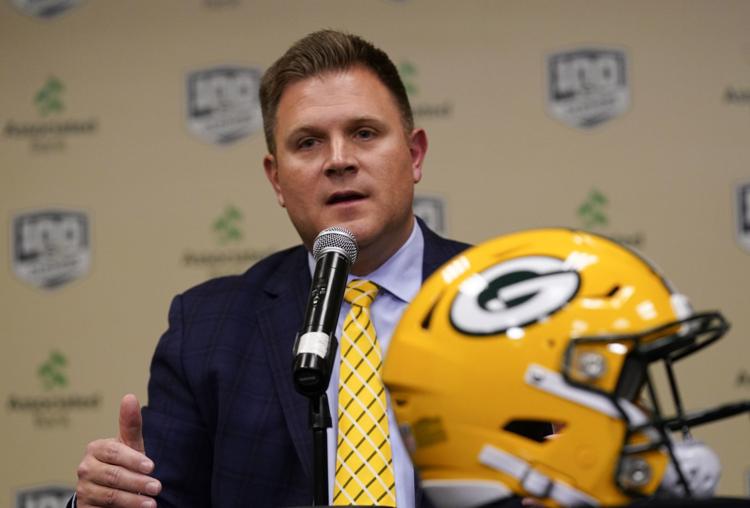 Matt LaFleur addresses media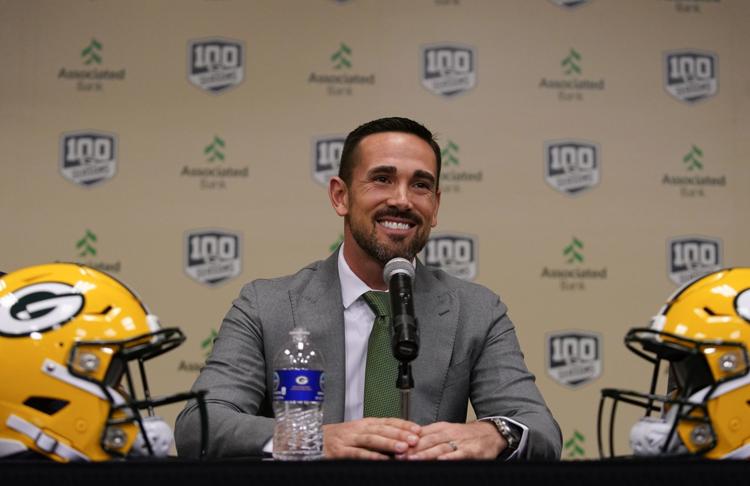 Mark Murphy discusses new coach
Packers hold news conference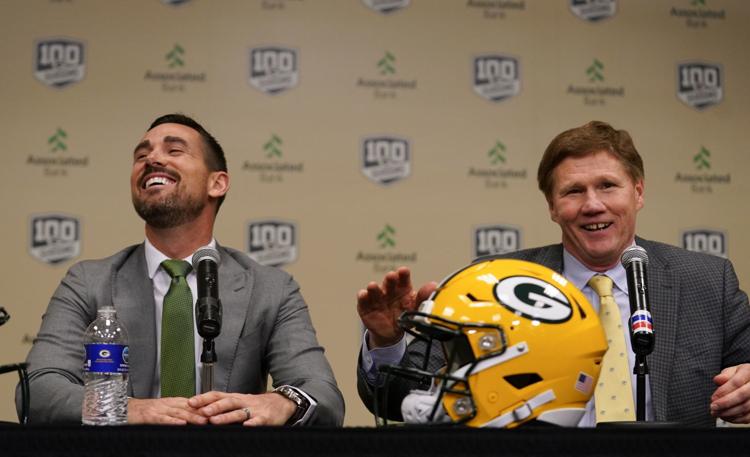 Related to this collection
Packers president Mark Murphy and general manager Brian Gutekunst — especially Murphy — are banking their reputations on LaFleur.
More than anything else, LaFleur's success or failure as the 15th coach in the Packers' storied 100-year history will be decided by just how well his two-time NFL MVP plays after a down year.
"I know he's a smart guy, and we'll just have to see how he approaches his new job," the defensive lineman said. "It's going to be exciting to get a new, fresh voice in here, no matter if he's offensive- or defensive-minded."
As new Packers coach Matt LaFleur began building his first coaching staff in earnest on Thursday, Zook got the word he expected: Zook won't be retained from ex-coach Mike McCarthy's staff.
Meanwhile, LaFleur confirmed ex-Jacksonville Jaguars offensive coordinator Nathaniel Hackett is in the running to be the team's new offensive coordinator. Hackett is the son of former University of Pittsburgh and USC head coach Paul Hackett, who mentored ex-Packers coach Mike McCarthy early in McCarthy's coaching career at Pitt and with the Kansas City Chiefs.
Since Matt LaFleur's hiring as coach, the team's three longest-tenured assistants — James Campen, Joe Whitt and Joe Philbin — have either been dismissed or given the OK to seek jobs elsewhere.
Longtime offensive line coach James Campen, whose 15-year tenure on the Packers' staff tied him for the longest of any assistant coach in club history, left Sunday to become the Cleveland Browns' associate head coach/offensive line coach, ESPN.com reported.
Hackett spent most of the past four seasons with the Jaguars under coach Doug Marrone, serving as quarterbacks coach in 2015 before moving up to offensive coordinator in 2016.
Matt LaFleur's first staff is beginning to take shape, but the Green Bay Packers' new head coach still has plenty of work to do before it's complete.
As an offensive-minded head coach and the play-caller, LaFleur knows getting on the same page with Rodgers quickly and building a strong relationship with him is crucial.
The San Francisco 49ers blocked the Packers from pursuing Mike, the team's wide receivers coach and passing-game coordinator.
Not only do the Packers have a pair of under-40 coaches in charge of their offense — the 39-year-old Matt LaFleur and 39-year-old offensive coordinator Nathaniel Hackett — but the team is expected to hire 35-year-old Adam Stenavich to coach the offensive line.
Perhaps the most important thing the Packers' new coach must do in his first season is convince Rodgers how much a productive running game could help him.
The Packers are the last remaining franchise in the 32-team NFL not to have gotten the call to go to London.
LaFleur was a part of Griffin's most successful NFL seasons when he helped coach the quarterback in Washington.
Adams, speaking after the NFC's practice Wednesday at the Pro Bowl in Orlando, Fla., had nothing but good things to say about LaFleur.
The team struggled in that area for almost all of former coach Mike McCarthy's 13-year reign.
Graham signed a three-year, $30 million deal in free agency last March but didn't have the impact he envisioned, finishing the season with 55 receptions for 636 yards (11.6-yard average) and just two touchdowns.
On Wednesday, David Bakhtiari acknowledged he saw some troubling signs last season, when the Packers finished 6-9-1 and McCarthy was fired with four games to play after an embarrassing Dec. 2 loss to the Arizona Cardinals.
Mennenga worked for Packers defensive coordinator Mike Pettine in Cleveland, where Pettine was the Browns' head coach in 2014 and '15 and Mennenga was the assistant special teams coach.
Peppers not only was productive in Green Bay, but he quickly became a team leader, despite saying upon his arrival that he wanted to proceed carefully because he was the "new guy" in the locker room.
"Instead of getting surgery post-season, (I) decided to kind of go through a different routine with my knee than I've done in the past," Rodgers said. "And I'm feeling really, really good."
Luke Butkus is hired as the team's assistant offensive line coach.
In college at Connecticut, Boyle played in 27 games over three seasons — under three different coaches.
A quality control coach in 2014 and 2015 and receivers coach in 2016 and 2017, Getsy spent last season as offensive coordinator and receivers coach at Mississippi State. His presence should ease the adjustments for the two-time MVP.
While Pettine wasn't retained simply because he has head-coaching experience, he has already engaged in a number of discussions with LaFleur in which LaFleur sought his advice.
Bakhtiari said is he eager to get to work with Stenavich, who comes to the Packers from the 49ers.
Nelson says joining the Oakland Raiders last season was very difficult after a record-setting 10-year career in Green Bay.
Nelson disagrees with former Packers teammates Jermichael Finley and Greg Jennings, who seem to make news on a regular basis by publicly criticizing Rodgers.
LaFleur said at the NFL Combine on Wednesday that he would rather look ahead to building a relationship with Rodgers than look back to find out what went wrong in Green Bay.
In the April 25-27 NFL draft, the Packers hold a pair of first-round picks — the 12th and 30th overall selections — and, along with their second-round choice, three picks among the first 45.
Ingold, a Green Bay-area native who starred at the University of Wisconsin, was the lone fullback invited to the NFL scouting combine.
When a larger-than-usual number of prospects wowed NFL scouts with their personal measurements and/or athletic feats at the combine, it created a probable overload for the top 10 picks in the draft, which means the Packers have no need to think about trading up. They can sit tight at No. 12 and likely find a potential game-changer.
"As long as that communication's always there and it's clear, open and honest, I think you can accomplish whatever you want to together," LaFleur says.
While teams can start negotiating with agents on Monday at 11 a.m. Wisconsin time, no signings can be made official until the league year begins on Wednesday at 3 p.m.
While Green Bay general manager Brian Gutekunst may view free agency differently than Ted Thompson did, Gutekunst wasn't part of the opening-day spending spree that saw several players at positions of need get big paydays elsewhere.
General manager Brian Gutekunst can now take the best available player regardless of position.
The NFL wouldn't be the gigantic force it is in society and sports today without free agency empowering players with freedom and endowing long-suffering franchises and their fans with hope.
Not a single Packers pick from the 2015 draft remains on Green Bay's roster.
The Packers and the veteran tight end agreed to terms on a one-year contract Wednesday, an NFL source confirmed after ESPN was first to report the deal. 
"We're in a 'win now' mode all the time," Gutekunst said Thursday. "I thought we needed to add to our defense significantly. And I think these guys will."
With the team having cut ties with Nick Perry, and Clay Matthews expected to depart in unrestricted free agency, the Packers are counting on the Smiths to create pressure on opposing quarterbacks and deliver more sacks than their two former first-round picks managed together last year.
Riley started all 16 games for the Giants last season and had four interceptions — a total that would have led the Packers in 2018.
While GM Brian Gutekunst's free-agent signings at outside linebacker last week and draft selections at wide receiver last year give the Packers options at both positions, there is work to be done at each of them as the free agency market remains open and the NFL draft approaches.
With the April 25-27 NFL draft a month away, general manager Brian Gutekunst could hold off on any veteran signings until after that. 
The 199th meeting in the history of the longest-running rivalry in the league is set for Sept. 5.
"When it's clear and obvious, sure you'd like to see them correct that no-call," LaFleur told reporters at the annual NFL coaches breakfast Tuesday morning. "If that means putting a flag on the field, then that's the right thing to do."
T.J. Lang's spirit is willing. It's his body — and, honestly, his brain — that he's not sure will hold up.
Opposing quarterbacks and offensive tackles who call Za'Darius Smith a mama's boy this season will do so at their own peril. But they wouldn't be wrong.
McCarthy also says claims that there was a lack of accountability "bothered me" and were "not accurate."
Rodgers will report for the Packers' offseason program on Monday without two more of his closest pals, wide receiver Randall Cobb and outside linebacker Clay Matthews, who left Green Bay via free agency this offseason.
Matt LaFleur had been on the job for a little more than a week when he began formulating his thoughts for what he'd say to his players in his first team meeting as the Green Bay Packers coach — a meeting that is set for Monday morning.
Characterizing the story as a "smear attack" and refuting several specific allegations made by unnamed sources within the piece, Aaron Rodgers went on the offensive Monday in an ESPN Wisconsin interview in which he spoke angrily about a Bleacher Report story from last week that claimed the Green Bay Packers quarterback was told by team president Mark Murphy not to be a "problem" for new coach Matt LaFleur.
Rodgers says he suffered a tibial plateau fracture and a sprained medial collateral ligament in his left knee in the Packers' Week 1 win over the Bears at Lambeau Field on Sept. 9.
The team announced its preseason slate Tuesday — without confirmed dates, as it does each year.
Matt LaFleur's favorable first impression was a good starting point, but it's what happens from now on that will determine the fate of everyone from team president Mark Murphy on down. 
Adams was supportive of Rodgers Wednesday in the wake of Bleacher Report article that depicted Rodgers in an unflattering light.
Adams finished last season with 111 receptions (one fewer than Sterling Sharpe's franchise record of 112, set in 1993), 1,386 receiving yards (133 shy of Nelson's team record of 1,519, set in 2014) and 13 touchdowns (five shy of Sharpe's club record of 18, set in 1994). 
Rodgers has a new head coach in Matt LaFleur and a new offensive playbook he started learning when the offseason program kicked off last week.
Of course, the Packers haven't even had a full-fledged practice yet, so the excitement has to be tempered by the reality that after nearly 13 years with Mike McCarthy in charge, some things were bound to grow stale.
Adding Fricken means Crosby could have head-to-head in-house training camp competition for the first time since 2013, when he was coming off a disastrous 2012 and the team brought in Giorgio Tavecchio to push him that summer.
The last time the Packers had a 35-year-old future Hall of Famer as their starting quarterback, they had a 21-year-old QB unexpectedly crash-land into their draft-day laps.
It's likely GM Brian Gutekunst will use at least one of his 10 picks on a running back, although it's unlikely to be one of his first-round picks (Nos. 12 and 30).
While the Packers don't have any proven players behind No. 1 wideout Davante Adams, it's unlikely GM Brian Gutekunst will use either of the team's first-round picks on a wide receiver.
Hockenson, widely regarded as the best all-around tight end in the draft, is someone the Packers well could take with the No. 12 overall pick.
Asked what he saw in Amos when he watched the Chicago Bears last season, the former University of Maryland safety had a full scouting report at the ready.
Gutekunst and LaFleur seem to have a genuine affinity for each other and have built a strong foundation for a relationship that will define both of their tenures.
While the Packers' new coach has been busy with his job since his Jan. 7 hiring, BreAnne and the couple's 5- and 7-year-old sons have stayed back in Nashville, Tenn., to finish the school year, which ended Thursday.
Adams, who missed last week's open OTA with a minor injury, returned for Wednesday's open practice.
Matt LaFleur suffered a ruptured Achilles' tendon while playing basketball at Lambeau Field on Wednesday night. He is scheduled for surgery Sunday, and he'll have to finish OTA practices and the June 11-13 minicamp while coaching from a cart.
Alexander's strong performance during his rookie season came with just one interception. He'll have to elevate that number to achieve the accolades he's expecting.
"I know the player that I am, and I know I still have juice. ... I'm going to go prove a lot people wrong," Graham says.
"He lived a fantastic life," Rodgers said of Starr. "He impacted so many people. He did so much for people that you probably will never know about. I think he taught a lot of us great lessons about what it means to be a Packer."
While he may still be wearing the boot during training camp and for preseason games, Matt LaFleur expects to coach from the sideline as he normally would and be back to normal before the team's Sept. 5 season opener at Chicago.
Aaron Rodgers has only Davante Adams and uncertainty as he gets ready for his 12th season as the starter.
As the Packers transition from ex-coach Mike McCarthy's passing concepts, which counted on receivers winning their 1-on-1 matchups, to new coach Matt LaFleur's offense, which is advertised as effectively scheming receivers open, the constant in Rodgers' mind is that Adams must be the focus of the offense.
The Packers' mandatory three-day minicamp that starts Tuesday is the team's last work time before training camp starts in July.
Rodgers has gone out of his way during offseason practices to stay in the pocket and throw the ball within the rhythm and timing of the way the play is designed.
Thanks to Golden Bears head coach Justin Wilcox, a former University of Wisconsin assistant, the schism between Aaron Rodgers and the school has been resolved.
Davante Adams' contract's per-year average of $14.5 million ranks 10th and the guaranteed $24 million he received at the time of his Dec. 29, 2017 signing also ranked him 10th.
DeShone Kizer and Tim Boyle haven't been very good. In fact, neither one looked ready to go in and win games should Rodgers suffer a significant injury for the third season in a row.
From all accounts, Matt LaFleur has the smarts, personality and coaching background to get that done.
With legendary Green Bay Packers quarterback Bart Starr celebrating his 85th birthday on Wednesday, take a look back at one of the last trips the gunslinger made to Lambeau Field. 
An NFL source confirmed multiple reports that LaFleur intends to keep Pettine, who just completed his first year as the Packers' defensive coordinator.
The Packers are hoping their decision to hire LaFleur as the franchise's 15th head coach — a call they made Monday, when they offered him the job and began finalizing a contract — will be just what the team needs to get back to competing for Super Bowls.
With the Green Bay Packers reportedly tabbing Matt LaFleur as the newest head coach of the storied franchise, there has been no shortage of re…
Team president/CEO Mark Murphy, general manager Brian Gutekunst and director of football operations Russ Ball have crisscrossed the country in their search for Mike McCarthy's successor, traveling to interview their first round of candidates — with their jet-setting continuing on Sunday.
It was a cruel and appropriate end to a season in which Chicago's kicker managed to hit uprights while missing field goals and extra points six times.
We all know drafting is the lifeblood of every NFL team, but having a high-salaried quarterback makes hitting on premium draft picks more important than ever.
This season, Rodgers missed throws he's historically made, passed up open short passes while looking for throws farther downfield and absorbed 49 sacks, fifth-most in the NFL.
Photo galleries from every game of the season.
Among the defensive possibilities? Chicago Bears defensive coordinator Vic Fangio, whose team faces the Philadelphia Eagles Sunday in Chicago.
Marcedes Lewis, who spent the 2018 season in Green Bay as a back-up tight end, detailed the tension he saw between Mike McCarthy and Aaron Rodgers on Yahoo Sports' "Mostly Football" show on Thursday.
The six-year veteran was named to the first team for the first time by a vote of 50 media members of The Associated Press.
After 15 years on the Packers' staff, Campen was not retained by new coach Matt LaFleur. Campen has since joined the Browns as Cleveland's associate head coach/offensive line coach.
Hackett spent most of the last four seasons with the Jaguars as quarterbacks coach (2015-16) and then as offensive coordinator before he was fired in November after Jacksonville lost its seventh consecutive game.
And in Hendrickson, a former Pecatonica High School athlete who has known and been friends with Gutekunst since their time together at UW-La Crosse, Gutekunst now has a right-hand man who's known him for more than two decades.
Smith will oversee the outside linebackers, a job he held with the Chiefs this season.
New Packers coach Matt LaFleur, who spent the 2017 season as the Rams' offensive coordinator.
With the team expected to introduce a completed staff sometime in the not-too-distant future, what the group lacks in experience it should make up for in youthful enthusiasm.
While new coach Matt LaFleur didn't necessarily set out to bring a youth movement to the Packers' coaching staff, the end result was a staff full of thirtysomethings.