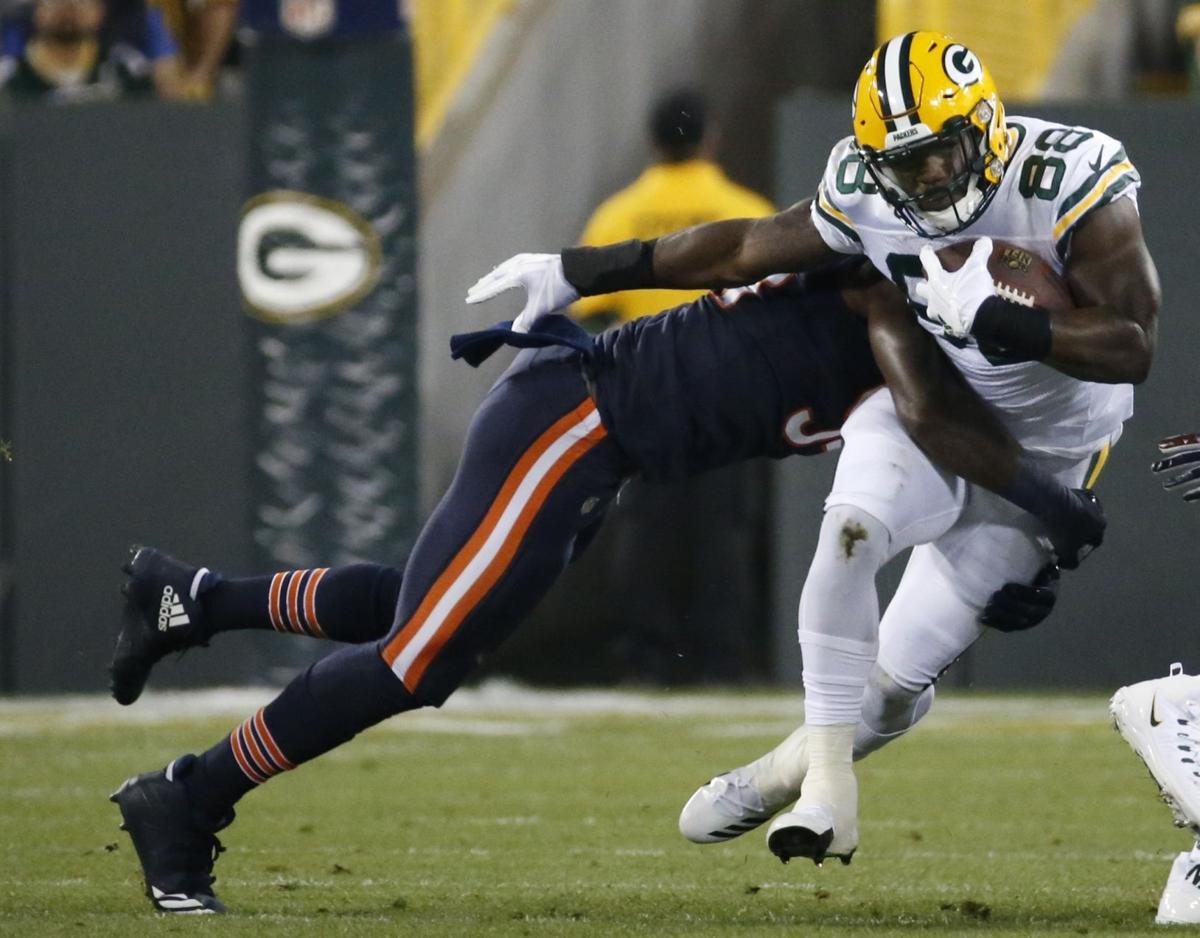 GREEN BAY — Ty Montgomery isn't ruling himself out for Sunday's game against the Dallas Cowboys. But the Green Bay Packers running back is promising he won't do anything stupid, either — like playing with "multiple" broken ribs if the team's medical staff advises him against it.
As the Packers returned to work Tuesday from their mini-bye weekend following last Thursday's win over the Chicago Bears, Montgomery confirmed he broke multiple ribs on his first carry of the Packers' 35-14 victory — when Bears linebacker Danny Trevathan tackled him and one of the defensive linemen landed on top of Trevathan, who in turn squashed Montgomery's chest.
"It was like a hammer-and-nail situation," said Montgomery, who carried the ball four more times before finally exiting. "His knee was hammered into my rib cage."
Montgomery acknowledged he was in pain on those four succeeding carries but he didn't pull himself out of the game until he "felt it moving and clicking. And then I was like, 'That's not right.' And I came out."
Whether he'll be back in to face the Cowboys remains to be seen. Montgomery, who grew up in the Dallas area, admitted there's concern about causing an injury to his internal organs, which would fuel the belief he won't be cleared by team physician Dr. Pat McKenzie and the athletic training staff.
Nevertheless, Montgomery insisted playing Sunday is not out of the realm of possibility, and he is hoping to be given the final call.
"I'm going to continue to get treatment. We're going to talk about a plan as far as what type of protection I can wear. Obviously, there are rib cages and flak jackets. We're going to talk about it," Montgomery said. Asked if the decision whether to play is up to him, Montgomery said, "Eventually, I'm going to have a conversation with the trainers, etc., but, yeah."
Asked how he could play with fractured ribs, Montgomery replied, "Just do it. That's as simple as it is. You just do it and gut it out. So long as there's no risk of internal injury."
Last January, wide receiver Jordy Nelson played in the NFC Championship Game two weeks after breaking ribs in the Packers' wild card playoff win over the New York Giants and missing their divisional playoff win over the Cowboys.
While Nelson was playing against the Atlanta Falcons in a flak jacket protecting his still-healing ribs, Montgomery said Tuesday he himself suffered broken ribs in that same game. But, he said, once the injury occurred, he exited and didn't return.
"(So) I haven't played with broken ribs," Montgomery said.
Packers coach Mike McCarthy didn't speak with reporters Tuesday but said on Friday that Montgomery's rib injury this year and Nelson's last year aren't necessarily comparable.
"Really, every injury is different. … Where exactly it's located, type of equipment and definitely the position that you play," McCarthy said.