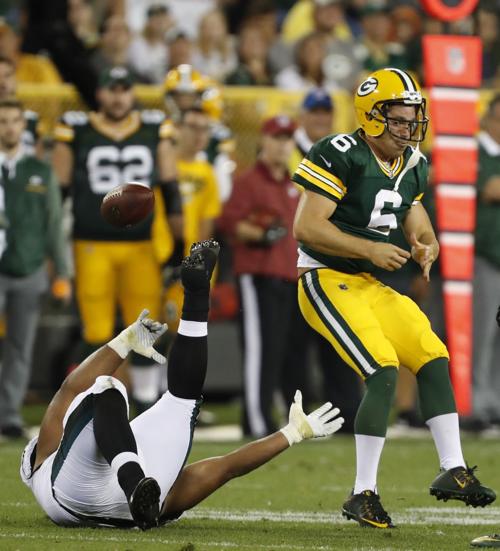 GREEN BAY — In the end, the Green Bay Packers decided going with only two quarterbacks on their 53-man roster was the right move and worth the risk of losing one or both of their promising young signal-callers to another NFL team.
The Packers cut both undrafted rookie free agent Taysom Hill and second-year man Joe Callahan as part of the 34 roster moves they had to make to get down to the NFL-mandated roster limit.
Now, they'll hold their collective breath that Hill, who had an impressive preseason but is old (27) for a rookie, or Callahan, who was terrific last summer but had limited opportunities in this year's preseason, isn't claimed by one of the league's other 31 teams.
Hill got more opportunities during Thursday night's preseason finale against the Los Angeles Rams, finishing 4-for-4 for 31 yards, including a 25-yard touchdown on which he scrambled and hit tight end Aaron Peck while on the move. For the preseason, Hill was 14-for-20 for 149 yards with two touchdowns and no interceptions (124.8 rating) and also had the winning 23-yard touchdown scramble at Washington in Week 2.
"You guys saw the games. From (the start of the offseason program) until now, I feel like I've progressed and gotten better," Hill said after the game. "I worked hard to learn the offense so I had an opportunity to play and make sure that I knew what was going on. I think for the most part I did that."
Callahan finished 13 of 21 for 112 yards with no touchdowns or interceptions (75.9 rating). He played only two series against the Rams, completing both his passes as the Packers ran out the clock on the ground.
"I definitely got more playing time last preseason, so hopefully that kind of backs up what I did this year on the field," Callahan said. "Teams can see the tape and make their decisions."
Remember coach Mike McCarthy's postgame confession Thursday night that he didn't run the ball enough during the team's first three preseason games? That might in part explain the Packers' decision to keep all three of their rookie draft picks at running back: Fourth-rounder Jamaal Williams, fifth-rounder Aaron Jones and seventh-rounder Devante Mays.
All three flashed at times behind starter Ty Montgomery, but none of them probably got enough work to where the scouting staff could make definitive judgments on their potential.
"They improved weekly, and that's what you're looking for," McCarthy said after going run-heavy during the second half of the Packers' 24-10 win. "If I was going to be judgmental, I wish I'd have run the ball more in the first three games."
For the preseason, Jones led the Packers in rushing (19 carries-105 yards-5.5-yard average), followed by Williams (25-61-2.4) and Mays (16-43-2.7).
For a group that top-to-bottom was touted as the deepest in years — leading to talk that as many as seven might make the 53-man roster — the Packers kept just five wide receivers, although that's likely just temporary. No. 4 wide receiver Geronimo Allison, who spent the entire camp ahead of Jeff Janis, will miss the Sept. 10 regular-season opener against Seattle because of an NFL suspension, meaning the Packers will have to make a roster move after that game to activate him from the reserve/suspended list. Allison's addition will then put the Packers at six receivers.
The more significant development at receiver was that none of the young receivers — draft picks DeAngelo Yancey and Malachi Dupre, converted basketball player Michael Clark or second-generation NFL'er Max McCaffrey did enough to warrant being kept. They all have practice-squad eligibility, and the Packers could bring most or all of them back if they clear waivers.
"Everything you do on a personnel side, especially on the 53 cut, is you have to sacrifice somewhere else," general manager Ted Thompson said earlier in camp. "In order to get this piece of cake, then you have to get this piece of cake thrown away. So those are the things you have to weigh."
The Packers figure to take a long look at any available offensive linemen. It's hard to imagine them sticking with 10 linemen, especially since Lucas Patrick and Justin McCray likely benefited from backup Don Barclay's ankle injury earlier in camp.
A year after having the luxury of having do-it-all JC Tretter ready to step in anywhere on the line, the Packers' backup situation is troublesome. There's not much concern about veteran right tackle Bryan Bulaga's injured right ankle being ready for the opener, but the uneven performances of 2016 second-round pick Jason Spriggs, slated to be the swing tackle, have been an issue. And with Barclay missing virtually all of camp with an ankle injury, Patrick and McCray are the Packers' next-best options as interior backups.
"There's a lot of guys that work hard and try to do things right. We'll see if guys respond from not-so-good performances," offensive line coach James Campen replied when asked late in camp if he was concerned about the backup linemen. "As a group, they've gotten better. Everyone got better. There was a couple hiccups, but I thought they progressed."