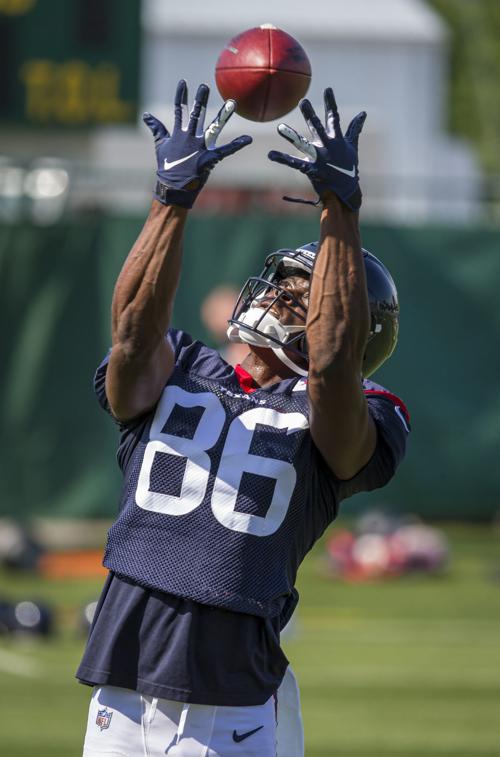 GREEN BAY — Jace Sternberger might've been the least bothered of anyone.
Lucas Patrick was irate. Billy Turner was spoiling for the fight. Corey Linsley was legitimately disappointed he wasn't practicing — meaning he wasn't able to help.
And even coach Matt LaFleur — Mr. Zero Tolerance For Fighting himself — was mulling joining the rumble that his Green Bay Packers got into with the Houston Texans during Monday's joint practice after Sternberger, the Packers rookie tight end, took a hard, unnecessary hit from Houston safety Lonnie Johnson midway through practice.
"Whenever you see your guys out there and somebody takes a cheap shot like that, that's not OK. So I'm bummed," said Linsley, the team's starting center who sat out the practice with a minor biceps injury. "But it was awesome to see all our guys had Jace's back and not let that (expletive) fly."
Said Patrick, who was the first player to come to Sternberger's aid and touch off the fight: "You don't want it to happen, you don't expect it to happen, but if it does, you've got to set a standard of what's acceptable and what's not. I don't think we're going to let our guys feel like they got cheap-shotted."
In advance of the two joint practices with the Texans, LaFleur had emphasized to his players the importance of being productive with the work and not brawling with their guests. A week earlier, LaFleur had kicked Packers safety Josh Jones out of practice for an uncalled-for hit and the ensuing fight after a Tra Carson run play. LaFleur went so far as to tell Houston coach Bill O'Brien that he didn't want to have wide receiver-cornerback 1-on-1 drills because in past joint practices, LaFleur had seen too many fights start during that particular activity.
And yet, after Johnson drilled Sternberger so hard that Sternberger's helmet flew off — and Johnson then stood over him in a flexing, taunting manner — LaFleur was ready to mix it up, too, after seeing his players support their fallen teammate.
"These guys, they care about one another, so if something does go down, they're going to back each other up, there's no doubt about it. And I'm going to back them up, too," said LaFleur, who is still in a walking boot after Achilles' tendon surgery and doesn't cut an especially imposing figure at under 6 feet. "I might not be able to do a lot, but I'm going to try.
"There was no place for that (hit). We addressed it. It's an unfortunate deal, because I was pretty clear with our guys that we're not doing that stuff."
While some of LaFleur's players joked about his willingness to dive into the scrum — "I don't know if I see him as a fighter," wide receiver Davante Adams said, smiling — multiple players said they appreciated the thought.
You have free articles remaining.
"With his foot right now, I wouldn't recommend it," Turner said. "At the same time, you could tell that he was fired up about the situation, regardless of him telling us, 'If you fight, you're out of practice.' I think he noticed real quickly that it wasn't necessarily us doing anything wrong, we were just backing our teammates up."
Turner said that while LaFleur emphasized his no-fighting policy before practice, the players responded to their coach by warning him that they were going to stand up for themselves if necessary — and they felt the hit on Sternberger made it necessary.
"If they want to play like that, and they want to take side shots — which we were told wasn't going to happen — you know what? You (will be) seeing some of your players out there getting laid out in the middle of the field like they laid '87' out," Turner said of Sternberger.
"(LaFleur) was clear with us, and we were clear with him: If they started taking shots on our players, then we're not just going to stand there. We're not punks by any means, and that's what happened. So we were men of our word, just like he was a man of his word."
Although O'Brien downplayed the incident ("It's not a big deal," he said), he did send Johnson off the field afterward.
"It was time for Lonnie to head to the showers," O'Brien said.
Although Johnson tweeted after practice that he meant no harm, veteran Packers tight end Jimmy Graham called the hit "absolutely ridiculous" and said Johnson "needed to chill out, obviously." He also said he hopes there won't be further issues during the teams' second practice together or during Thursday night's preseason opener.
"Hopefully he'll learn to not bring the hit stick in practice, which is absolutely ridiculous. But we're going to move on from that," Graham said. "Hopefully we all learn from that and carry on into tomorrow so we don't have any issues."
And Sternberger? He was more appreciative of his teammates' support than he was worried about the hit, which caused him to miss a brief portion of practice while being evaluated for a concussion.
"I'm fine. It was more that I got the wind knocked out of me," he said. "Coach LaFleur wants us to be a player-led team. The players aren't in charge but they set the standard. When one of our guys goes down — it could have been me or anybody — you have to respond like they're family. It was cool to see that.
"Football's fun. That's what happens. It really wasn't a big deal."