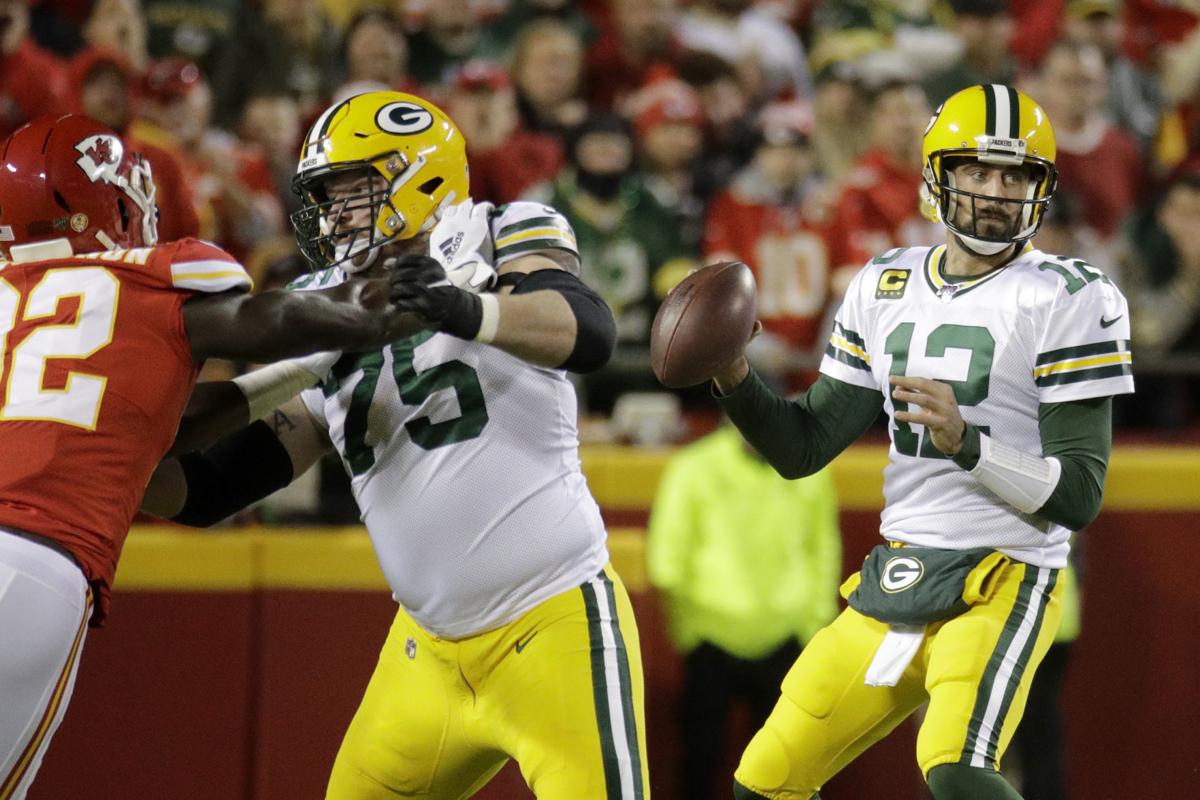 GREEN BAY — When Bryan Bulaga looked down at his right ring finger after inadvertently smashing it against someone's helmet during last Sunday night's win at Kansas City, the Green Bay Packers veteran right tackle was afraid of what he might see.
"When it happened, I initially thought it was even worse than what it ended up being. The way it happened, I thought initially there could have been a potential bone sticking out somewhere," Bulaga said Thursday afternoon after practicing on a limited basis in advance of this Sunday's game at the Los Angeles Chargers. "It just kind of mangled itself."
Bulaga suffered the injury during the fourth quarter and said the medical staff was able to tape up his finger and hand sufficiently to get him back into the game but by then the Packers were running out the clock following Aaron Rodgers' third-down completion to running back Aaron Jones just after the 2-minute warning.
Bulaga has been test-driving various contraptions to protect the finger throughout the week — Bulaga said he will play against the Chargers despite the injury — and said athletic trainers Bryan Engel and Andrew DePietropaolo have had to go back to the drawing board several times. Bulaga also said longtime team physician Dr. Pat McKenzie was even surprised by the severity of the dislocation.
"I was just talking to Doc the other day. He goes, 'That was tough to put back in. I haven't had one of those in a long time.' I was like, 'Yeah, I know — I felt it,'" Bulaga said. "I think we've brainstormed a lot of things and tried a lot of things and I think what we did today is probably what we're going to do for the game. While it's not perfect, I don't think anything's going to be perfect.
"There were a couple of models and remodels because I was like, 'I can't do this' or 'This is too bulky,' so there were a couple reworks with it and finally we've gotten to something I think is OK and we'll go from there."
Bulaga said a club cast won't work because he needs to be able to use his hands and fingers. Although past offensive linemen have played with club-style casts — including guards Marco Rivera and Mike Wahle in the mid-2000s — that won't work for Bulaga.
"There's no way I'd be able to do that. I just don't think it's possible," Bulaga said. "Everyone's different, but I've watched a lot of tape over the years and after 10 years I've never seen a tackle play with one on his hand. Because I'm not sure if it really suits what we have to do and all the space we have."
Bulaga and left tackle David Bakhtiari will have their hands full yet again this week against the Chargers' Joey Bosa and Melvin Ingram, who make up one of the league's top edge-rushing combinations.
"They are a great duo that can wreck a game. They stack up as good as any tandem in the National Football League in my opinion," Packers coach Matt LaFleur said. "I know they've both had their (injuries) as well, but I (coached) against them last year when I was with the Titans and you better account for those guys at all times otherwise they can wreck a game."
The 30-year-old Bulaga is in the midst of a renaissance season, having allowed only one sack and having shut down a host of the NFL's top pass rushers. Facing the Chargers with an injury is hardly ideal.
"You don't really realize how much you use a digit until it's affected. So it's certainly an inconvenience and uncomfortable," Bulaga said. "I'm going to have to deal with it."
Asked if he's been able to appreciate the impressive season he's having, Bulaga replied: "I think you understand the body of work you've put together. I understand the stuff I've done to this point. I still think there's a lot I can improve on and do better and feel more comfortable in. I think that's a week-to-week deal. But I don't really like to reflect on things until after. That's kind of always been my mentality — and then at the end of the season we'll look back on it and talk about it."
Bulaga isn't looking back or looking ahead. In the final year of his contract, there was speculation each of the past two offseasons the Packers might move on from him and save some salary cap space. Instead, they've been fortunate to have him playing at an elite level at the end of his five-year, $33.75 million deal, which for this year contains a $5.8 million base salary and has him counting $8.35 million against the cap.
"There's not really much to think about at that point. You've got to go play, you've got to perform well and the rest will handle itself," Bulaga said. "I haven't spent too much time thinking about that. That's another thing that, last game of the year, whenever that's going to be, that'll be the time when I can reflect on it more and talk about it more. There's just too much going on right now."
Extra points
All 52 players on the roster participated to some degree in practice, so even though the team has 22 players on the official injury report, LaFleur acknowledged the team is fortunate. "We're in pretty decent health considering it is Week 9," LaFleur said. "Hopefully we can continue that." … Wide receiver Davante Adams was technically a limited participant but all signs continue to point to him returning to action after missing the past four games with a turf toe injury. … The Packers re-signed wide receiver/returner Darrius Shepherd and tight end Evan Baylis to the practice squad after cutting them from the 53-man roster earlier in the week.
Be the first to know
Get local news delivered to your inbox!