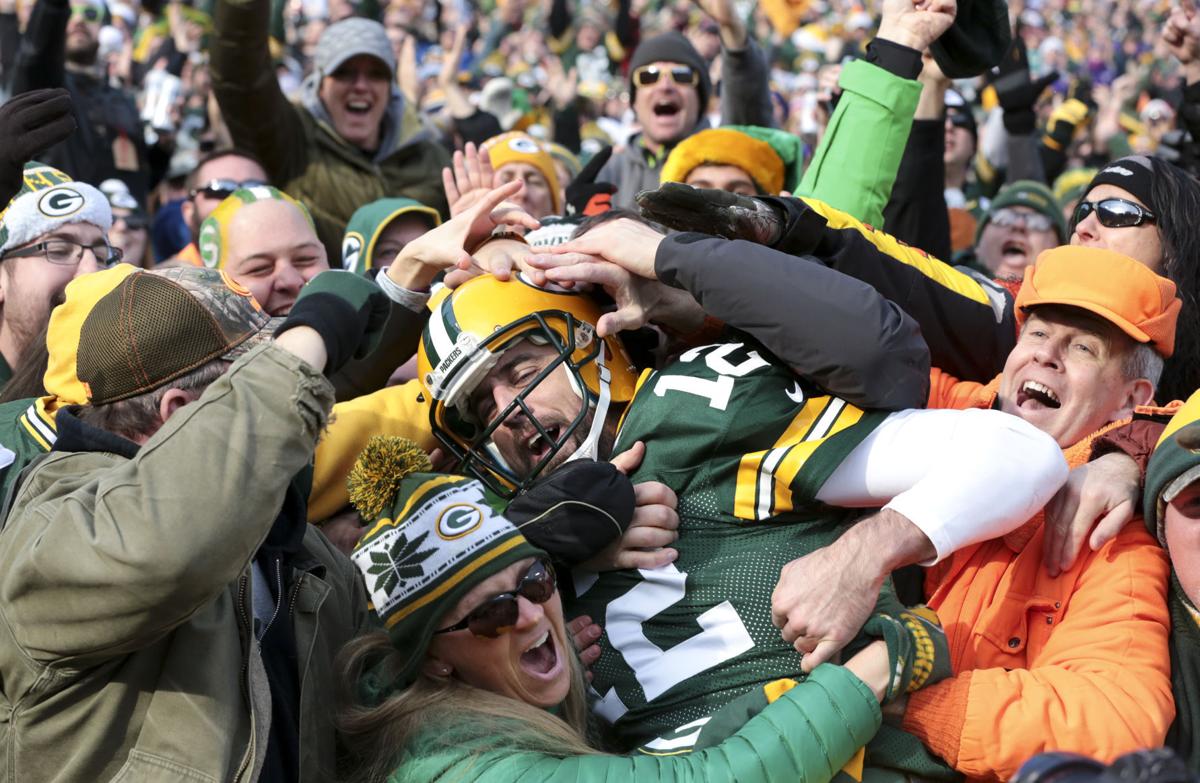 GREEN BAY — In early 1960s, Dr. James Jeffrey walked into a Kaukauna drug store looking to go to a Green Bay Packers game. The clerk told him they didn't have any single-game tickets available, so the well-known family physician bought two Lambeau Field season tickets instead, and watched as legendary Vince Lombardi led the Packers to five NFL titles in a nine-year span.
More than 50 years later, those seats are still in the family. Dr. Jeffrey's grandson, Mark Moderson, now has the tickets, which are in his name after his father, Paul, took them on in 1996, the year Brett Favre and Reggie White led the Packers to Super Bowl XXXI and their first title in 29 years.
"From '96 through 2014, I don't think I missed a game," said the 38-year-old Moderson, who lives in Oshkosh and has the "Green" package, which includes six regular-season games and one preseason game. (Former Milwaukee County Stadium ticketholders have the "Gold" package, which consists of two regular-season and one preseason game.)
"But the last few years, I have started selling some tickets — pretty much solely because of the cost. I hate myself for it, because I used to loathe those people who were letting other teams' fans in (by selling their tickets). But in 2010, my tickets were $72. They are now $115. To me, that is a giant jump in a short amount of time. We have rarely sold tickets, and when we do, it has always been at cost to friends. But with the way things are going, I could see selling half of them sooner rather than later to recoup some of the costs.
"I hope it doesn't come off as whiny, but looking through the tickets I've collected over the years, it makes me sick to see how much they have increased."
Moderson isn't alone in that feeling. The Packers currently have two streaks going — eight straight years of making the playoffs and eight straight years of raising ticket prices. Last week, team president/CEO Mark Murphy unveiled an abbreviated balance sheet to reporters that showed another year of record revenues ($441.4 million) and a record $72.8 million in net income.
The Packers are quick to point out they are still in the middle of the NFL's 32-team pack when it comes to ticket prices — last year, they say, they ranked 19th — and that Lambeau Field, with the league's second-largest seating capacity (81,435), remains a quality game-day experience and a relative entertainment bargain. Plus, their season-ticket waiting list is up to 131,000 names, and even if only two-thirds of those people would actually buy tickets if given the chance, that would be more than enough to fill a second stadium worth of fans.
And for every longtime season ticketholder who's starting to feel the pinch in his or her pocketbook, there are diehard fans buying tickets on the secondary market for far above face value. So the Packers' argument they could easily charge far more for tickets is not without merit.
According to the website TeamMarketingReport.com, the Packers' average ticket price in 2016 of $94.47 ranked 13th. In the website's "Fan Cost Index" ranking — which factors in other costs such as parking, beverages, food and souvenirs — the cost of the Packers' fan experience ranked 14th.
"It's a challenge for us. It's balancing trying to be as affordable as we can but also fair," said Murphy, who took over in 2008 after popular team president Bob Harlan reached the team's mandatory retirement age of 70. "We've talked about this at the board level internally. We feel that it's a very reasonable position or policy to be just below the league average."
Price hikes
In 2008 and 2009, the Packers did not raise ticket prices with the country in a recession and the team coming off a 6-10 finish in 2008 after the ugly quarterback succession from Brett Favre to Aaron Rodgers. Since then, though, Rodgers has led the team to the playoffs each of the past eight years — including the 2010 team's Super Bowl XLV title — and tickets have gone up in price each year, too.
"I am OK with the ticket prices. They could be lower, but I enjoy the game day experience that Lambeau and the Packers offer," said Matt Jensen, a 30-year-old Green Bay native who assumed two "Green" tickets from his father in 2013 — and sells his seats to one or two games per season to recoup some of the cost of the tickets.
"(But) concession prices need to be lowered — $8 for a bottle of beer or $6 for a slice of pizza is costly when you consider the ticket to get in already costs $100-plus and parking is at least $20, and that doesn't factor in any additional expenditures. I rarely spend money once I'm inside the stadium. And I know plenty of folks that will pass on tickets now because of the collective cost required to attend a game."
Before the Packers raised prices in 2010, season tickets in the stadium bowl between the 20-yard lines were $72 each, seats from the end zone to the 20-yard lines were $64 and end zone seats — before the south end zone addition was completed in 2013 — were $59.
In 2017, tickets between the 20-yard lines will be $129, an increase of $57 (79.2 percent) over that eight-year span; seats from the end zone to the 20-yard lines are $115, up $51 (79.6 percent); and end zone seats will be $102, up $43 (72.9 percent) from 2009.
The Packers raised this year's prices $7 per seat across the board, a major one-year increase. Prices went up $8 to $11 in 2010, $2 to $4 in 2011 after the two years of not raising prices, then went up $3 to $5 in 2012, $2 to $5 in 2013, $3 across the board in 2014 and $3 to $5 in 2015.
The team adopted two-tier ticket pricing in 2016, where preseason tickets cost less than regular-season tickets, but because seats are sold out on a season-ticket basis, the policy change didn't actually save "Green" package ticketholders any money. In 2016, the overall price of the seven-game "Green" package increased between $55 and $59, or roughly $8 per game. The overall price of the three-game "Gold" package decreased between $5 and $9.
A different approach


Under Harlan, the Packers tried to avoid raising prices in consecutive years.
"If you do it every other year, you have to make a huge increase. Then you get complaints of, 'Oh my gosh, you went up 15 percent,'" Murphy said when asked about Harlan's approach. "So trying to do it a little each year, I think, makes the most sense."
In fact, however, the Packers never made major increases under Harlan to make up for years in which prices stayed flat. For instance, Harlan raised prices $4 when the redeveloped Lambeau Field opened in 2003, then held the line on prices in 2004. In 2005, ticket prices went up by $4 again; in 2006, they remained the same. In 2007, they went up $5.
Murphy said a key part of his rationale has been the club owes it to other teams to make sure their share of gate receipts is maximized.
"Visiting teams get one-third of the revenue," Murphy said. "The reality is, with new stadiums coming on line, we're going to continue to have to raise our ticket prices just to stay right below the league average. We feel that that is a very reasonable policy and position for us to take. We'll continue to monitor that, but with these new stadiums coming on line, the ticket prices and revenue for those teams usually go up very quickly."
And, in turn, the Packers' have, too. Jon Plous, a 39-year-old Green Bay native who now lives in Chicago and splits his family's three-ticket "Green" package with his brother, has no problem with the annual ticket hikes, saying it's just a case of supply and demand."Aside from simple economics, when you have something you love with all your heart, when you are born in a place where the football is the identity of a community, price doesn't mean so much," said Plous, whose parents acquired the tickets in 1978. "I feel for the people where it is getting out of their price range, but there are ways to ease the burden.
"The Packers are the lifeblood of the Green Bay economy. If they need to incrementally raise tickets every year to guarantee that Green Bay continually flourishes, so be it."
Printing money


The Packers — and, by extension, the greater Green Bay area — surely are flourishing.
The team has taken an aggressive approach to creating local revenue streams beyond ticket sales, including the recently renovated Lambeau Field atrium, the new Titletown district and the new Tailgate Village, and non-game events at Lambeau Field like the Wisconsin-LSU game last September and several recent concerts. Titletown's three anchor tenants — the Hinterland restaurant and brewery, the Lodge Kohler hotel and the Bellin Health sports medicine clinic — will all be open for business by month's end, with a park and full-length football field set to open before the team's Sept. 10 regular-season opener against Seattle.
During a meeting with reporters last week, Murphy called the Titletown district "an investment in the community" but acknowledged it will also be an important revenue generator for the team. With three years left on the current collective bargaining agreement between owners and the NFL Players Association and concerns that the television revenue bubble could someday burst, there are issues looming for the most popular sports league in the United States.
"Having the (local revenue) resources no question is beneficial," Murphy said. "And the success on the field is vital to everything we do."
How long that on-field success will continue is another question. Ted Thompson is in his 13th year as general manager, and Mike McCarthy is starting his 12th season as head coach, giving the team stability at the top of its football operation. But more importantly, the franchise has been fortunate to have back-to-back Pro Football Hall of Fame-caliber quarterbacks in Favre and Rodgers.
While the 33-year-old Rodgers, a two-time NFL MVP, has said he intends to play into his 40s, at some point, he will call it a career. What then?
"Last year was the first time I thought, "(Wow), these tickets are getting expensive,'" said Matt Venz, a 41-year-old season ticketholder from Sun Prairie who has been going to games since high school and shares his family's tickets with his brother and sister. He worries what the next era will look like post-Rodgers.
"My parents were on the waiting list since 1969 and got them in 2001. Realistically, I probably won't give them up as long as Aaron Rodgers is on the team, because they will continue to be a top-tier team," Venz said. "But I can't imagine sustaining the success the team has had since 1992. The odds can't be very good of finding a third straight Hall of Fame-type quarterback.
"The Packers are in a position of power (right now), so I can't blame them too much. They consistently have a great team and have one of the biggest stars in sports. But every little bit counts, so (raising prices) every other year (instead) would be nice."
Be the first to know
Get local news delivered to your inbox!