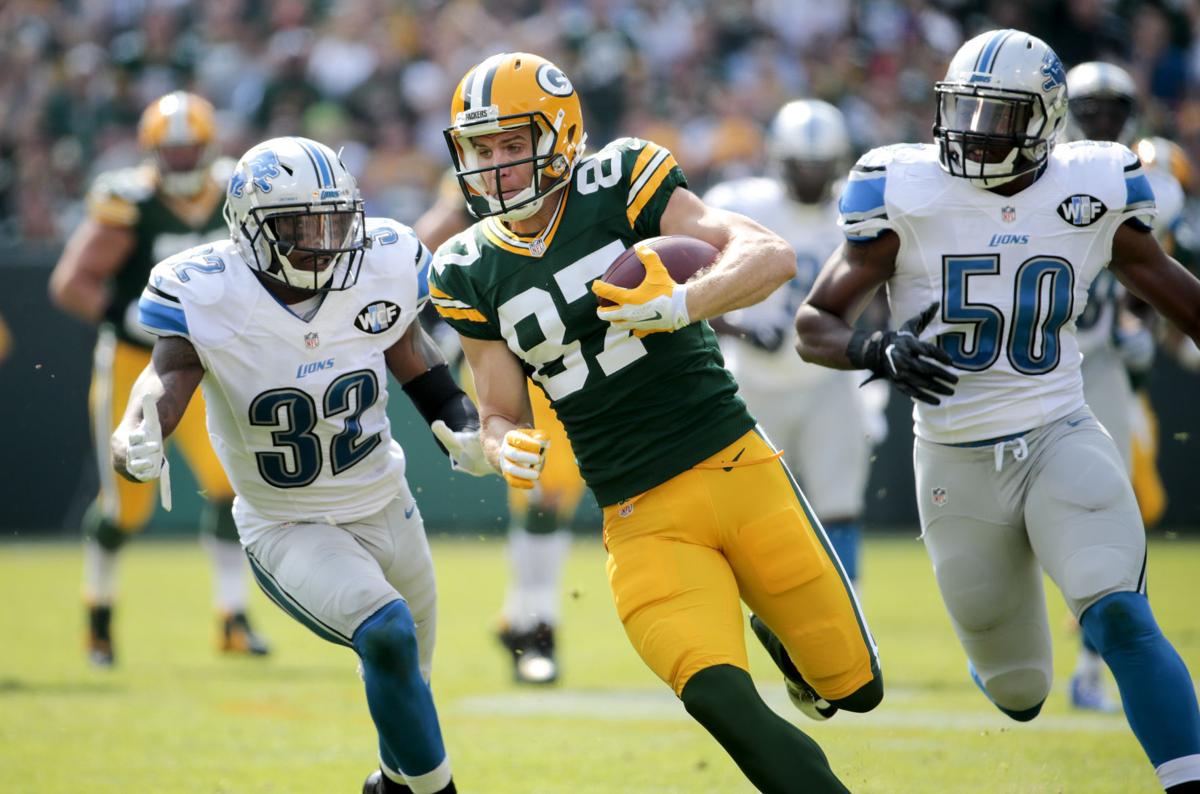 GREEN BAY — Mike McCarthy has long used his teams' bye weeks as an opportunity for self-evaluation and study. While the players were able to get out of Dodge on Monday afternoon after meetings, the Green Bay Packers' 11th-year coach and his staff had to work a few more days, taking a deeper look at the team's performance thus far.
And while having a bye after three games was hardly ideal — it's tied with 2014 for the earliest bye the Packers have had under McCarthy, as Green Bay and Philadelphia are the only two teams with the weekend off — McCarthy still felt there was plenty to delve into as he prepped his team for the next 13 weeks of games.
"We still have a lot of work to do," McCarthy said after addressing his players in the wake of their 34-27 victory over the Detroit Lions last Sunday, a triumph that sent the Packers into the bye at 2-1. "We need to detail our work. We have so much more that we can do — and so much more we're going to do.
"It's just (a matter of) staying focused and keeping everybody in the room — the players, the coaches, support staff — doing everything they need to do to get better."
With that in mind, here's a look at where the Packers stand on offense, defense and special teams in advance of their game against the New York Giants on Oct. 9 at Lambeau Field:
Offense
Despite their return-to-form offensive performance in the first half last Sunday, the Packers entered the weekend ranked 28th in total yards (293.7), 26th in yards per play (5.1), 28th in time of possession (27:44) and 13th in points per game (25.0).
Those numbers are not a vast improvement over — or, in some cases, are even lower than — last season, when a Jordy Nelson-less group plummeted to depths hot seen before under McCarthy.
Last year, the Packers finished 23rd in the 32-team NFL in total offense, their worst finish since 1991, when they were 24th the year before the Brett Favre-Aaron Rodgers era began. They also finished 15th in the NFL in scoring (23.0 points per game), their worst finish since McCarthy's first season in 2006 (22nd, at 18.8 points). In fact, from 2007 through 2014, the Packers were never outside the top 10 in scoring.
Nevertheless, the arrow appears to be pointing up after the offense got into a rhythm with their timing passing game against the Lions, Nelson was productive (six receptions, 101 yards, two touchdowns), Rodgers snapped his streak of 14 straight games of sub-100 passer ratings (129.3) and running back Eddie Lacy (17 carries, 103 yards) ended a stretch of seven straight games (including playoffs) without a 100-yard game.
"It feels good to see some of the potential," said Rodgers, who threw a stunning deep ball that carried 74 yards in the air against the Lions, resulting in a 66-yard pass interference penalty to set up a touchdown. "I think our team at full strength is going to be really good. We've got to get to full strength, though."
In theory, the rounding-into-form Nelson and speedster Trevor Davis, the intended receiver on the 66-yard pass interference penalty, should pose enough of a deep threat to earn defenses' respect, opening up underneath routes and reducing the loaded boxed Lacy saw so much last year. If that happens, the offense should look increasingly like the one Packers fans expect.
"Certainly having Jordy come back, that's an additional weapon," offensive coordinator Edgar Bennett said. "When you talk about matchups, again, for him to be back out on the field, it's a process moving forward. It's all about proving it on a daily basis (as a unit). But having him back on the field certainly helps."
Defense
You have free articles remaining.
Remember in training camp, when a lack of proven depth on the defensive line and uncertainty at inside linebacker had people worried about the Packers' ability to stop the run, and a plethora of young, talented players in the secondary had folks talking about how the defensive backfield might be among the NFL's elite? Through three games, the opposite has been true.
"In years past, it was vice-versa," defensive coordinator Dom Capers confessed.
The Packers lead the NFL in run defense, allowing 42.7 yards per game. The next-best team is Philadelphia, allowing 71.0. For comparison, the Packers finished last year ranked 21st in run defense, giving up 119.1 yards per game.
That the Packers have done so well with three young inside linebackers (Blake Martinez, Jake Ryan, Joe Thomas) playing behind one great defensive lineman (Mike Daniels), one veteran (nose tackle Letroy Guion, who missed last week's game with a knee injury) and a bunch of youngsters is impressive, especially with 19 tackles for loss against the run.
As first-round pick Kenny Clark gets more comfortable and defensive tackle Mike Pennel returns after serving one more game on his substance-abuse suspension, the group up front should only get better.
"It's been the (focus) the last couple of years," said Capers, whose group last led the NFL in run defense in 2009, his first year in Green Bay, but struggled with big plays last season. "We're off to a good start there. (Detroit's) long run was 9 yards, and we've limited the long runs, which has been as much the emphasis as anything because a year ago if we had eliminated the long runs, we would have been a top run defense. But that's what got us a year ago."
Meanwhile, although the Packers' pass rush has been successful (10 sacks, tied for third in the NFL) the unit ranks 28th in passing yards allowed (307.3) and clearly misses No. 1 cornerback Sam Shields, who has been sidelined since suffering a concussion — the fourth of his NFL career — in the opener at Jacksonville. Their 2015 first-round pick, Damarious Randall, played well against the Jaguars but has been up-and-down with Shields out of the lineup.
Missing veteran safety Morgan Burnett (groin) last week didn't help, either, as the Packers had two undrafted rookie free agents — cornerback Josh Hawkins, who was beaten for a long touchdown, and safety Kentrell Brice — see time.
"When you're playing as many young guys as we're playing right now, I think that you'll see us get better," said Capers, whose group is tied for 22nd in scoring defense (22.3 points per game). "Some of those guys are seeing things for the first time. We had an awful lot of young guys on that field (against Detroit). You're going against a veteran quarterback and a lot of skill. Our guys will improve from their experience."
Special teams
In two years under Ron Zook, this group has stabilized nicely. The former Florida and Illinois coach has found his niche on the Packers' staff, and while a dangerous return game would enhance these units, avoiding major gaffes and continuing with strong kickoff and punt coverage has been vital.
Through three games, the Packers are 19th in kickoff return average (19.7) and haven't had a kickoff return longer than 24 yards from Ty Montgomery — although that number is misleading since they've only returned three kicks. On punts, Green Bay has returned only two for a total of 3 yards. That ranks last in the league, but no team has had fewer returns, either.
Kicker Mason Crosby remains as steady as ever (4-for-4 on field goals, 9-for-9 on extra points, strong kickoffs), while punter Jake Schum has been so-so (41.8 gross yards, 39.1 net yards on 11 punts), with his best play coming when he leaped to snare an errant snap from Brett Goode last week.
"We've got to get better at everything. I don't think there's any question," Zook said. "Hopefully we'll get an opportunity to brush up on some of those things.
"We work a lot on the return game. I know that's a concern people may have, is about the return game. But if you look at the opportunities, we haven't had a lot of opportunities. But I'm still excited. We're going to get one. It's kind of like, if you remember last year, everybody was concerned about the defense not getting any sacks. Then all of a sudden, bam! You get into a run of them. It will be the same thing with the returns. We just have to keep getting opportunities, keep doing the things we do and keep working. It will happen."
Jason Wilde covers the Packers for ESPN Wisconsin. Listen to him with former Packers and Badgers offensive lineman Mark Tauscher weekdays from 9-11 on "Wilde & Tausch" on 100.5 FM ESPN Madison.