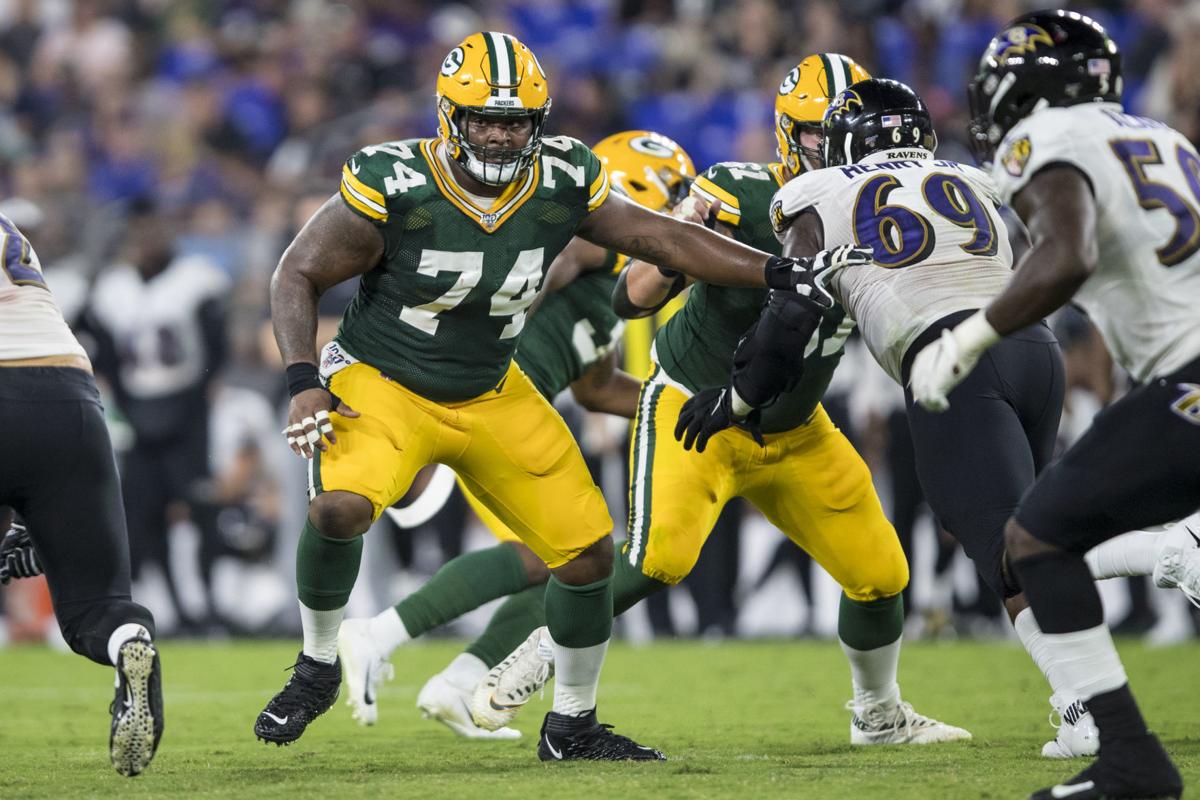 GREEN BAY — One day after coach Matt LaFleur had said that the ongoing competition at left guard between rookie Elgton Jenkins and veteran Lane Taylor would continue, Taylor's injured biceps apparently made the decision for the Green Bay Packers.
LaFleur announced Friday after practice that Jenkins will start at left guard Sunday against the Denver Broncos at Lambeau Field, and shortly thereafter the Packers ruled Taylor out with the biceps injury.
On Saturday, Green Bay announced that Taylor had been placed on injured reserve and guard/tackle Adam Pankey had been signed from the Tennessee Titans' practice squad  
Pankey, a 6-foot-5, 313-pound second-year player, was originally signed by the Packers as an undrafted free agent out of West Virginia in 2017. As a rookie, he was on Green Bay's active roster for 16 weeks and appeared in one game. Last season, Pankey spent 12 games on the Packers' practice squad before being signed to the active roster on Dec. 8, 2018, and went on to appear in one game. He was released by the Packers following training camp this year and was signed to the Titans' practice squad on Sept. 2.
It's unclear when Taylor sustained the injury or how serious it is. He was not listed on the injury report Wednesday, although the team did not practice that day because it opted for a walk-through instead with next week's Thursday Night Football game looming. Taylor then appeared on Thursday's injury report as having participated on a limited basis, so the injury may have occurred during that practice. He did not practice Friday.
The Packers did some job-sharing with Jenkins and Taylor last Sunday against Minnesota, with Taylor starting and playing 10 series (51 snaps) and Jenkins playing four series (18 snaps).
"I just think it's a matter of the competition. And until one guy really shows the other one up, we're going to keep it competitive and we're fully comfortable with that," LaFleur had said Thursday. "I don't think it's necessarily a bad thing to have a guy take a breather, come back in. Then he's fresh. It's just like what you see defensively quite often with defensive linemen — they'll rotate those guys in. So the defensive line might be fresh but your O-line's not."
Asked Friday what Jenkins had done to impress him against the Vikings, LaFleur replied, "He just did his job. Typically up front, unless a guy's just road-grading somebody and pancaking him, you don't want to notice those guys too much. And he did his job. I just think the effort and the intensity with which he played, and he just did an excellent job out there."
For Jenkins, a second-round pick from Mississippi State, the Broncos' defensive front certainly provides a challenge for his first NFL start, but he insisted he won't be overwhelmed.
You have free articles remaining.
"Not to sound cocky, but I don't feel like I go out there with nerves. Because I prepare with the coaches and the guys in the room to go out there and perform at a high level," Jenkins said. "You have the butterflies, but I always feel like I prepare throughout the week. If somebody is going to beat me or things like that, it probably will be off my mistake or something like that."
Now the question is whether Taylor, once he's healthy, will be able to regain at least a portion of the starting job. It was clear throughout training camp that the coaches were giving the athletic 6-foot-5, 311-pound Jenkins every opportunity win the starting job, in part because the 6-3, 324-pound Taylor wasn't the ideal fit for the new outside zone run-blocking scheme.
But after a difficult showing against Chicago in the season opener, Taylor played well against the Vikings. But with the short week before playing Philadelphia on Thursday night, it seems unlikely that Taylor would be cleared to face the Eagles.
For Jenkins, though, that's down the road. For now, he's focused on Sunday.
"I'm very excited. I'm ready to go out there and help the team and showcase what I can do," Jenkins said. "(Playing against the Vikings) was very helpful because I was able to get out there and see how the game, how the NFL is. Now, I see how that is. Now, I just have to go out there and play full speed with effort."
From the infirmary
Tight end Jimmy Graham (groin), who did not practice Thursday, took part in Friday's practice on a limited basis and was listed as questionable on the injury report. LaFleur seemed to indicate that Graham will be able to play, despite limited practice work.
"I'm excited for him," LaFleur said. Asked if not practicing hurts Graham's readiness, LaFleur replied, "Not practicing all week? He's a pro and he's locked in. He's getting his mental reps. So it should be a seamless transition."
Also questionable are outside linebacker Kyler Fackrell (shoulder) and wide receivers Jake Kumerow (shoulder) and Darrius Shepherd (hamstring). Shepherd is in the mix to serve as the Packers' punt returner following the team's decision to trade Trevor Davis to Oakland earlier in the week.
Defensive end Montravius Adams (shoulder) is listed as doubtful. In addition to ruling Taylor out, the Packers also ruled out inside linebacker Oren Burks (chest).
For the Broncos, tackle Ja'Wuan James (knee), fullback Andy Janovich (pectoral) and inside linebacker Joseph Jones (triceps) are out, and cornerback Bryce Callahan (foot) and inside linebacker Todd Davis (calf) are questionable.