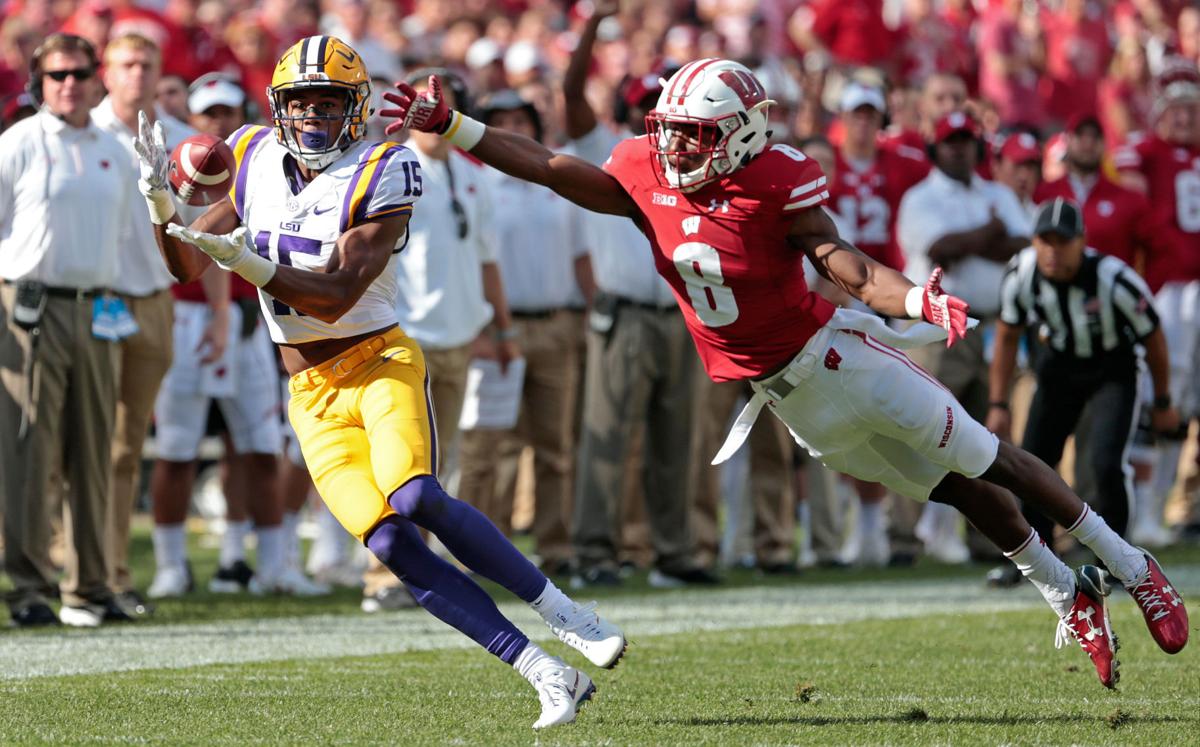 GREEN BAY — The term was conjured up in the mid-1990s by a few Green Bay Packers veterans, guys who'd seen young teammates impress in helmets and shorts and then disappear during training camp when the pads came on. It was inspired by the location of the team's primary practice field, which ran parallel to the major thoroughfare that divides Lambeau Field and the Don Hutson Center.
All-Oneida, they called the flash-in-the-pan spring all-stars.
Due to some field work being done on Ray Nitschke Field this offseason, the Packers' organized team activity practices and minicamp were held at Clarke Hinkle Field, which — you guessed it — is alongside Oneida Street. And throughout those workouts, rookie wide receiver Malachi Dupre — a seventh-round pick (No. 247 overall) from LSU — made a favorable impression, including on coach Mike McCarthy.
So much so that, when asked about one of the plays Dupre made in one of the later practices, McCarthy became confused because there were so many for him to choose from.
"He's done a lot of good things," McCarthy said once he figured out the play — an 18-yard completion from No. 2 quarterback Brett Hundley, who was running the No. 1 offense at the time with Aaron Rodgers and a host of veterans excused from the practice. "I'll tell ya, mentally, he's picked it up probably the quickest of the perimeter group. He's having a good offseason."
Now, it's up to Dupre to parlay that into a strong training camp. One of two wide receivers drafted — the Packers took Purdue's DeAngelo Yancey in the fifth round — Dupre got a number of snaps with the starting offense and stood out more than Yancey, who had some trouble with drops.
But it's a long journey from being an All-Oneida performer in June to earning a spot on the 53-man roster for the Sept. 10 regular-season opener against the Seattle Seahawks.
And Dupre understands that.
"If you don't have that perspective — and I'm not here to tell anybody what to do — but if you worry about certain things in life you can't control, things aren't going to go the best," Dupre said. "Take draft day. If I was worried about where I went, to this day, if I was still bitter about it, I might not be in a good situation moving forward with my career. If I'm positive and thankful for the opportunity to be in such a great place, it will be better for myself."
Dupre is self-aware enough to know he's in a good situation with a two-time NFL MVP throwing passes to him, and there is opportunity despite a host of wide receiver candidates behind the team's Big Three of Jordy Nelson, Randall Cobb and Davante Adams.
With Ty Montgomery now a full-time running back, the Packers' fourth receiver remains Jeff Janis, who is entering his fourth year and has flashed as a receiver but has yet to really take off at the position. He's such a vital special teams contributor, though, that it's a safe bet he's on the team in the fall. That leaves Dupre competing primarily with Yancey; 2016 fifth-round pick Trevor Davis, arguably the team's fastest receiver; and Geronimo Allison, one of last year's surprising success stories as an undrafted rookie free agent.
It's hard to say how many roster spots the Packers will devote to the position, considering they kept an unprecedented seven last year (including Montgomery) coming out of camp, Adams and Janis are entering the final years of their rookie deals and general manager Ted Thompson hasn't cut a player drafted in the fifth round or higher since Jamon Meredith didn't make the 2009 roster.
"I'd like to think we have more than seven guys that can play in that group for sure," wide receivers coach Luke Getsy said. "Circumstances dictate a little bit the way things go."
Circumstances also dictated Dupre's fall in the draft. Projected by some entering his junior season as a potential first-round pick, Dupre caught just 41 passes for 593 yards and three touchdowns last year as a junior — down from 43 catches for 698 yards and six TDs as a sophomore the year before. At 6-foot-2, he has plenty of size, and while his 4.52-second 40-yard dash at the combine wasn't blazing, his football speed is certainly good enough.
Dupre's stock likely was hurt by LSU's struggles at the quarterback position and the upheaval created when longtime coach Les Miles was fired at midseason. But he did finish strong, catching seven passes for 139 yards in a season-ending win over Louisville in the Citrus Bowl after catching only three balls for 24 yards in the Tigers' season-opening loss to the University of Wisconsin at Lambeau Field.
"Malachi's a really good football player. I think he's got really good instincts," Getsy said. "He's played a lot of football in college at a high level in a great conference, so all of that helps and shows (during offseason practices). The different types of offenses that he played in in college have enabled him to catch on to our schemes a little quicker maybe than others. So that part helps as well.
"He's a sharp kid, he works really hard at it. It's football without pads, so it's too early to tell (how good he is). But I'm excited to see what he's able to do here come August."
"It's on me," Dupre said. "I didn't go where I was expected to go (in the draft), but I'm just taking that and running with it. I'm very pleased to be in a great place like Green Bay. I know a lot of guys on a lot of teams across the whole NFL, and from what I hear from them and what I see here, I'm in a great place. It's only been a few weeks that I've been here, but I feel at home. And I think I can help us a lot and help us win a Super Bowl.
"I knew I was going to be coming to winning team with a lot of great players. I'm stepping into a room with a lot of veteran guys and I'm just excited to take that next step and show those guys the respect that they've earned and that they deserve and show them I belong just by knowing my playbook. They're always joking like, 'Man, you're quick to answer. You're spitting out answers right after another.' And I just want to keep doing that to show them that I'm taking this opportunity very seriously."