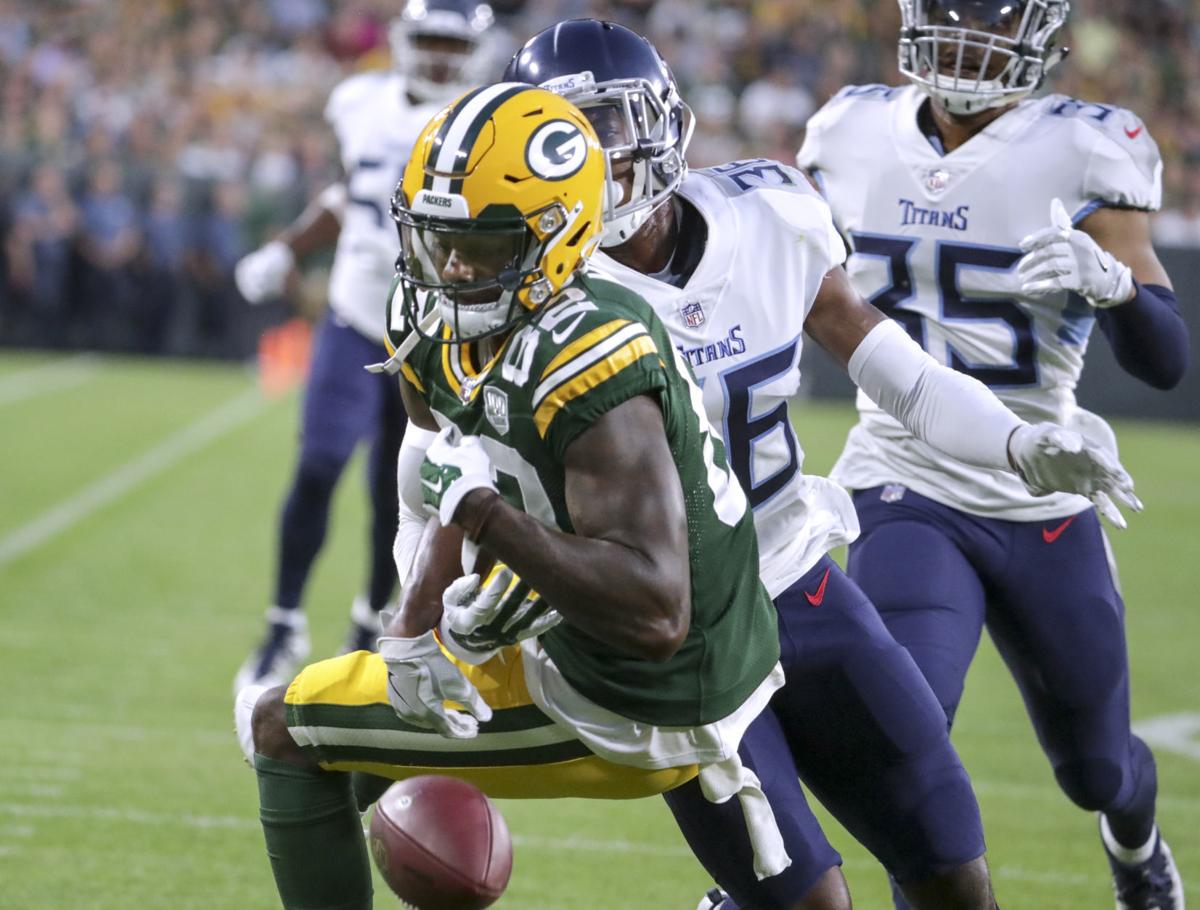 GREEN BAY — Aaron Rodgers might've been trying to make Green Bay Packers fans – or himself – feel better with his hazy recollection Wednesday.
Because given the Green Bay Packers' photographic memory and remarkable recall, his attempt to allay concerns about his team's depleted wide receiver corps – and the likelihood that the team's three rookie receivers will play vital roles in Sunday's game at Detroit – with a history lesson wasn't exactly an apples-to-apples comparison.
With veteran Randall Cobb not practicing and in danger of missing his second straight game because of a hamstring injury suffered in practice last week, emerging third receiver Geronimo Allison in the concussion protocol, and No. 1 wideout Davante Adams limited in practice with a calf injury, the Packers could find themselves facing the Lions with rookie wide receivers Marquez Valdes-Scantling, J'Mon Moore and Equanimeous St. Brown as their top three receivers.
Rodgers, though, was trying to be positive. So he shared a conversation he'd had in the training room earlier Wednesday with athletic trainer Nate Weir, who's been working closely with Rodgers since Rodgers injured his left knee Sept. 9 against Chicago. While rehabbing his knee Wednesday, Rodgers reminded Weir that in 2016, the Packers played a game at Atlanta in which little-used third-year receiver Jeff Janis, then-rookie Trevor Davis and Allison, also a rookie at the time, all caught touchdown passes.
"We went to Atlanta a couple of years ago and 'G-Mo,' Trevor and Jeff all caught touchdowns. So we've done that before," Rodgers said. "There's just an expectation of preparedness when you hit the field. (The coaches) will get those guys ready to play, and the vets will help them out, and we'll see how Randall and 'G-Mo' feel later in the week."
Left out of that retelling: Rodgers had both Jordy Nelson (four catches, 94 yards, one touchdown) and Adams (12 receptions, 74 yards) at his disposal that day. Oh, and the Packers lost the game, 33-32.
It's unclear whether Adams' injury is significant enough that the Packers are worried about his availability. Adams appeared on the injury report earlier this season with a shoulder injury, and not only has he not missed any games, he played all 76 offensive snaps during last Sunday's win over Buffalo.
Allison sustained his concussion during the second half against Buffalo, and it's unclear whether he'll be cleared in time to play Sunday.
Moore (fourth round), Valdes-Scantling (fifth) and St. Brown (sixth) were all drafted this spring after the Packers cut Nelson, who nearly accepted a pay cut to just over the veteran minimum to stay in Green Bay but instead signed with the Oakland Raiders. Nelson has caught 16 passes for 274 yards (17.1-yard average) and two touchdowns in his first four games as a Raider.
After an up-and-down preseason, Moore was active for the first time against the Bills and was on the field for 11 offensive snaps without a reception or a target. Valdes-Scantling, who has played well on special teams, has been active for all four games but also drew Rodgers' ire for running a route incorrectly against Buffalo. Rodgers later came back to him for a 38-yard completion in the fourth quarter. St. Brown played two special-teams snaps against Chicago, was inactive the next two weeks and then was active against Buffalo but did not play.
"We've just got to keep growing and keep progressing. We're still learning, but we want to keep making plays and keep doing what we have to do to help this team win," Valdes-Scantling said. Asked about the play on which Rodgers barked at him, Valdes-Scantling replied, "It's a growing process. It was the first time that I've been out there for a whole game with him. A lot of things go right. A lot of things go wrong. Just keep working and moving forward."
While it's not as if Packers coach Mike McCarthy was going to tell the world he's deathly afraid of playing three youngsters whom Rodgers publicly took to task for their training-camp mistakes, the coach gave them a public boost with his comments Wednesday.
"I have a lot of confidence in our rookies," McCarthy said. "These guys are getting better each week. That's why we always put so much time and effort into young player meetings, starting back in (the offseason) and through training camp, and it continues during the season. We'll be ready to go, and they'll obviously have to role. I have great confidence in that."
Extra points
While the receiver position is an area of concern, the Packers might be in good shape at cornerback. Rookie Jaire Alexander, who left last Sunday's game with a groin injury, was able to practice on a limited basis. And Kevin King, who has not played in a game since suffering a groin injury of his own Sept. 16 against Minnesota, was a full participant in practice and said afterward that he was 100 percent. "I feel ready. I feel ready," King said. "The defense went out there and dominated (last) Sunday. I feel ready going forward." … Rodgers missed his fourth straight Wednesday practice to do rehabilitation work instead. He practiced last week, so he may follow the same schedule this week. … Tight end Jimmy Graham did not practice, but he didn't last Wednesday, either. McCarthy said then that he was just being smart with the soon-to-be 32-year-old Graham. … Guard Justin McCray (shoulder) was limited in practice while Byron Bell, who replaced him in the starting lineup against the Bills, again took the first-team snaps.
Jason Wilde covers the Packers for ESPN Wisconsin. Listen to him with former Packers and Badgers offensive lineman Mark Tauscher weekdays from 9-11 on "Wilde & Tausch" on your local ESPN station.