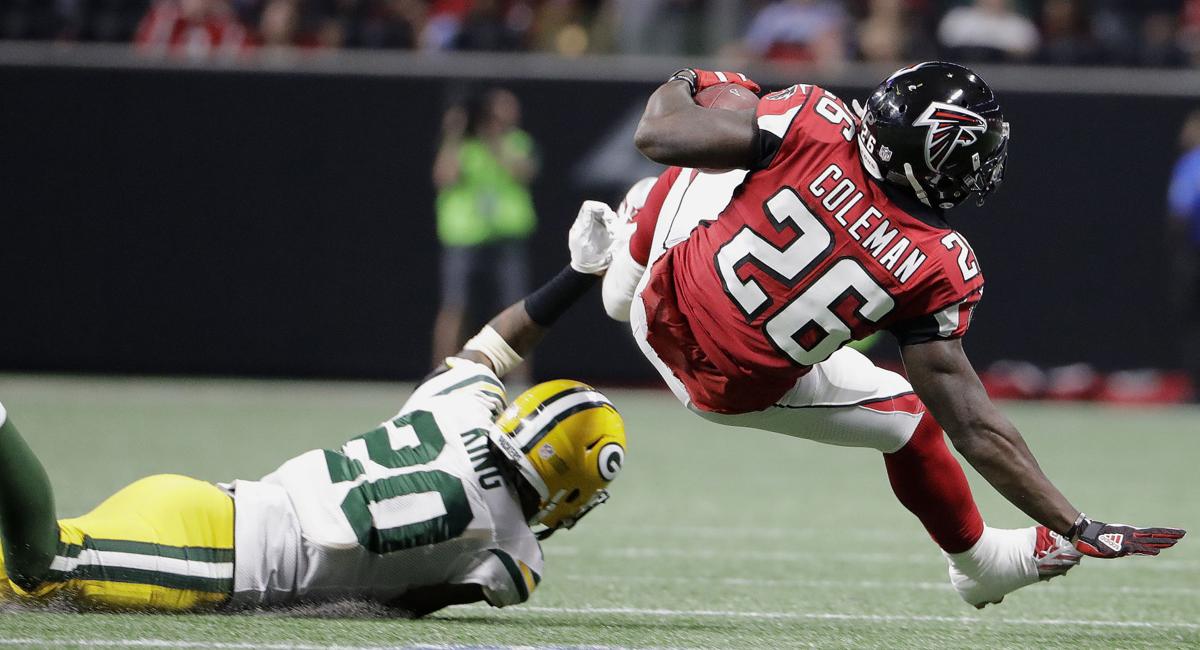 GREEN BAY — Since the moment he arrived, Kevin King has not lacked for confidence. Now, it appears the Green Bay Packers rookie cornerback will no longer lack for playing time, either.
After playing just six snaps in his NFL debut in the team's Sept. 10 regular-season opener against Seattle, the second-round pick from Washington got the call during Sunday night's 34-23 loss at Atlanta when third-year cornerbacks Damarious Randall and Quinten Rollins had the same issues defending the Falcons' passing game as they did in the 2016 NFC Championship Game — the performances that led directly to the Packers using their top pick on King in April's NFL draft.
"I didn't come here to sit," King said after being one of the few bright spots in an otherwise dismal loss to the Falcons.
It doesn't appear he'll have to worry about that this week against the Cincinnati Bengals at Lambeau Field. Packers coach Mike McCarthy said Monday night that King deserves more playing time after his 46-snap performance.
"I thought Kevin did a lot of good things. I thought he did good in his matchup opportunities," McCarthy said. "He's definitely earned the opportunity to potentially play more."
How the Packers will line up against the Bengals in the secondary is up in the air because of a combination of injuries and ineffective play — the same issues that were prevalent last year. Veteran cornerback Davon House left Sunday night's game with a quadriceps strain, though he said after the game he expects to be ready for Cincinnati. If he can go, the Packers would likely start House and King on the outside, then decide whether Randall or Rollins merits more playing time at the slot position.
Both Randall and Rollins, the team's top two picks in 2015, had troubles in coverage and with tackling against the Falcons, whose offense was No. 1 in the league last season and whose quarterback, Matt Ryan, is the reigning NFL MVP. Still, their struggles last season were largely blamed on injury, and the hope was with improved health would come improved play, even against a vaunted offense such as Atlanta's.
That didn't happen, leading McCarthy and his defensive staff to do some in-game shuffling. The 6-foot-3, 200-pound King was credited with three tackles and a pass breakup and allowed only one completion, a 12-yard catch by Taylor Gabriel. He also held his own against elite wide receiver Julio Jones, who finished the game with five receptions for 108 yards, but none of it against King.
"I thought Kevin did a good job. I think he continues to grow," defensive coordinator Dom Capers said. "We're encouraged with his progress. He competes well. You saw him break up a couple balls on crossing routes. He's not afraid to get up and challenge receivers, and I like his style of play."
For his part, King isn't taking anything for granted.
"I thought I was going to play a lot last week (against Seattle)," King said. "And next week, I could play six snaps again. Who knows? (But) I plan for a big role every week. I feel like I'm a starter whenever I step on the field."
While McCarthy wouldn't explicitly say King will get the start against the Bengals, he certainly hinted King is in line for the job.
"He's done a number of good things with his opportunities," McCarthy said. "If anything, he's earned the right to potentially play more. Smooth, confident athlete. He's getting healthy and he looks comfortable out there. I like the progression that Kevin's making."
King might not be the only rookie who sees more playing time Sunday. Second-year safety Kentrell Brice, who has played extensively with veteran safety Morgan Burnett serving primarily as an inside linebacker, suffered a groin injury against Atlanta and his availability is unclear. If he can't go, and given how much the Packers like to use their "Nitro" package with Burnett at linebacker, rookie Josh Jones could see extended playing time.
Jones, who did not play a snap on defense against Seattle, took over for the injured Brice and played 29 snaps against the Falcons.
"As we go along, you see these young guys' reps increase based off of (them being) more comfortable," Capers said. "You want to be able to put them out there and have them have success. So I think Kevin, each step I think you'll see him get more reps as we go along here. Josh Jones last night, I thought he went in and did a nice job. He played more snaps than what he's played. Both of those guys, I think you're going to see their reps increase."