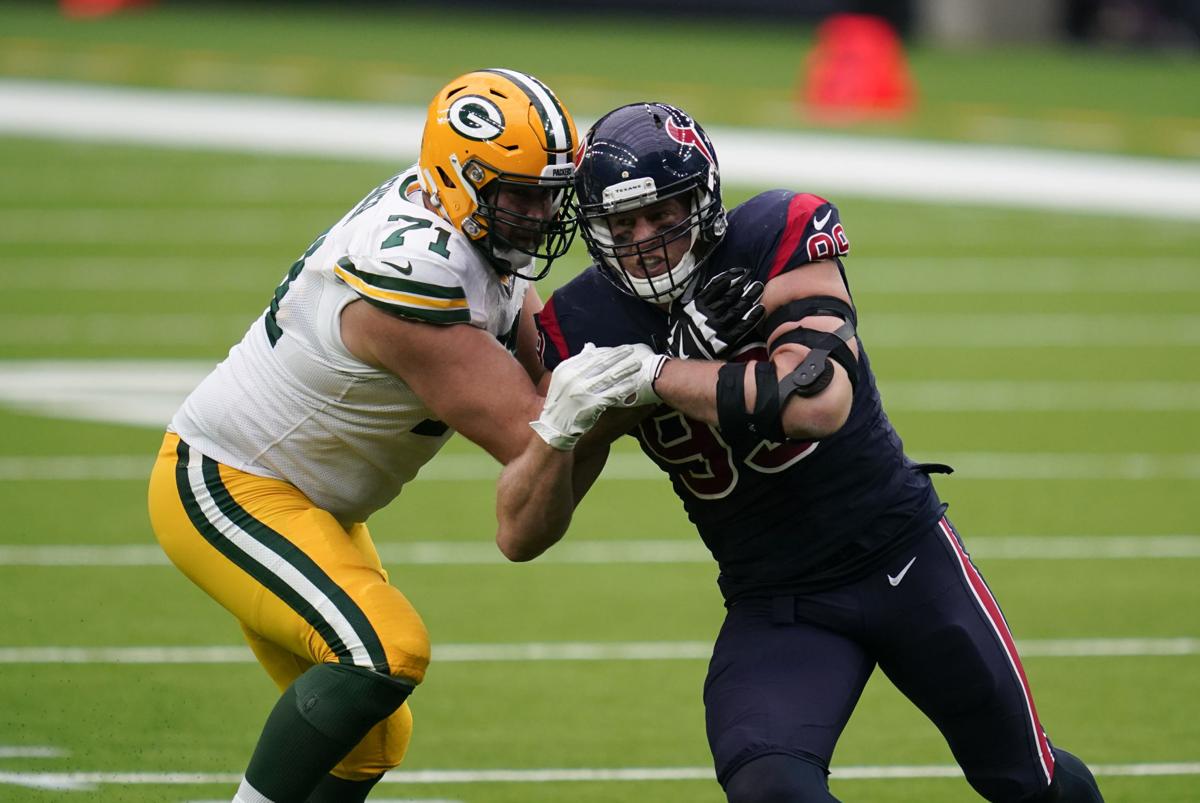 GREEN BAY — Even if it hadn't been for the COVID-19 pandemic forcing interview sessions into the virtual realm during the 2020 NFL season, Rick Wagner probably still would have been a man of few words during his time with the Green Bay Packers.
Signed to bolster their offensive line last March in anticipation of longtime right tackle Bryan Bulaga's free agent departure, Wagner eschewed the traditional introductory Q&A with reporters when he joined the team last March, and he was rarely seen during Zoom video sessions with the media throughout the season.
But the humble, soft-spoken Wagner was never much for the spotlight anyway.
So if the news Friday that the Packers were releasing Wagner after one season — with Wagner, 31, contemplating retirement after eight NFL seasons — does indeed signify the end of the line for the former University of Wisconsin standout, it would be definitively on brand for the West Allis native to transition into his post-football life without any pomp and circumstance.
Cutting Kirksey saves the Packers $6 million in cap room, meaning the two moves shave a total of $10.25 million off the team's 2021 cap. The Packers had already restructured five-time All-Pro left tackle David Bakhtiari's deal earlier this offseason to save themselves more than $8 million, and quarterback Aaron Rodgers' contract is also expected to be reworked to free up more space.
Wagner did not reply to an iMessage Friday afternoon after his release was officially announced by the team.
"You know, Rick's a guy that's, you don't get a lot of emotion from Rick, which is a good thing. He's just pretty reliable," Packers offensive line coach Adam Stenavich said of Wagner late in the season. "Hey, this is the job to do, and he's like, 'All right.' There's not a whole lot of conversation. So, he's a blue-collar, old-school guy who's just going to get the job done.
"I have a tremendous amount of respect for Rick and the job that he's done and the different hats that we've asked him to wear throughout this year. He's done a great job with everything we've asked of him."
A fifth-round pick out of UW in 2013, Wagner played four seasons with the Baltimore Ravens and three with the Detroit Lions before joining the Packers on a two-year, $11 million deal that included a $3.5 million signing bonus.
And even before Bakhtiari's season-ending knee injury during a Dec. 31 practice, Wagner turned out to be a vital piece of an offensive line that spent all year juggling lineups because of injuries.
Wagner wound up seeing action in all 18 games, starting nine in the regular season and both postseason contests, including the loss to the eventual Super Bowl LV-champion Tampa Bay Buccaneers in the NFC Championship Game at Lambeau Field. While Wagner and the line as a whole struggled against the Bucs' pass rush, Wagner proved to be a steadying presence on the line for most of the season.
Wagner finished the year having played 610 regular-season offensive snaps (59%) and all 146 of the Packers' playoff offensive snaps — the first time in his career Wagner got to play in the postseason. Wagner saw virtually all of his action at right tackle, except for filling in for Bakhtiari at left tackle when Bakhtiari suffered broken ribs in an Oct. 18 loss at Tampa Bay.
Wagner also played through knee injuries late in the year, when the line's depth was tested most with Bakhtiari sidelined and late-season signing Jared Veldheer landing on the reserve/COVID-19 list before he could play a down.
"I'll tell you what: That guy is as tough as they come," coach Matt LaFleur said of Wagner before the team's playoff bye week.
Kirksey started all 11 regular-season games he appeared in, missing five games with a pectoral injury suffered Sept. 27 at New Orleans. He spent his first six NFL seasons with the Cleveland Browns, including the first two under now ex-Packers defensive coordinator Mike Pettine, who was the Browns' head coach in 2014 and '15.
Kirksey signed a two-year, $13 million deal with the Packers after being released by the Browns, a deal that he signed shortly before longtime Packers starting inside linebacker Blake Martinez signed with the New York Giants in free agency. In 13 total games (including playoffs), Kirksey registered 84 total tackles (51 solo) with two sacks, two interceptions and three pass break-ups.
But he played just 14 defensive snaps in the divisional playoff win over the Los Angeles Rams and just 29 snaps in the NFC title game, with rookies Krys Barnes and Kamal Martin playing ahead of him late in the year — making Friday's move not surprising. The team seems excited about Barnes and Martin, though it's unclear what new defensive coordinator Joe Barry seeks in an inside linebacker.
At tackle, meanwhile, the Packers have some work to do. Without Wagner and with Bakhtiari's availability for the season opener in September in question because of his ACL reconstruction surgery in January, the Packers will be in the market for more tackle help in free agency and the April draft.
"It's kind of a weird year for everybody, obviously," Wagner said shortly after the Dec. 13 win over the Lions in Detroit. "Joining the team without really a true offseason program was kind of difficult to learn a new offense. But the coaches did such a good job with our virtual learning in the spring. And then once we got here in camp, it really helped me out to learn the offense when we could actually do football together. And it's just a credit to the coaching staff and all my teammates to help me out."
---
Photos: Packers' 2020 season in pictures
Photos: Packers' 2020 season in pictures
Check out photo galleries from every game of 2020 through the end of the regular season and the playoffs.