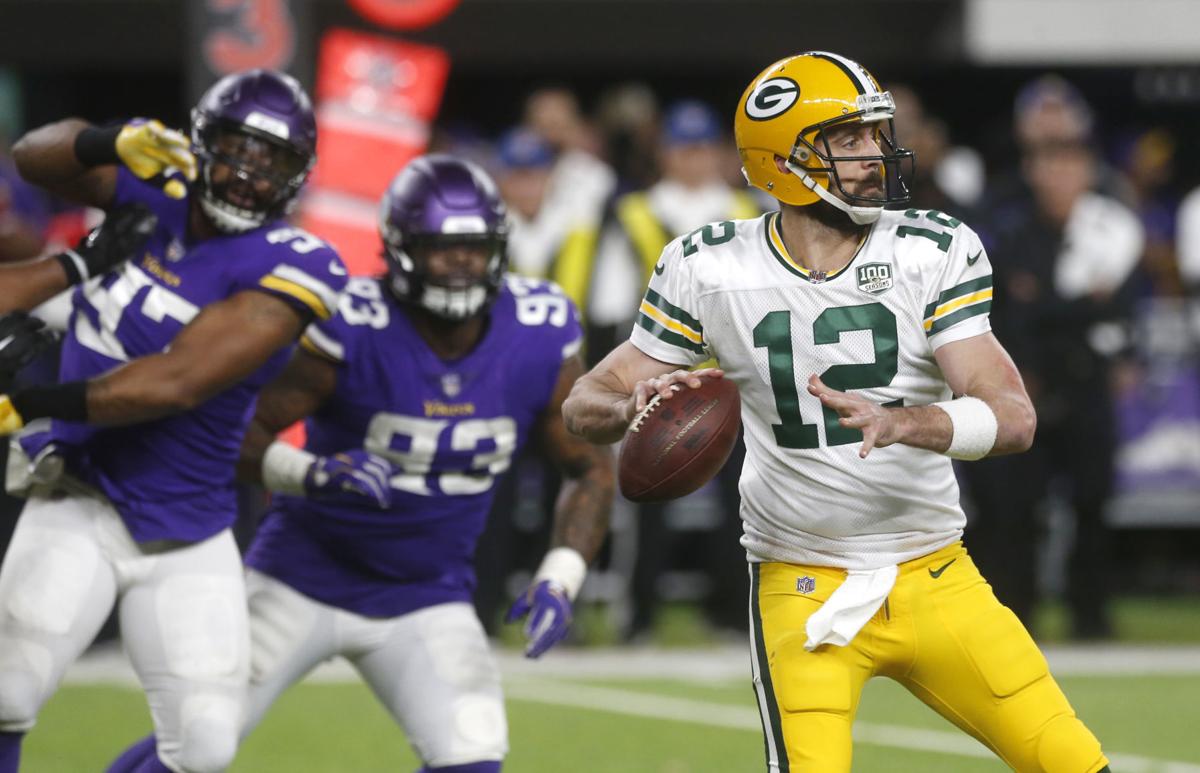 GREEN BAY – Randall Cobb has seen this look in Aaron Rodgers' eye before.
That's why the Green Bay Packers veteran wide receiver, who is set to return to action Sunday after missing six of the last games with a hamstring injury, is eager to be back on the field with his quarterback against the Arizona Cardinals at Lambeau Field.
"I'm excited to get back out there because I know with all the noise that's been said over the past week about him, he's getting ready to light everybody up this week," Cobb said after practice Thursday. "It's going to be a lot of fun and I look forward to helping him out."
Pundits both locally and nationally have chimed in on the possible reasons for the Packers' offensive struggles and Rodgers' inconsistent play this season during their 4-6-1 start. From Rodgers' fundamentals to him passing up open receivers on short passes to his tendency to improvise, everyone seems to be sharing their $.02 on what's ailing Rodgers' game.
And as Cobb well knows, Rodgers has long drawn motivation and taken pleasure in silencing critics.
"That's the news cycle," Rodgers said after a series of questions about his play at his locker Wednesday. "They're going to pick at things when you're in a situation like this where we're at. We're 4-6-1 so it comes with the territory."
According to Cobb, while Rodgers is responsible for his own performance, he and the wide receivers can help change that narrative by giving Rodgers more to work with.
You have free articles remaining.
"With our group, we talk about it all the time – this team goes as we go. And we collectively as a group we have to put our team in the best situation we can – and that means making big plays and having explosive gains on offense," Cobb said. "This is a team game and it takes all of us on the field to make things happen, starting up front with the offensive line, giving Aaron time, him being able to make the throws downfield and us making the plays downfield. I'm just a piece of the puzzle, and I hope with my piece being back, you can see the full picture."
Looking downfield
Among the reasons Rodgers cited for the offense's inconsistent productivity – including him seemingly bypassing underneath receivers in search of big plays downfield – was that the offensive philosophy during the offseason to seek more chunk plays.
"We've been trying, this entire offseason, to get more speed, to take more shots down the field, to up the yards-per-attempt category," Rodgers said. "We've got to keep making sure that those (checkdown) guys are in the right spot, they're in the progression, they're getting out on time. And I've got to find them."
Asked about Rodgers' assertion that he and the offensive coaches have been seeking more downfield throws and that the mentality has contributed to him not looking for as many short passes, offensive coordinator Joe Philbin replied, "I think there's some truth in all of that. I really do. Definitely there's been some concepts in the pass game we introduced in the spring. Some have lived on. Some have died. There's definitely been an emphasis on taking some shots down the field to take advantage of Aaron's accuracy down the field as well as our receivers' speed on the outside and their ability to go get a contested ball.
"I think there's some truth in everything he's saying. Yes, we have emphasized (downfield passes) maybe a little bit more than we did six or seven years ago. There's certainly some truth we can pick some plays in isolation and say, 'Yeah, (Rodgers) should've gotten the ball down to a tight end earlier or a running back earlier.' There's no question about it. But again, let's look at the bigger picture. What was the primary read on that particular play? It might not have started there. What looked like it was open, maybe the protection broke down. … It's complicated at times in terms of what we're trying to accomplish initially with the play design and how that all ties together after the snap of the ball. I think there's some validity in what he's saying, for sure."
Extra points
Left tackle David Bakhtiari (knees) was able to practice on a limited basis, a good sign for his availability for Sunday. … Tight end Jimmy Graham (thumb) practiced with his broken thumb heavily taped, as it was last week, when he played limited snaps against Minnesota. … Cornerback Bashaud Breeland (groin) practiced on a limited basis, which might mean he'll be able to return this week. … Cornerback Kevin King (hamstring) also continued to practice on a limited basis.
Jason Wilde covers the Packers for ESPN Wisconsin. Listen to him with former Packers and Badgers offensive lineman Mark Tauscher weekdays from 9-11 on "Wilde & Tausch" on your local ESPN station.