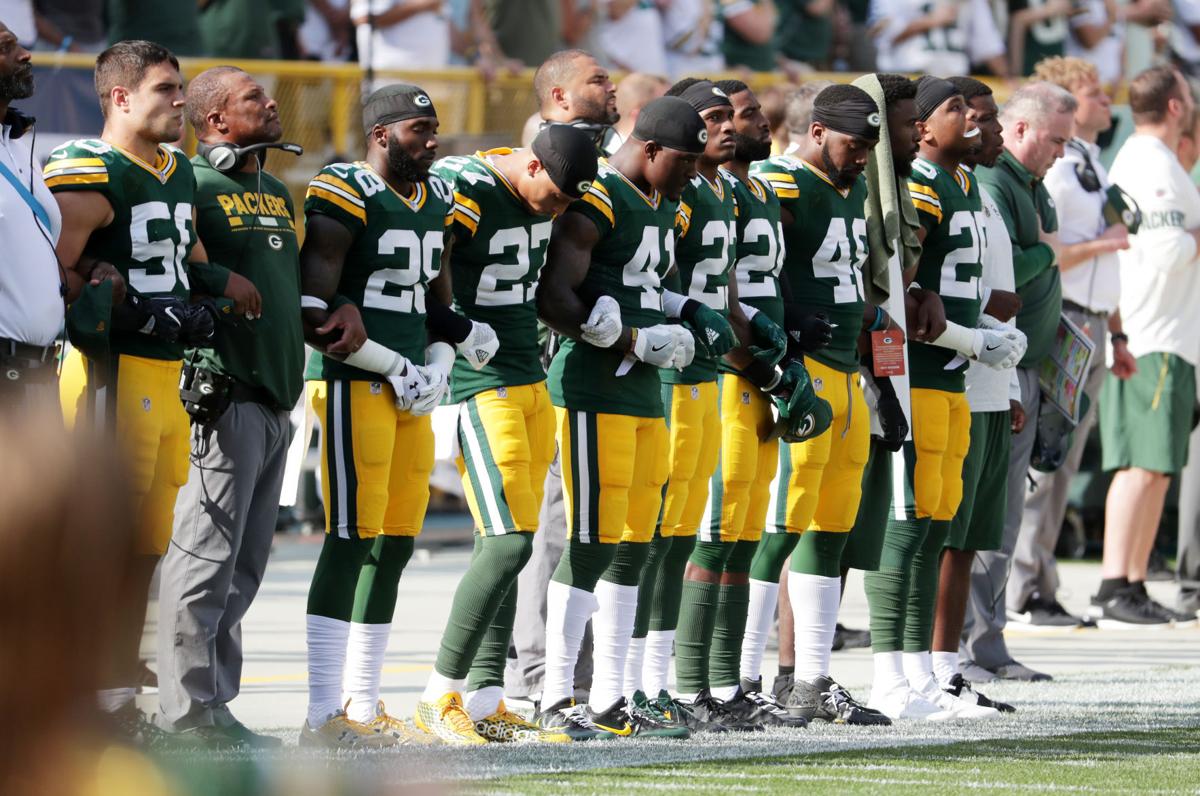 GREEN BAY — For Aaron Rodgers, it was about sending a message.
The Green Bay Packers quarterback rarely — if ever — says or does something without thinking, and that was the case Sunday with how he and his teammates handled their decision to react to President Donald Trump's criticism of NFL players for protesting racial inequality during the playing of the national anthem.
Rodgers began his Sunday with a pair of posts to his Instragram account — one of him kneeling at practice along with wide receivers Jordy Nelson, Davante Adams and Randall Cobb, another with a reference to the Bill of Rights and James Madison as part of his weekly ticket giveaway. And when public address announcer Bill Jartz announced the playing of "The Star Spangled Banner" before the start of the Packers' game against the Cincinnati Bengals at Lambeau Field, Rodgers and a number of his teammates locked arms on the sideline in a show of solidarity.
Three players — tight ends Martellus Bennett and Lance Kendricks and rookie cornerback Kevin King — sat on the bench during the anthem. No players knelt. Rodgers and coach Mike McCarthy said players and coaches talked on Saturday night about how to handle the situation.
"On this team, we're going to keep choosing love over hate, unity over division, and that's what it was to us," Rodgers said after the Packers' 27-24 overtime win. "In talking (Saturday) night and this morning, the few of us who linked arms just wanted to show a united front. I know personally on my Twitter and social media was receiving a lot of positivity but a lot of hatred as well, which is interesting.
"I know (the hatred) is probably 1/10th or 1/100th, maybe, of some of my black teammates who have been using their platform to try and make a difference. But this was about unity, and we respect our men and women in uniform, we respect our troops. We love 'em, we appreciate what they do for us. Today was about using our platform to promote love and unity and acceptance and togetherness, and I hope we did that."
Added injured wide receiver Randall Cobb, who was one of the players arm-in-arm with Rodgers: "We had a lot of conversations. We wanted to show some kind of unity. A few of us felt that we needed to come together in that moment. There were some guys that wanted to kneel and decided not to, decided to hold arms.
"I think there's a lot going on in the world right now and a lot of guys care about what's going on and what's being said and are paying a lot more attention to what's going on and are a lot more conscious about topics and situations. And I think this is definitely something we'll continue to discuss."
McCarthy said he read team president/CEO Mark Murphy's statement to the players at a team meeting. Murphy's statement, released Saturday afternoon, read, "It's unfortunate that the President decided to use his immense platform to make divisive and offensive statements about our players and the NFL. We strongly believe that players are leaders in our communities and positive influences. They have achieved their positions through tremendous work and dedication and should be celebrated for their success and positive impact. We believe it is important to support any of our players who choose to peacefully express themselves with the hope of change for good. As Americans, we are fortunate to be able to speak openly and freely."
Kendricks, a former University of Wisconsin athlete, said he decided at the last moment to sit next to Bennett in support of his fellow tight end, whose brother, Seattle Seahawks defensive end Michael Bennett, was involved in an incident with Las Vegas police in August. Kendricks said he had never sat during the national anthem nor did he plan to going forward. He also said he sat to bring awareness to the post-hurricane situation in Puerto Rico, where his wife is from.
"No. 1, I wanted to support a teammate. I understand what's going on with Marty's brother. That's tough," Kendricks said. "Secondly, I was trying to bring some awareness to what's going on in Puerto Rico. I feel like it's U.S. territory. We need to get over there and we need to help those people. That's just as important as anything else. I just wanted to bring some awareness to that and nothing more.
"I'm not political guy, but instead of focusing on what we're doing on the football field — this is a game. We are privileged to play this game, but we also got here through hard work, dedication and discipline. That's what got us here. We understand it's a privilege to play this game and respect it 100 percent. We also — it's bigger than us sometimes. Football brings unity. Football brings people together no matter where you are, so I just felt like that weighed heavy on me.
"If you get upset that I sat down … you don't realize that people over there are drowning and homeless and their homes are underwater. It's unfortunate."
King, a rookie, said he thought about sitting during the anthem in the past but decided to do so after the president's comments.
"It was a tough decision," King said. "I haven't sat before. And it's something that's been on my mind but I didn't want to do it because for reasons … but when I heard some comments that were made recently that kind of put it over the top a little bit. And I don't know if it's something I plan on doing every game, because my grandpa is a veteran and I have no disrespect for that. But in terms of what's going on recently, I thought today was a great opportunity to show my support and what I thought was right on that side of the spectrum," he added.