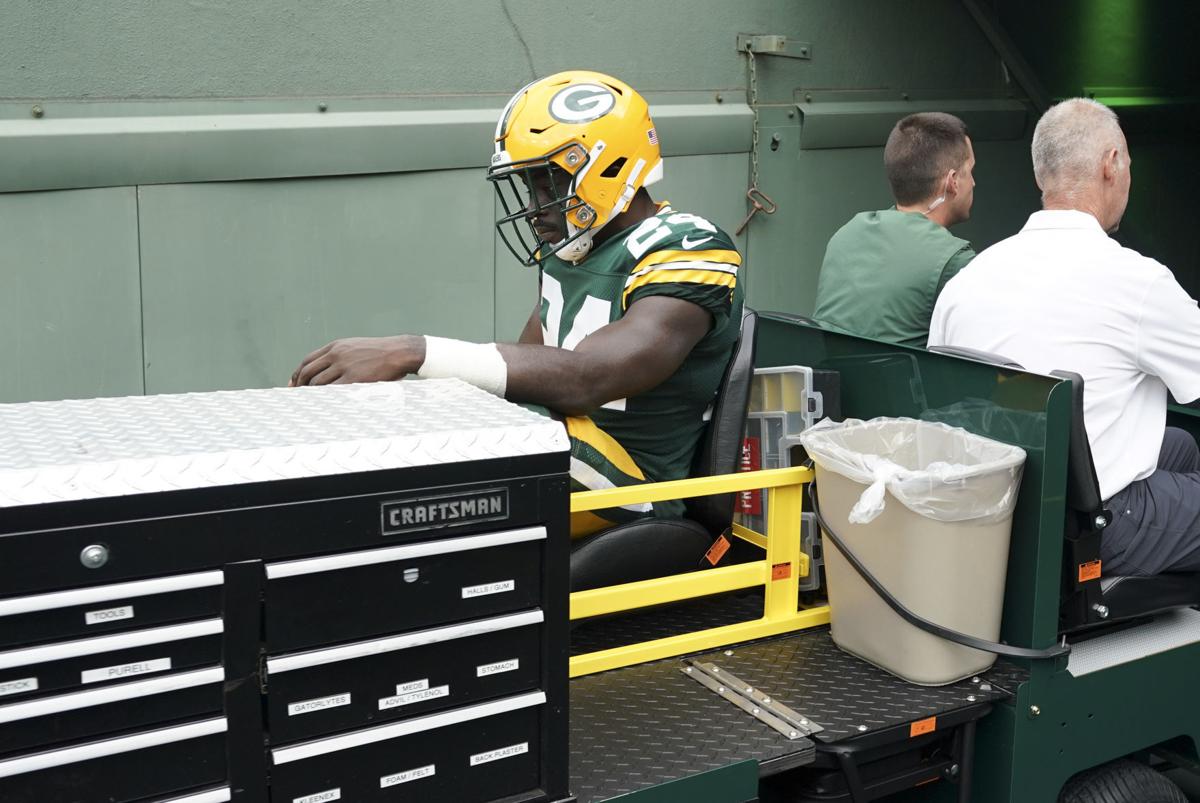 GREEN BAY — Raven Greene's season may not be officially over, but the right ankle injury the Green Bay Packers hybrid safety/inside linebacker sustained during Sunday's 21-16 victory over the Minnesota Vikings was severe enough that he landed on injured reserve Monday.
Greene, who'd been a vital, versatile part of the defense during the season's first two weeks with inside linebacker Oren Burks out with a partially torn pectoral muscle in his chest, injured his ankle early in the third quarter and was taken off the field on the back of a motorized cart, unable to put any weight on his right foot. He departed with a member of the training staff and Dr. Robert Anderson, the world-renowned foot and ankle specialist who joined the team's medical staff last year.
Greene's injury is serious enough he'll likely require surgery, ESPN.com reported. Still, he would be eligible to return from injured reserve later in the season if he's physically able to.
Speaking after the game Sunday, Greene said he was cut-blocked, leading to the injury.
"I'm as good as I can be," he said before leaving the locker room.
Burks, who has been inactive for the first two games and has yet to take part in practice since suffering the injury in the Aug. 8 preseason opener against Houston, said Monday he wasn't sure if he'd be cleared to practice Wednesday or if he'd be ready to play in Sunday's game against the Denver Broncos.
"We'll see. I'm supposed to get with (the medical staff) to see what the schedule looks like for this week. I'm trying to keep getting after it," Burks said. "Right off the bat I thought (the injury) was going to be season-ending, so I'm just blessed to be able to come back and hit the rehab hard and have hopes of coming back pretty soon.
"I'm definitely itching to get back out there. The guys have been doing a great job swarming to the ball. I'm just excited to get back out there to just add another element of speed out there."
According to the NFL's official transaction wire, the Packers filled Greene's roster spot by claiming cornerback Tremon Smith off waivers from the Kansas City Chiefs, though the Packers didn't officially announce the move, presumably because Smith must still pass a physical when he arrives in Green Bay. Smith, a sixth-round pick from Central Arkansas last year, was released by the Chiefs late last week after seeing action in their season opener.
Smith played 74 defensive snaps in 14 games as a rookie last season but was primarily used on special teams and as a kickoff return man, averaging 26.8 yards on 33 kick returns. The Chiefs tried him at running back this summer in training camp but moved him back to defense.
You have free articles remaining.
Captain's deck
If you were looking closely at Aaron Rodgers' jersey during Sunday's win, you noticed he was wearing the captain's "C" on his chest. That's something in past years that only appeared on his jersey during the postseason, because the team had traditionally rotated weekly captains throughout the regular season instead of electing season-long captains.
Coach Matt LaFleur said the players voted and decided to do both. So they elected quarterback Aaron Rodgers (offense), outside linebacker Za'Darius Smith (defense) and kicker Mason Crosby (special teams) as season-long captains. All three were also captains for the regular-season opener at Chicago, but the captains' patches weren't yet sewn on their jerseys.
Against the Vikings, tight end Jimmy Graham (offense), inside linebacker Blake Martinez (defense) and punter JK Scott (special teams) were the weekly captains.
"The one thing I'll say about this team is I feel like we've got a lot of good leaders," LaFleur said. "So went with one captain for each side of the ball and we're going to rotate game captains as well."
The captains' patches have gold stars underneath the "C" to indicate how many years the player has been a captain. Since the Packers only had elected captains in the playoffs in the past, those captaincies count for stars on Rodgers' and Crosby's patches. For Rodgers, it's his ninth selection as captain; for Crosby, it's his sixth.
Smith, meanwhile, was elected despite being in his first season with the team, having signed with the Packers as a free agent in March.
"I think it says a lot about him," LaFleur said. "I think his teammates respect him. I think he's about the right stuff. He cares about his teammates. He tries to get them together to do things and he brings it every day in practice. He does a great job."
Smart move
LaFleur explained his rationale for having the officials enforce the unsportsmanlike conduct penalty on Vikings wide receiver Stefon Diggs for taking his helmet off on the extra point instead of the ensuing kickoff.
While cornerback Tony Brown blocked Vikings kicker Dan Bailey's extra point, it wasn't the reason why LaFleur made the decision he did. Rather, LaFleur said it looked like Vikings coach Mike Zimmer was intending to try a 2-point conversion.
"I saw the offense was still out on the field. I thought they were going to go for 2 and I wanted to take that away from them," LaFleur explained. "I'd much rather take that on the kickoff but with that situation with the potential to make it a three-point game, I said, 'I don't want to risk that.' I'm glad we took the penalty because Tony Brown had an excellent effort and was able to block the PAT.