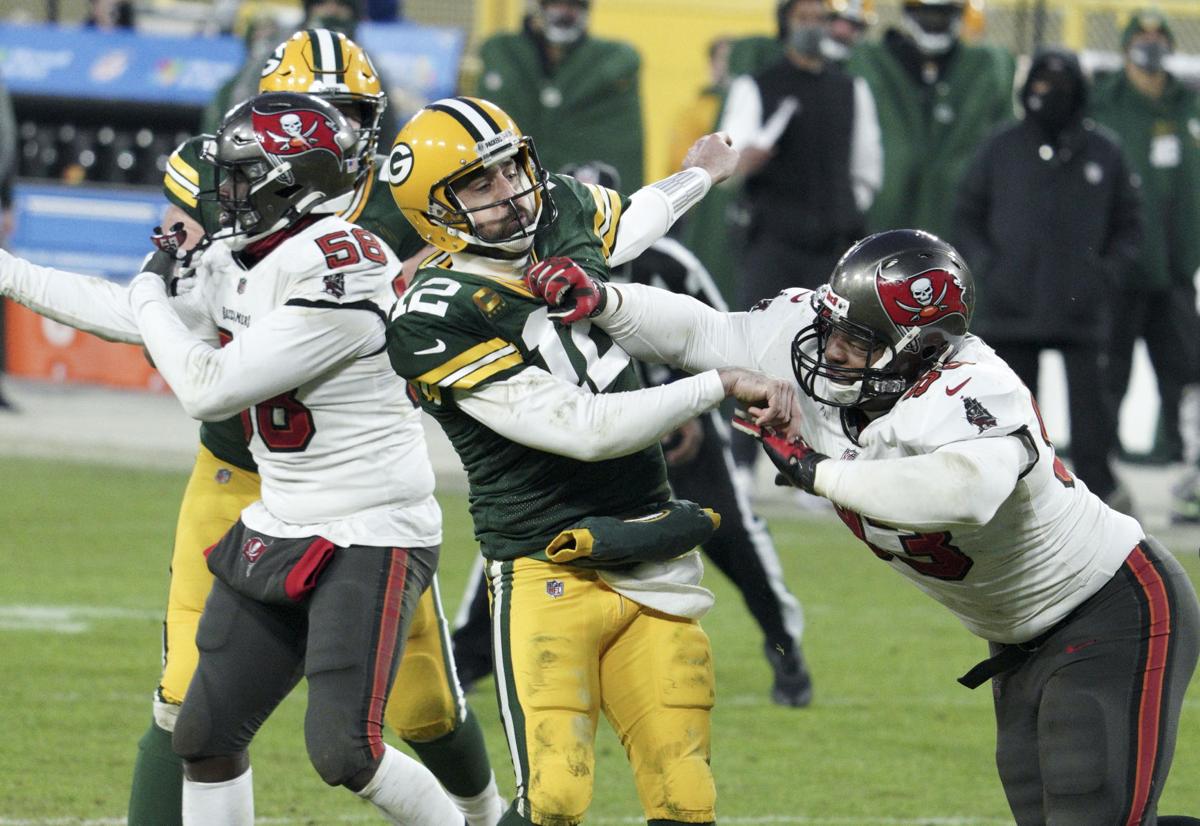 GREEN BAY — For all the Green Bay Packers offensive line accomplished during the 2020 NFL season — enduring constant shuffling due to injuries, protecting quarterback Aaron Rodgers to a career-low in sacks, opening holes for the running backs — there was one thing that unit simply could not do: Keep the Tampa Bay Buccaneers' pass rush at bay.
The Buccaneers sacked Rodgers five times, hit him eight times and pressured him 22 times during their 31-26 victory over the Packers in the NFC Championship Game on Sunday at Lambeau Field, a near carbon copy of what they'd done during their 38-10 regular-season blowout of the Packers back on Oct. 18. In that game, Rodgers and backup quarterback Tim Boyle were sacked five times and hit 13 times.
Packers head coach Matt LaFleur, the offensive play-caller, took the blame, essentially saying Bucs defensive coordinator Todd Bowles got the better of him.
"They do a nice job of disguising and holding stuff to the snap. It's a good scheme, and they've got good players. You've got to give them credit, certainly," LaFleur said. "We didn't do enough offensively to counteract that. We've got to take a good, long, hard look at what we're doing offensively for that, because that's a team that I'm sure that down the road if we're in a situation like this again that we could potentially have to play.
"I'm sure other people are going to look at that tape as well and try to figure out how to stop our offense, because our offense has been pretty dynamic all year long. I felt like we had plenty of opportunities tonight to take advantage and get the job done. And we didn't do it, and that falls on me.
"That's a tough pill to swallow (for me). You're responsible for everybody in this organization to make sure that you're on your 'A' game, and I don't feel like I was tonight. I'm just pretty disappointed that I let a lot of people down."
In that first meeting, the Packers lost left tackle David Bakhtiari early in the third quarter, when he suffered broken ribs. Sunday marked their third game without Bakhtiari, who tore the ACL in his knee during a Dec. 31 practice, and tackles Billy Turner and Ricky Wagner struggled with Bucs edge rushers Jason Pierre-Paul and Shaq Barrett. When Bakhtiari was healthy, Turner was the team's starting right tackle (or right guard) with Wagner on the bench (or at right tackle when Turner was at guard).
"This one hurts, especially at home. Not much to say. Credit to them. They played a good game. They made the plays when they mattered," right guard Lucas Patrick said. "When the plays were there, they made them. Their defensive structure is a lot of 1-on-1s up front, and we just didn't win enough of our 1-on-1s."
'Gold' zone blues
For a team that was virtually unstoppable inside their opponents' 20-yard lines, the Packers' season is over in part because they were unable to do what they've done all season — dominate in the red zone. Or as they call it, the gold zone.
The first, with 4:59 left until halftime, came after the Packers had first-and-goal at Tampa Bay's 6. On the next three plays, Rodgers and his most reliable target, Davante Adams, could not connect, forcing a field goal.
All told: Six plays, all passes.
"They have a really good defense. That's where some of the credit has to go. But we had some chances. We had some opportunities," Rodgers said. "We had a couple mental errors on some of those plays, which hurts, but we had some chances, too. We felt good about the plays that were called and the opportunities. We just didn't execute."
LaFleur arrived at his Zoom call having just spoken with offensive coordinator Nathaniel Hackett, who oversees the red-zone game plan and who renamed the area the "gold" zone.
"A lot of times when we got down there (this season), we did a really good job running the football and having actions off of it," LaFleur said. "And then you look at it today and I think we probably had a little too much drop back.
"(The Buccaneers) came out with a little different plan than what we were anticipating, so you've got to give them credit. But I put that on myself, just not calling the right plays, the stuff that we did so well all season long. We kind of got away from it. And really that second half, specifically the fourth quarter, we just got out of our offense. And that's on me."
MVS comes through
Wide receiver Marquez Valdes-Scantling ended his up-and-down season with his best game of the year, catching four passes for 115 yards, including a 50-yard touchdown from Rodgers for the Packers' first points.
"I'm just really proud of him," Rodgers said. "He's had such an interesting year. I think it's been a good year of growth for him as a person. That's what I'm most excited about for him as a friend.
"I told him before the game, I was going to need some plays. I was going to need at least two big ones. He made many, many, many plays for us."
Last goodbye
If Aaron Jones ends up leaving in free agency — something that appears likely after he reportedly turned down one contract offer late in the season for its lack of guaranteed money — then the running back's final game in a Packers uniform ended painfully, with two fumbles (one lost) and a chest injury. Injured early the third quarter on the second fumble, he never returned to the game and finished with 27 yards on six carries.
Jones isn't the only one whose future is uncertain, as fellow running back Jamaal Williams, first-team All-Pro center Corey Linsley, cornerback Kevin King and veteran tight end Marcedes Lewis are also set to become free agents.
"I'm just gutted for 'Big Dog' (Lewis) and obviously am hurting myself, Mason, some of the older guys," Rodgers said. "But it hurts for those young guys, too, who grew so much this year and added so much to our team. … Just the uncertainty of it all is so difficult, the abruptness. So many futures are a little gray right now. It's definitely sudden.
"I just found some really special friendships with Marcedes, Davante … Tim and I have become really close over the years … Jamaal — I love Jamaal — (and) Aaron Jones. A lot of guys' futures that are uncertain — myself included. That's what's sad about it."
Extra points
Veteran cornerback Tramon Williams, who was elevated from the practice squad on Saturday and was set to become the first player in NFL history to see action in two postseason games for two different teams, was active but did not play. … Inside linebacker Krys Barnes, who broke his thumb last week against the Rams, left the game twice with injuries, including a thumb injury that kept him out for the remainder of the game. Ty Summers took over for him at Mike linebacker. … Defensive lineman Tyler Lancaster suffered an ankle injury but did return. … Jaire Alexander's two interceptions made him just the seventh player in team history to have two or more picks in a playoff game. … Mason Crosby played in his 22nd playoff game, tying him with Brett Favre for most in team history.
---
Photos: Packers' Super Bowl hopes dashed as Bucs win NFC title