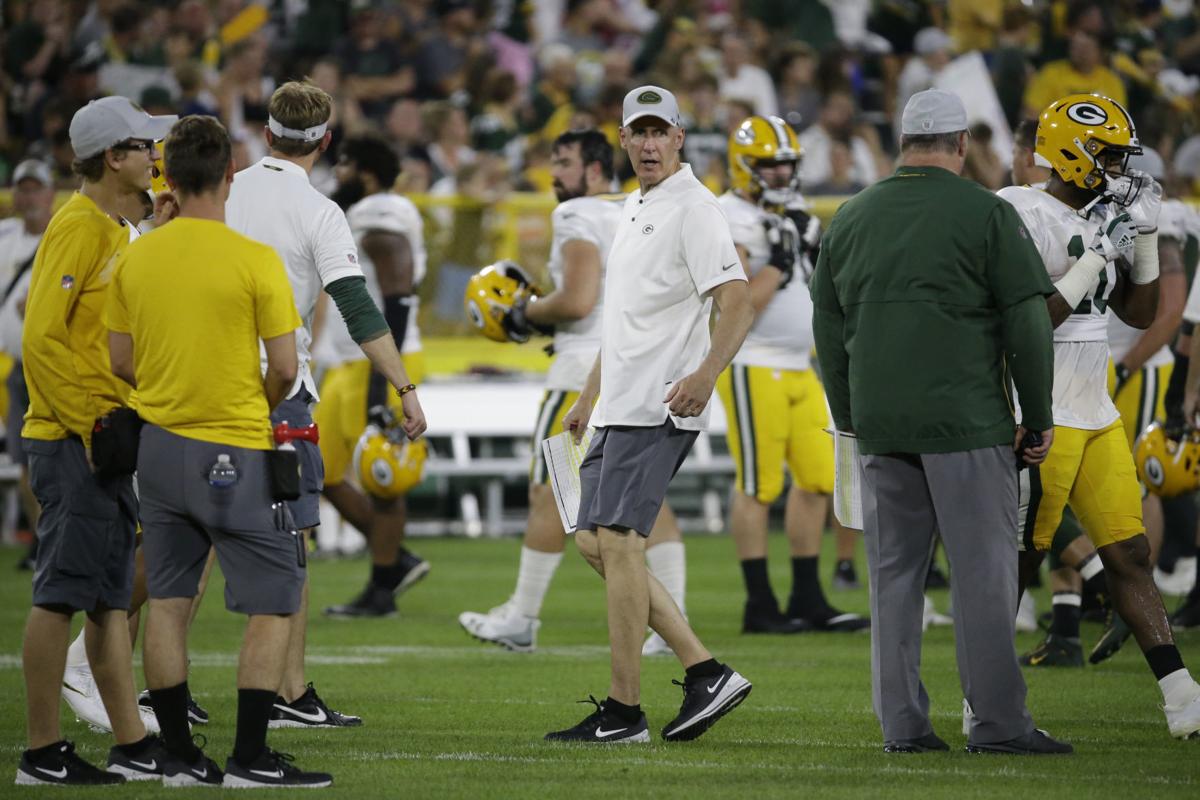 GREEN BAY — Joe Philbin wasn't thinking about being a head coach again — but now, that's exactly what he is.
The Green Bay Packers named Philbin as their interim head coach Sunday evening, shortly after firing Mike McCarthy after nearly 13 seasons in charge in the wake of a 20-17 loss to the Arizona Cardinals at Lambeau Field.
On Thursday, amid speculation about McCarthy's future with the team, Philbin was asked whether he had any interest in being a head coach again.
"Not to be evasive, (but) right now I'm focused on doing as good a job right here and right now as I possibly can," Philbin replied. "But with that said, (being a head coach) is a difficult job, it can be a lonely job.
"It's a tough job, but it's a great job and if you love football and you love coaching, in my opinion, they're all great jobs. So, again, my focus is, let's see if we can get a win against the Arizona Cardinals. I mean, we've gone five weeks, it's been a tough stretch. Guys have battled, but we just haven't played well enough offensively. We haven't scored enough points. We have to do better. That's really all I'm thinking about right now."
The Green Bay Packers hosted the Arizona Cardinals on Sunday at Lambeau Field in Green Bay. 
Philbin began his NFL coaching career in 2003 with the Packers, hired by then-head coach Mike Sherman as assistant offensive line coach. After Sherman's firing following the 2005 season, McCarthy hired Philbin to coach the team's offensive line in 2006, then promoted him to offensive coordinator the following year.
After the Packers offense scored the second-most points in a single season in NFL history (560) in 2011, the Miami Dolphins hired Philbin as their head coach. He lasted less than four seasons, fired early in 2015 after compiling a 24-28 record.
Phlibin came back to Green Bay this offseason after two years on the Indianapolis Colts' staff. He said at the time he was returning to help make his friend McCarthy "look like the smartest play-caller in the National Football League." Instead, the offense has struggled virtually all season, with quarterback Aaron Rodgers and the rest of the unit looking out of sync for much of the year.
Asked after the game about possible changes that could be looming, Rodgers responded, "That's really not something I'm thinking about in this moment right now. It is my birthday and I've got a lot of people in town that I'm looking forward to getting back to. But it's disappointing.
"I said in the production meeting this week, 'I hate losing way more than I love winning.' I think that's a trait of competitors across the sporting world so it's frustrating to be in this position. We've won so many games in a row in December — home games — against good teams and against teams like this, who we should beat every single time. That part is frustrating especially when you think about wanting to be a playoff team."
No rest for Rodgers
Rodgers' reply when asked if it made sense for him not to play the final four games and let backup DeShone Kizer get some work was immediate and concise.
"Hell, no," Rodgers replied. Then, he added, "C'mon. I've come this far. I'm going to finish this thing off."
Asked if he expected to undergo any surgery on the knee after the season is over, Rodgers replied, "I'm not sure at this point. I feel good. I'm able to move around. I have a little bit of soreness during the week, but that's more related to playing indoors on turf (at Minnesota last week) and when we're in the Hutson Center for practice. I've been feeling pretty good. I don't expect to need any clean-up."
Meanwhile, Rodgers, who was 31 of 50 for 233 yards and one touchdown (79.8 rating), acknowledged he once again didn't play well enough for the Packers to win.
"It's frustrating. I mean, obviously, I know my role with the team and expectations of the way I play and have played and expect to play," Rodgers said. "There's a lot of things we haven't done great this year. Been a tough one at times."
You have free articles remaining.
Crosby 'shocked' by miss
Mason Crosby knew the Lambeau Field winds were tricky Sunday. They had been all game. But the Packers veteran kicker thought he had the right play on his potential game-tying 49-yard field-goal attempt as time expired, a kick that would have forced overtime. The kick missed wide right.
"The wind was swirling," Crosby explained. "Pregame everything moved right to left. That one I wanted to go right, so I was pretty shocked by it, and obviously disappointed.
"I thought I hit a good ball. I hit it right-center, and it just drifted right with the wind. Like I said, I had no indication that it was going to do that."
Little did Crosby know the miss would lead to McCarthy's firing shortly thereafter.
"I welcome the challenge every time," Crosby said of pressure kicks. "I can't take credit whenever I win a game, all of the credit, and I can't take all of the credit whenever I don't make the kick at the end. So, for me, we win and lose as a team, and I'm just disappointed to not make the kick whenever I'm called on there. I need to make that kick to tie the game and see what happens in overtime."
Kumerow debuts
Jake Kumerow said he didn't hear the cheers, but it sure sounded like the former UW-Whitewater standout got one of the loudest cheers of the game when he caught an 11-yard pass during the Packers' game-tying touchdown drive midway through the fourth quarter.
"I didn't even hear it. I didn't even know," Kumerow said. "I was just jogging back to the huddle, listening for the next play."
Kumerow, who was activated from injured reserve on Saturday, entered the league as an undrafted free agent from Whitewater in 2015 but had never been active for an NFL game before Sunday. He spent two years on Cincinnati's practice squad and was promoted to the Bengals' 53-man roster for one game but was inactive.
Asked how he felt about his first NFL regular-season reception, Kumerow replied, "It felt awesome. That's big time, especially coming from '12.' It's awesome."
Not a 'Pleasant' debut
Veteran safety Eddie Pleasant was forced to play extensively after safety Ibraheim Campbell suffered a leg injury. Pleasant then had a chance to be the hero when, on the second play of what ended up being the Cardinals' go-ahead field-goal drive, he had a Josh Rosen pass hit him in the hands and he dropped what would have been an interception deep in Cardinals territory.
The Packers had just tied the game at 17-17 and would have had the ball inside Arizona's 35-yard line with 4:35 to go and a chance to take the lead.
"Catch that pass, we win the game. I feel like that's on me," Pleasant said. "We would have won the game if we would've caught that. We've got one of the best quarterbacks on this team to ever play the game so, at the end of the day, it's a tough feeling."
Extra points
Rodgers set a franchise record for most pass attempts without an interception, breaking Bart Starr's record of 294. Rodgers now has thrown 336 without a pick, second only to New England's Tom Brady (358 in 2010-'11) in NFL history. Rodgers did have a potential interception dropped by Cardinals cornerback David Amerson. … While their two starters on the left side of their offensive line — left tackle David Bakhtiari (knee) and left guard Lane Taylor (quadriceps) both started and played the entire game, the Packers lost their two starters on the right side of the line to injuries, as right guard Byron Bell (knee) and right tackle Bryan Bulaga (knee) both left the game and did not return. Justin McCray, the former starter at right guard, took over for Bell and Jason Spriggs took over for Bulaga, drawing a costly third-down holding penalty that wiped out a big gain. … Packers cornerback Kevin King (hamstring) was inactive and missed his fourth straight game.
Jason Wilde covers the Packers for ESPN Wisconsin. Listen to him with former Packers and Badgers offensive lineman Mark Tauscher weekdays from 9-11 on "Wilde & Tausch" on your local ESPN station.