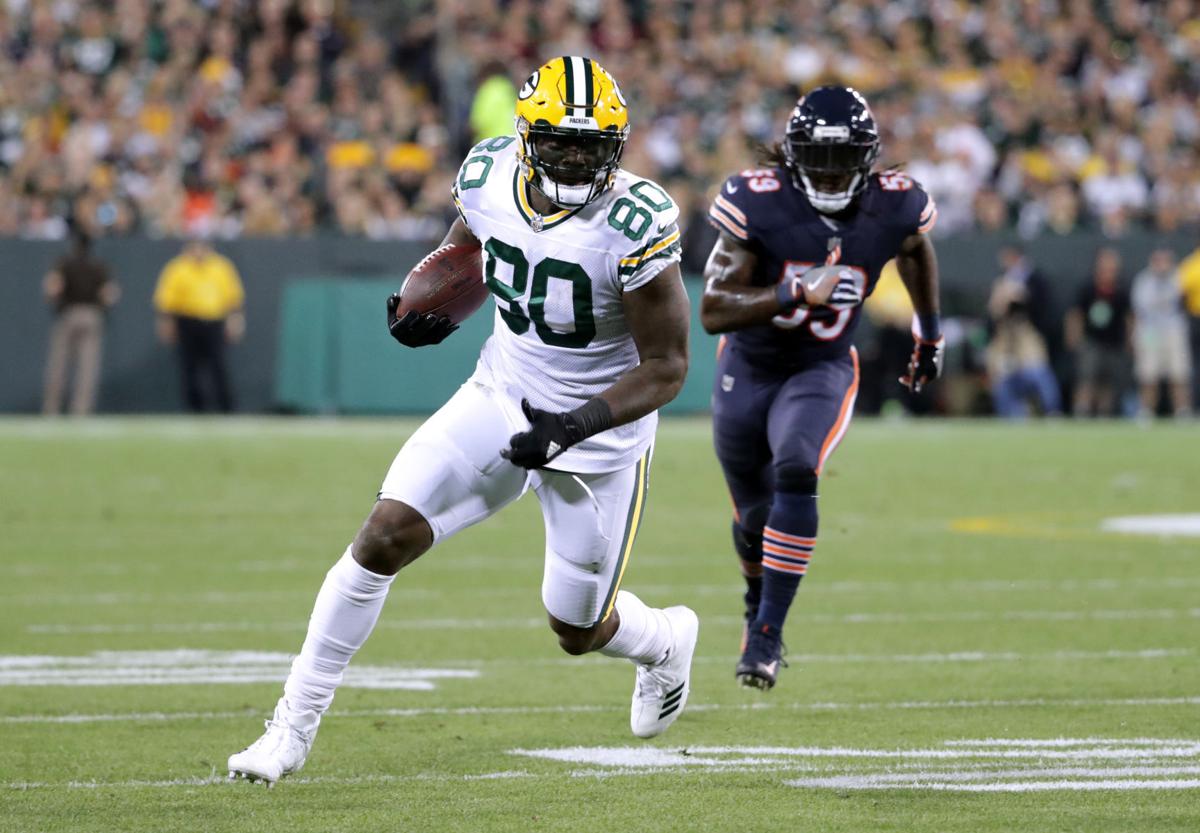 GREEN BAY — Last month, as part of yet another of his off-the-field, non-football creative pursuits, Martellus Bennett teamed up with Giphy.com to create a host of GIFs of him and his now ex-Green Bay Packers teammates. Even Aaron Rodgers did a few of them, although Bennett did a bunch more.
(For the uninitiated — or not-so social media savvy — a GIF is one of those nifty animated image files people attach to their Twitter or Facebook updates that act like mini videos without sound to enhance their posts.)
Do a search for Bennett, who was waived by the Packers Wednesday with a "failed to disclose a medical condition" designation and was claimed by the New England Patriots — the team he won a Super Bowl with last season — on Thursday, and among the GIFs you'll find is this one: Bennett, pretending to laugh hysterically, then delivering an obscene finger gesture with both hands to his virtual audience.
That's essentially what Bennett appears to have done to the Packers, even if coach Mike McCarthy wasn't interested in publicly connecting the dots Thursday morning.
Whether it's because the Packers are likely to file a grievance and try to recoup much of the money they paid Bennett this year as part of his three-year, $21 million free agent contract, or just because McCarthy wanted to avoid fueling the drama surrounding Bennett's departure, McCarthy simply said Bennett's release was "an injury situation."
Asked directly if he thought Bennett quit on his team, McCarthy replied, "I think you're going down a slippery slope if you start talking about other people's bodies, injuries and so forth."
In seven games for the Packers, Bennett had just 24 catches for 233 yards and no touchdowns. On Oct. 28, during the Packers bye weekend and three days before the NFL trade deadline, he posted to his Instagram account that he was "pretty sure" he would be retiring after the season. Three days later, Bennett returned to work with the rest of the team and took part in practice.
From there, everything went downhill. Sometime after that practice, Bennett informed the medical staff that he had a shoulder injury — the injury the Packers now contend existed when they signed him. Bennett didn't practice Thursday, Friday or Sunday, didn't play in Monday night's loss to Detroit– wasn't even on the sideline like other injured players, such as Rodgers – and was cut Wednesday.
"I mean, you can't deny the facts of your timeline and how everything went down," McCarthy said. "I mean, really, to tie all that together, you're asking me to get inside somebody else's feelings, conversation, more on a personal level. I think this all started obviously coming out of the bye week. Everything leading up to that, I can't really comment on it. And then we went down this injury path, and then here we are today. So, I mean, it'd be all speculation."
Speculation or not, multiple players said Wednesday night and again Thursday that they felt as if Bennett had quit on their team in the wake of Aaron Rodgers' potentially season-ending collarbone injury. That he's now returning to New England, where he caught 55 passes for 701 yards and seven touchdowns last season, certainly only adds to that feeling.
"I don't know if (rejoining the Patriots) was his plan. I don't know if that was his intention. But it doesn't matter to me," fellow tight end Richard Rodgers said. "I think we know where we're trying to go. If someone is not on that boat, it's better that they're not here. We're looking to move on. We know our ultimate goal. We have to continue to execute on offense."
And for now, they'll have to do it with two tights ends – Rodgers and ex-University of Wisconsin standout Lance Kendricks – unless the team promotes practice-squad tight end Emanuel Byrd. Entering Sunday's game at Chicago, Kendricks has caught eight passes for 126 yards and one touchdown; Rodgers has caught four passes for 43 yards.
"I think it gives me more plays, more time in the offense, which has been great for me," said Kendricks, who like Bennett signed as a free agent this spring. "I've been able to catch up on some things where maybe I didn't get the reps in for. Same with Richard. We're kind of out there together. We may sub in and out and kind of get the reps together. I think it makes it a little more fresh for us to be out there and learn the offense.
"It's (been) tough for me to not get as many snaps as I'm used to getting, but I would say also that it gave me an opportunity to learn the offense and see how things work here, because it's a little bit different. I've been trying to use that to my advantage."
McCarthy on Kaepernick
McCarthy said he is not worried about a report that he and Houston Texans coach Bill O'Brien will eventually be deposed as part of unemployed quarterback Colin Kaepernick's grievance against NFL owners.
"I haven't heard anything and I'm not concerned about it. And secondly, I go back to after the Minnesota game, the press conference the day after," McCarthy said. "Clearly, my message was to the football team, 'This is the direction we're going. We're going with our quarterbacks.'
"There was no intention toward any veteran quarterback. I stated that then and anything that is different from that is not true. Or, it's someone with an agenda. I think this is unfair to Colin, frankly, and I don't think it's fair to our quarterbacks."
From the infirmary
Morgan Burnett (groin), who is ruled out for Sunday, and defensive tackle Quinton Dial (chest) missed practice.