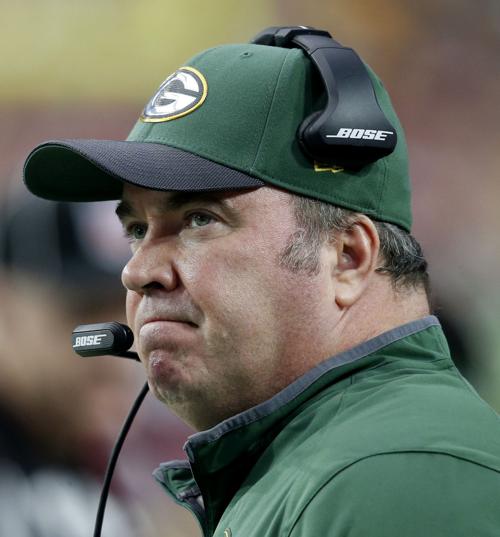 GREEN BAY — Mike McCarthy couldn't believe the words that were about to come out of his mouth. He'd said them so many times over the previous 10 years — it'd seemingly become an annual bye-week ritual for the Green Bay Packers coach — but he really thought this year would be different.
"I never thought I would say this," McCarthy said in the wake of the Packers' 34-27 victory over the Detroit Lions Sunday, "but for as different a schedule that we have, it's a great time to have the bye, because we need it. That's where we are."
And his position hadn't changed 24 hours later.
"It's early, it's different, but it's obvious we need it," McCarthy said.
"This is a good time for us to have this bye week, and they just need to travel safe and spend the time with their loved ones and take care of themselves and be smart, be safe. And we'll get back at it on Sunday."
Truth be told, McCarthy was less than thrilled when the NFL schedule was released this spring and it included a Week 4 bye, the earliest possible bye a team can have and tied for the earliest bye his teams have ever had, matching the Week 4 vacation the NFL gave the Packers in 2013. That year, if you recall, was the year quarterback Aaron Rodgers broke his collarbone in the eighth game of the season, when a later bye would have saved the Packers at least one game without their leader.
This year, the Packers have not incurred any major injuries like that one, which cost Rodgers 7½ games, his return coinciding with the regular-season finale at Chicago. But they certainly have enough players on their injured list who will benefit from a week of rest and recovery.
The Packers played Sunday without outside linebacker Clay Matthews (ankle/hamstring), safety Morgan Burnett (groin), cornerback Sam Shields (concussion), nose tackle Letroy Guion (knee) and outside linebacker/defensive end Datone Jones (knee) on defense and lost tight end Jared Cook (right ankle) and fullback Aaron Ripkowski (back) during the game.
"I was a little bit bummed about the bye week when I first heard about it (in the spring), because now we have to go 13 straight afterward," right guard T.J. Lang said. "But it's good timing when you've got a beat-up team and it's a lot more enjoyable when you're coming off a win. We're going to take advantage of it, hopefully heal up and get back to full force when we come back."
Added right tackle Bryan Bulaga: "I'm not going to sit here and tell you I love the Week 4 bye. I don't. But it's the way the schedule came out. I know some guys are banged up, so (for) some guys it probably is good timing to get a week off, get healthy, get rested. It's a love-hate thing with the bye week, I think."
ESPN.com reported Monday that while Cook is expected to miss time following the bye, his injury is not season-ending. Cook missed much of the offseason and the start of training camp with a foot injury that required surgery in the spring.
It's unclear how many of those players will be ready to go for the Packers' next game, on Oct. 9 against the New York Giants at Lambeau Field.
The problem with such an early bye is that the Packers will likely need a respite later in the season, and one won't be coming between now and Super Bowl LI unless they earn one of the NFC's top two playoff seeds and get a first-round bye. Although their Oct. 20 Thursday night game against Chicago creates a quasi-bye week — their next game, then, is 10 days later, on Oct. 30 at Atlanta — they'll need the extra rest after playing on such a short week.
You have free articles remaining.
After the game against the Bears, the Packers will play 10 straight games. Of those, six will be on the road, including a three-week gauntlet that'll send them to Tennessee (Nov. 13), to Washington for a Sunday night game (Nov. 20) and to Philadelphia for a Monday night game (Nov. 28).
"I'm not a big fan of it, but it actually comes at a good time for us based on the way our team is health-wise," Rodgers said. "The tough part is you go on a 13-game stretch after this. We do have a mini-bye after the Thursday night Chicago game, but health is a premium. We've seen it every single year. It's the teams that are playing the hottest but also that are healthy at the end of the year that go on a run. So we have to get hot and have some good fortune and have guys take care of their bodies right away and get healthy.
"I think our team at full strength is going to be really good. We've got to get to full strength, though."
The extensive injury list forced the Packers to play eight rookies on defense against the Lions, who stormed back from a 31-3 deficit to get within seven points in the final minutes.
Kenny Clark, the team's first-round draft pick, started his first game as Guion's replacement, and helped Green Bay maintain its No. 1 ranking in the NFL for run defense.
The Packers held Detroit, which played without injured running back Ameer Abdullah, to 50 rushing yards. Green Bay has allowed an average of 42.7 yards on the ground after three games, far ahead of No. 2-ranked Philadelphia's average of 71 yards.
That's an encouraging start for a run defense that Mike Daniels, the fifth-year anchor of the line, remembers as being "horrible" and "embarrassing" the last few seasons.
"We're playing tough, and guys are flying around to the ball, and we're just getting physical with the other team," Daniels said. "It's just that freaking simple."
The shaky play of the Packers' pass defense is cause for concern going into the bye, however. Lions quarterback Matthew Stafford exploited Green Bay's depleted secondary for 385 passing yards, including a career-high 205 yards and two touchdowns by receiver Marvin Jones Jr.
The Packers have allowed an average of 307.3 yards through the air, fifth worst in the league.
"The back end, they'll get it together," Daniels said. "Those guys have a lot of pride, and I'm looking forward to watching those young guys grow, too, because we have a lot of young guys out there."
Extra points
McCarthy said he has "no reason to think" that Matthews, Guion, Burnett and Jones won't be back for the Giants, although he admitted that he may not have gotten straight answers out of them when he spoke to them Monday. Players who are injured are required to stay in Green Bay for treatment. … It does not appear Shields will be back for the Giants, but ESPN reported Sunday that the veteran corner, who has now suffered four concussions in his NFL career, is not mulling retirement because of the concussions.
---
The Associated Press contributed to this report.
Jason Wilde covers the Packers for ESPN Wisconsin. Listen to him with former Packers and Badgers offensive lineman Mark Tauscher weekdays from 9-11 on "Wilde & Tausch" on 100.5 FM ESPN Madison.