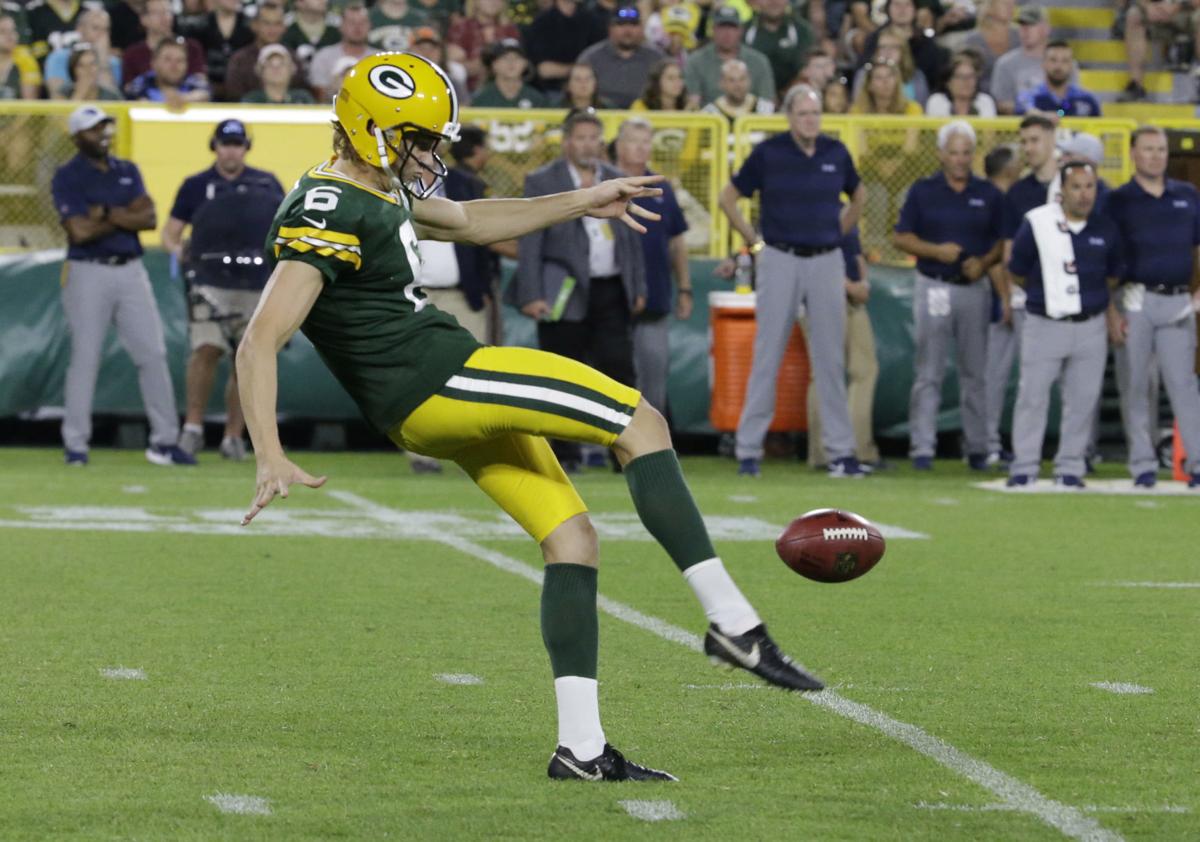 GREEN BAY — Things were going so well for JK Scott, too.
The Green Bay Packers second-year punter might've been the team's most valuable player in its season-opening victory at Chicago, when he punted nine times and crushed a 63-yarder with 4.68 seconds of hang time with 93 seconds left to play to help seal the Packers' 10-3 victory.
After that game, retired punter Pat McAfee immortalized Scott on a T-shirt that he sold online and that a number of Scott's teammates ordered — including wide receiver Allen Lazard, who bought them for the entire receiver room.
And quarterback Aaron Rodgers would talk Scott up just about every Wednesday during his weekly interview sessions with reporters at his locker, raving about what a weapon Scott was.
Through seven games, Scott ranked second in the NFL in gross average (49.2 yards per punt), third in net average (44.4) and tied for fifth in punts inside the 20-yard line (14).
In the four games since then, Scott has been a different punter — and not a good one. On 18 punts against the Kansas City Chiefs, Los Angeles Chargers, Carolina Panthers and San Francisco 49ers, Scott averaged just 36.6 gross yards per punt and 34.7 net yards.
According to Scott, his inconsistency began with his decision to alter his drop, raising it slightly in an effort to increase hang time. Unfortunately, he decided to do that going into the game against the Chiefs, and on a somewhat blustery night at Arrowhead Stadium, the wind created more movement in that split-second between Scott dropping the ball and his foot making contact. The results were a 35.3-yard gross average and a 29.3-yard net average on three punts. Scott's first attempt didn't go where he intended and was returned 18 yards.
"I was kind of making a little change for Kansas City, raising my drop a little bit — which was really a bad idea for a windy game. So that caused a little problem," Scott explained this week. "If you drop the ball lower, you get a little more drive to it. Dropping the ball higher, you get a little more hang time. It ended up being a really windy game, so when you drop the ball higher in a windy game, that's not good."
Ever since, Scott admitted, he's been being overly technical in his process and not swinging away the way he had during the first part of the season. He tried to get back to his free-swinging ways in practice throughout the week in advance of Sunday's game against the New York Giants at MetLife Stadium in East Rutherford, New Jersey.
You have free articles remaining.
"I feel like I haven't been as free and just as going after the ball, kind of thing. Just a little bit more technical, been thinking about it more," Scott said. "My goal this week has been, like, make sure my line is good, make sure my drop is good when I punt, and then in the team periods just let it loose. Don't even think about it.
"You don't want to let the fundamentals just completely go. You want to keep those things dialed in. But that's been my goal just to kind of go after it this week."
While coach Matt LaFleur acknowledged Scott didn't punt well enough against San Francisco last week — "He struggled, to be perfectly honest," LaFleur said — he tried to boost Scott's confidence by reminding him of how well he'd kicked before his recent slump.
"I told him, we have so much confidence in him. He's proved it. He's done it. So there's no doubt in my mind that he's going to work through this," LaFleur said. "Sometimes you go through a rut, but I've got all the confidence in the world that he's going to figure it out. He's way too good."
Special teams coordinator Shawn Mennenga downplayed his concerns about Scott on Friday, saying Scott hit the ball well against the Chargers and that having a kick blocked in that game took away from his best performance of the last month.
"He's had some punts he'd like to have back, and we're just continuing to work on his drop and the mechanics and fine tuning those things," Mennenga said. "He's mentally strong and he's confident in himself and we're confident in him. He's had a couple bad punts and they've been in positions where we're backed up and we haven't flipped the field like we'd like to. It's helped lead to points down the road, which is not what we want. Again, I'm confident in him, and he's confident in himself. We'll get it worked out."
Scott met with his punting coach, ex-NFL punter Tom Rouen, during the bye week but said they didn't overanalyze his recent struggles. Now, the challenge will be for Scott to kick well in inclement weather, which figures to be a factor Sunday at the Meadowlands and in the Packers' two remaining home games.
"I would say anytime you're out of rhythm, it's going to affect your confidence a little bit," Scott said. "Because you don't have surety of hitting a perfect ball every time. So definitely I would say you confidence is affected a little bit. And that's what I'm trying to build – just that confidence and things will let loose."
Extra points
Veteran tackle Jared Veldheer, whom the Packers claimed off waivers after he ended his retirement earlier this week and was released from the reserve/retired list by the New England Patriots, arrived and officially was added to the team. The Packers didn't have to make room for him on the 53-man roster, however, because they have a roster exemption for him. "Obviously (this is) a winning team, a team that's in a good position and a team with a good mix of veterans and young guys," he said. "It's a chance to be a part of that and to contribute." … Starting right tackle Bryan Bulaga (knee) was listed as questionable on the team's official injury report after taking part in practice on a limited basis for the second straight day. "I thought he did a nice job, and we'll see how he feels (Saturday). Because a lot of times, the soreness or whatever won't show up for another day," LaFleur said. … Safety Will Redmond (foot) and cornerback Tony Brown (heel) also are questionable. Redmond practiced in full while Brown was added to the report after being a limited participant. … The Giants will be without tight ends Evan Engram (foot) and Rhett Ellison (concussion), safety Jabrill Peppers (back), wide receiver Golden Tate (concussion) and long snapper Zak DeOssie (knee/wrist), all of whom were ruled out.