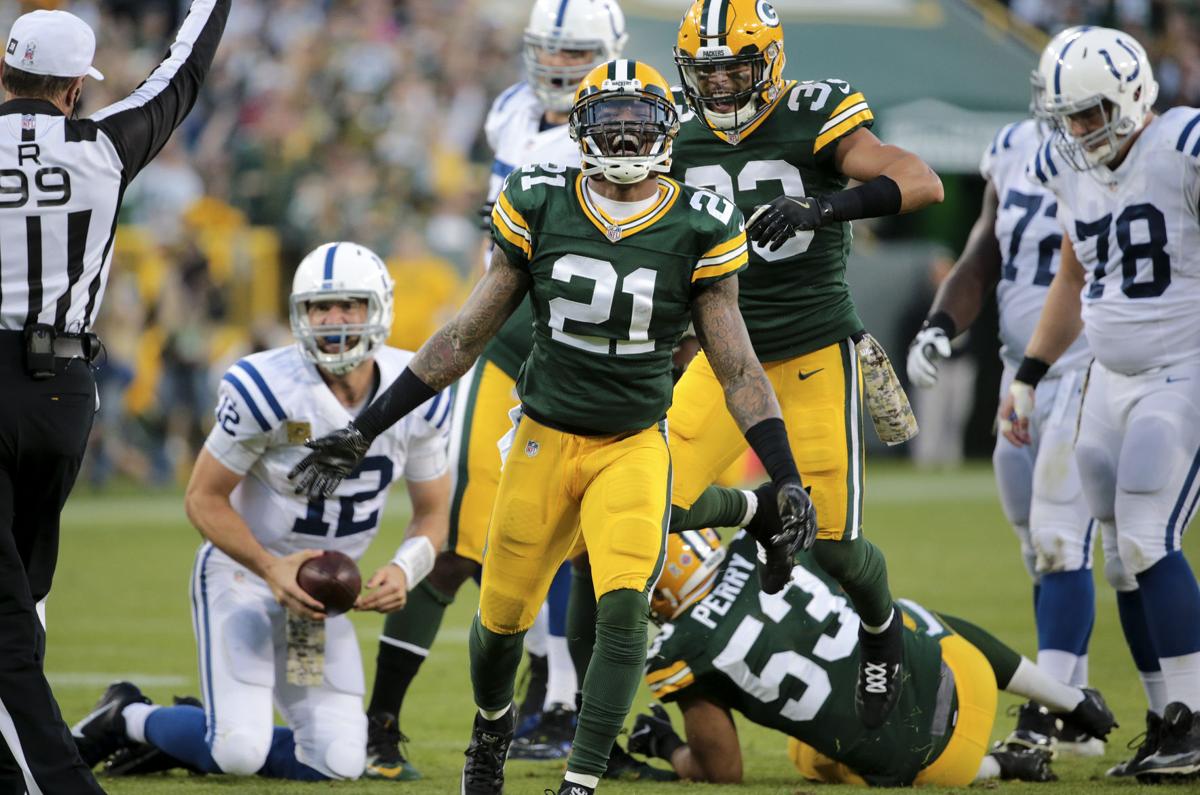 GREEN BAY — There will be no summer vacation for Ha Ha Clinton-Dix. While the rest of his Green Bay Packers teammates take time off, the Pro Bowl safety will be hard at work — for free, no less.
After the Packers' offseason program wraps up this week with their three-day minicamp, virtually all of the team's 90 players will scatter about the countryside, not due back in Green Bay until July 26, when the team reports to training camp. But Clinton-Dix, in pursuit of his degree in criminal justice from the University of Alabama, reported for a different job on June 2: He's serving an unpaid internship under Brown County Circuit Court Judge Don Zuidmulder, for which he's set to log 180 hours before the Aug. 1 deadline to earn six credits toward his degree.
Working with Zuidmulder, who has been a judge since 1997, Clinton-Dix will see all aspects of the criminal justice system, from the county courts, including the drug treatment and juvenile courts; the district attorney's office; the sheriff's department; and even some glimpses into the federal courts.
And he won't be doing this job as "Ha Ha," nor will he be wearing his familiar green-and-gold No. 21.
"As far as I'm concerned, he's Ha'Sean Clinton-Dix. He's Mr. Clinton-Dix. (And) he'll have a dress code," Zuidmulder said of his new job-shadower, who is entering his fourth NFL season and has emerged as one of the team's more vocal leaders.
"I think the idea was to give him an opportunity to see what the (most important) positions are in the criminal justice system. Based upon that, I just want to get him to see and know as many of these component parts as possible, so if he decides he has a particular interest in one of the people that he spent time with or one of the organizations that he spent time with, then that just gives him a better chance to focus on that."
Clinton-Dix, who left Alabama after his junior year and was drafted in the first round by the Packers, shared his educational vision in an interview last season. He said he's inspired to pursue his degree in part by what he has seen in his community near Orlando, Florida, and by the unrest he witnessed in various American cities in clashes between law enforcement and residents.
"I understand what's going on in this world," Clinton-Dix said then. "But cops have to go home at the end of the day. They have a family. They have to go home, too.
"Growing up where I'm from, some people are afraid of cops. They don't really like cops. And what a lot of people don't realize is, they're really not the bad guys. They're really on our side, they're really trying to help us out. And sometimes, we don't understand that."
Clinton-Dix hopes to alter those perceptions, and he believes he'll be better equipped to do so — both during and after his playing days — by participating in programs such as his internship with Zuidmulder, who met Clinton-Dix's grandfather during a random airport pick-up in Orlando while Clinton-Dix was still playing for the Crimson Tide. That connection led to this opportunity, which Zuidmulder said he's never done for a Packers player before.
"I've regularly had judicial interns, people that are first-year, second-year law students, but this is sort of an unusual request," Zuidmulder said. "But he's a family friend, so I'm glad to help."
The Packers are happy to see one of their emerging leaders doing this type of work off the field, too. While the three phases of the offseason program, including the organized team activity practices that wrapped up last week, are technically voluntary, missing them is frowned upon in Green Bay and most starters have workout bonuses to incentivize their attendance.
Clinton-Dix missed some of that work while taking two classes at Alabama this spring – he earned B-minuses in each of them — but both coach Mike McCarthy and safeties coach Darren Perry were happy to support him.
"Absolutely. I was impressed," Perry said. "I want all those guys to go back and go to school and get their degrees and so forth. Because football is only going to be your intermediate (step) and then at some point you're going to have to get on with your life's work. In the meantime, you're talking to kids, and you can go back and show them, 'Hey, I got my degree.' And I think that just adds to the leadership, being a role model, being a mentor. So I applaud him for that. I think it's outstanding."
McCarthy has been pleased with Clinton-Dix's emergence in meetings and on the practice field, too, having seen potential leadership in him almost immediately.
"Ha Ha Clinton-Dix has presence. You could see it as a young player, and it's definitely something that's grown in his time here," McCarthy said. "He has credibility. … And his personality is definitely becoming a bigger part of our football team."
Clinton-Dix promised two people when he left Alabama early that he'd finish his studies: His mother, Nicole, and his coach, Nick Saban, who encourages all of his NFL-bound players to go back to school.
"If you have a degree, you will have a lot more options and opportunities. (And) I think getting that education has always been important to Ha Ha and his mom," Saban said, adding that Clinton-Dix "did everything exactly like you wanted as a coach" and that he couldn't think of a single time when Clinton-Dix was "in my office for doing the wrong thing" during his career.
"I kind of make all the guys that come out early for the draft promise that they will come back and finish their degree. I know they won't all come back and finish, but we really talk a lot to the players here about the fact you can't play football forever. If you can play until you are 30 years old, you still have 50 years of life where you have an opportunity to do something else and have a purpose. I really appreciate that and I am really proud of him."
With six credits for his internship, Clinton-Dix will need to earn eight more credits before he can, in his words, "dance my way down the aisle" at graduation next spring. In the process, he believes he's getting far more out of the experience than just a diploma.
"It kind of opened my mind up to different things and just my life in general," Clinton-Dix said. "I think I do look at things a lot differently now that I went back to school.
"To be honest, football is my main goal. I never really had a backup plan. This is just something I wanted to do. It's also that I owe my mom and people I look up to. I'm 24 years old. I don't have anything to lose, so why not continue trying?
"I take the path I want to take in life and do the things I'd like to succeed in."
Be the first to know
Get local news delivered to your inbox!