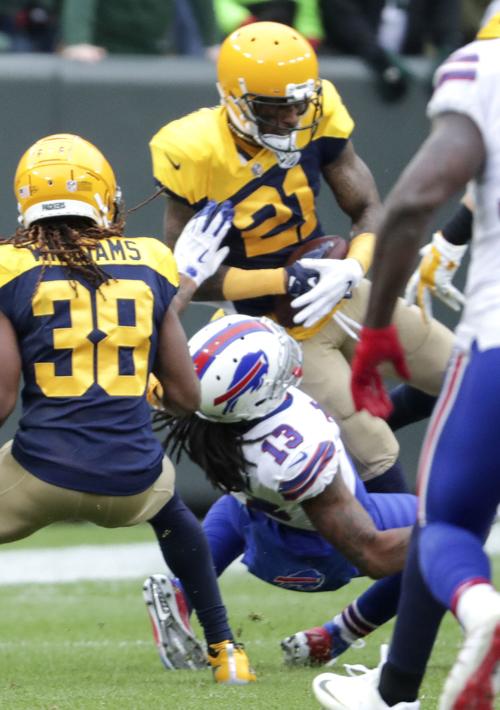 GREEN BAY — Ha Ha Clinton-Dix doesn't know what the future holds, but he doesn't expect it to have him in Green Bay.
At least, that's the approach the fifth-year safety is taking as he and the up-and-down Packers get ready for Monday night's game against the San Francisco 49ers at Lambeau Field.
"Right now, I'm playing each and every game like it's my last. I don't think I'm going to be here next year," Clinton-Dix said Monday, one day after the Packers fell to 2-2-1 with a loss at Detroit. "That's how I look at it. I just (have to) be honest with myself. You've got to play it game-by-game. Whether we're losing by 60 points, you've got to go out there and perform. This is my biggest interview of my career. So I've got to perform, regardless of what the record says."
Clinton-Dix, the Packers' 2014 first-round pick and a 2016 Pro Bowl selection, is playing on a fifth-year option, which the Packers exercised following his Pro Bowl season after not doing so with their 2011 (Derek Sherrod), 2012 (Nick Perry) or 2013 (Datone Jones) first-rounders. The option is paying him a guaranteed $5.957 million this season, but because he was hoping to get a long-term contract extension, he did not take part in the team's voluntary organized team activity practices this spring.
Clinton-Dix enters Monday's game tied for the NFL lead in interceptions (three), matching his total from last season. He's tied for second on the team in tackles (31) and also has a sack and four pass break-ups playing in defensive coordinator Mike Pettine's new scheme. As a whole, the Packers enter the week ranked fourth in total defense (313.8 yards per game) and tied for 13th in scoring defense (22.8 points per game) after some inconsistent play the first five weeks.
Nevertheless, Clinton-Dix said he still believes the defense can be a top-flight unit once players get healthy and they start to feel more comfortable in the scheme.
"I like Mike Pettine a lot. He's given me a chance to fly around and make plays," Clinton-Dix said. "When guys are doing what they're asked to do, we don't look too bad out there. There are little mistakes we make, but other that, we're all having fun out there and once we all get in a rhythm and start catching interceptions, it's only going to bring us together.
"I'm actually having fun — regardless of what the record says — because of the defense and the way it is right now. We're going to get better. Once we get rolling, we're going to be hard to stop, if you ask me."
Like the rest of the defense, Clinton-Dix has had his good moments and his bad moments. He acknowledged he needs to tackle better — he looked bad on Sunday against the Lions when wide receiver Kenny Golliday stiff-armed him late in the first quarter on a 60-yard catch-and-run that set up Detroit's second touchdown — and be more aggressive.
"For one, I shouldn't have gotten relaxed on the play," Clinton-Dix said. "I thought it was a PI (pass-interference penalty), (then) I thought he was going out of bounds, so I relaxed going into the play.
"That's not the first time that kid has stiff-armed me. That's the second time in two years. So I don't know. I have a problem with that kid all the time. I even tell him that. He's got these big dinosaur arms and I can't figure out how to get away from him. I just have to be aggressive and get him out of bounds. I'm the last line of defense."
Asked following the team's Week 3 loss to Washington about Clinton-Dix's tackling this season, Pettine replied, "I wouldn't say he hasn't been physical. (Defensive passing-game coordinator) Joe (Whitt) is a very tough grader on those guys. Each player; I won't go into the details of it, but we don't sugarcoat the grades if we don't think a guy got his job done. Then we'll let him know.
"Overall, I think as an entire defense, our level of physicality needs to be higher. I just can't point to one player. ... We have to be ready coming out of the tunnel, not wait until we've been punched a couple times and realize 'Oh, we've got to go.' That's something we've talked about and it's been a point of emphasis for us."
For his part, Clinton-Dix likened his missed tackles to quarterback Aaron Rodgers missing an open receiver or No. 1 wideout Davante Adams dropping a pass. He knows he has to make those plays, and believes he will — which should lead to a long-term deal, be it here or elsewhere.
"If A-Rod doesn't complete a pass, is he a bad quarterback? If Davante drops a ball, is he a bad receiver now?" Clinton-Dix said. "I've gotten to the point in my life and my career where I'm OK with making mistakes and not beating myself up too bad about it. It's about moving on and figuring out how to make a play the next play or not make the mistake again."
Jason Wilde covers the Packers for ESPN Wisconsin. Listen to him with former Packers and Badgers offensive lineman Mark Tauscher weekdays from 9-11 on "Wilde & Tausch" on your local ESPN station.