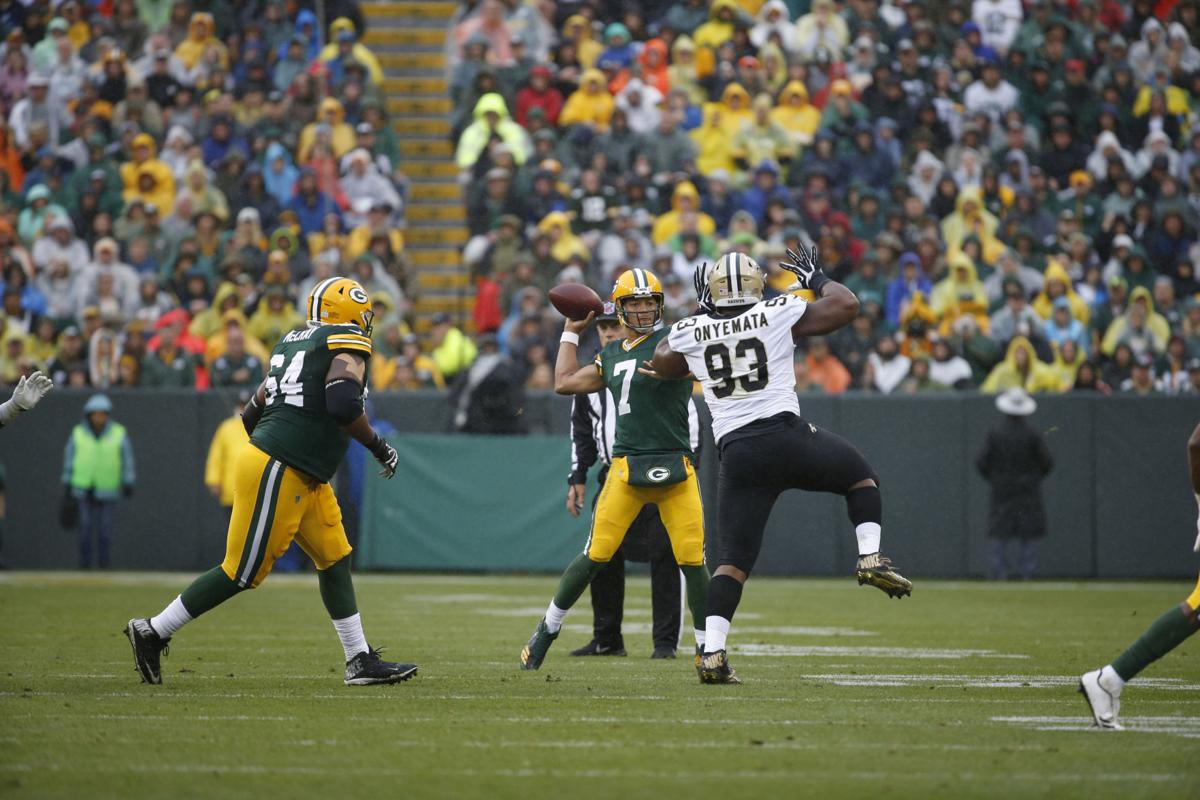 GREEN BAY — Quarterback Brett Hundley burned the New Orleans Saints on the run in his first NFL start.
The Green Bay Packers will need him to make plays with his right arm to keep their playoff hopes alive without injured star Aaron Rodgers.
Hundley rushed for 44 yards on three carries, including a 14-yard touchdown run, but finished 12 of 25 for 87 yards in the 26-17 loss Sunday to the Saints.
The Saints outscored the Packers 10-0 in the fourth quarter to pull away in a tight game. It was the kind of situation in which Rodgers thrives.
He's out indefinitely with a broken right collarbone, so the Packers have turned to Hundley in his third season backing up Rodgers.
"I've been learning from him for three years. All I've got to say is, 'Don't write us off,'" Hundley said.
The Packers (4-3) have gone from Super Bowl contender to NFC question mark without Rodgers. The NFC North is wide open after two straight losses for Green Bay.
It's up to coach Mike McCarthy to get Hundley more comfortable dropping back.
"I needed to get a much better job of him working the drop-back passing game," he said. "He tried to do a little too much and tried to go against it, but he's competitive. He made some big, big plays with his feet, and we'll grow from that."
It was a solid enough start for Green Bay, with the Packers scoring on the opening drive on a 46-yard touchdown run by Aaron Jones. The rookie running back finished with 131 yards on 17 carries.
But the successful start on the ground didn't have the desired effect of opening up play-action opportunities.
"We took a couple shots, but I mean we got a (pass interference call) on one of them. The defensive backs didn't bite too much," Jones said.
Trailing by nine points in the fourth quarter, the Packers had to move the ball through the air. Hundley threw his only interception in a critical spot when safety Kenny Vaccaro picked off a deep pass down the middle of the field with 4:20 left. The Saints ran out of the clock.
Naturally, Hundley doesn't think the Packers' postseason hopes are shot. Green Bay still has four division games left following a bye week, starting with a Monday night home game on Nov. 6 against Detroit.
"We've got to get better and we will get better, but we're not out," Hundley said. "We've got our division games in front of us and we can still win the division and make the playoffs, and down the road if Aaron is healthy and comes back and we're still rolling, he'll be available.
"But we've just got to win games and keep this season rolling."
Brees added another milestone to his impressive 17-year career, becoming the fourth player in NFL history with at least 500 touchdown passes, including the playoffs. He joined Peyton Manning, Brett Favre and Tom Brady.
Receivers
Saints: Ginn had 141 yards on seven catches, while fellow receiver Michael Thomas finished with 82 yards on seven receptions.
Packers: Their playmakers at receiver were shut down with Hundley running the offense. Tight end Martellus Bennett was the leading receiver with 17 yards on two catches.
Emotional return
Hall of Fame quarterback Bart Starr made an emotional return to Lambeau Field. The 83-year-old Starr joined other former Packers when the organization honored members of the 1967 championship team. That squad that won the "Ice Bowl" against the Dallas Cowboys before taking the title against the Oakland Raiders. Starr is recovering from two strokes and a heart attack suffered in 2014.
Injury report
Saints starting right guard Larry Warford did not return after halftime because of an abdominal strain.