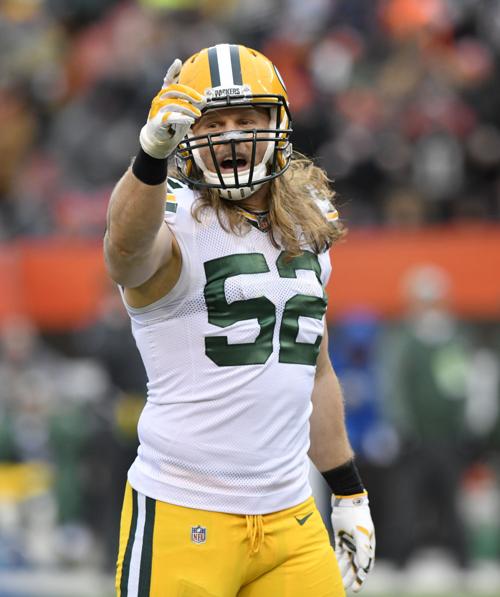 GREEN BAY — Clay Matthews has seen it happen. A pass rusher doesn't have the sack numbers to match his contract numbers — never mind the fact that sacks aren't the best way to measure productivity — and the next thing you know, he's off to another team and starting over.
Matthews spent the previous three years dressing next to future Pro Football Hall of Famer Julius Peppers in the Green Bay Packers' locker room — until this offseason, when the Packers, like the Carolina Panthers and Chicago Bears before them, moved on from the seemingly ageless Peppers, who's back in Carolina and enters the final weekend with 11 sacks.
So while Matthews goes into Sunday's regular-season finale at Detroit with 7.5 sacks, making it likely he'll notch a third straight season without reaching double digits in that department, he and his coaches believe he's had a very good season. What that means for his short-term and long-term future, though, Matthews isn't sure.
"I definitely think about my future, especially with a year left (on my contract)," Matthews said Wednesday afternoon. "Hopefully the Packers don't give up on (this) pass-rusher. The reality is, I've got 80 sacks after nine years. I've got 11 (sacks) in 15 (career) playoff games, I mean, say what you want about (my) stats being down and what not, but the results speak for themselves. And, mind you, for two years I played inside linebacker.
"It's something you think about. It's not something you dwell on. I think about will I be able to play here for several more years or will I go somewhere else? At the same time, I'm approaching it as, I've still got a year left (here) until they let me know otherwise. Hopefully they don't, though."
Matthews, who turns 32 in May, has one year left on the five-year, $66 million extension he signed in April, 2013. He's set to earn a base salary of $10.4 million with another $500,000 in a workout bonus and $500,000 in roster bonuses. Parting ways with him would be a salary cap wash for the Packers, who've given no indication they're looking to move on.
"He's so disruptive as a player, obviously," Packers coach Mike McCarthy said. "He's an impact player and has been for a long time here."
Although he suffered through a five-game stretch without a sack — the longest drought of his career before it ended Nov. 19 against Baltimore — and three of his team-leading 7.5 sacks came in a Dec. 3 win over Tampa Bay, Matthews' numbers (51 tackles, 11 tackles for loss, three passes defended, one forced fumble, one fumble recovery, 12 quarterback hits and 18 quarterback pressures) don't tell the whole story.
"You know, it's funny, I'd go home after some of these games, especially after that stretch where I didn't have a sack, and obviously so much of your success is measured on sacks at the pass-rush position — for right or wrong. And I'd go home and I'd have this feeling of, 'Maybe I didn't do enough,' " Matthews said. "And I'd watch the film and I felt like there were obviously some plays I missed, but there were some great plays that I thought I made."
Matthews' biggest play this season might've been at Cleveland on Dec. 10, when he delivered what likely was a game-saving hit on Browns quarterback DeShone Kizer on the opening series of overtime. Kizer had a wide-open receiver down the left sideline and was about to unleash what might very well have been a 67-yard game-winning touchdown had Matthews not hit his arm as he threw. Instead of losing on a huge play – and rendering quarterback Aaron Rodgers' attempts at a comeback meaningless – the Packers won in OT after Matthews' hit resulted in a Josh Jones interception to set up the winning touchdown.
"It's like every year," Matthews said. "There's plays in the run game and the pass game and coverage that I wish I could have back, and there were plays where I thought those were exceptional plays and (showed) that I'm still able to play at a very high level that I've been accustomed to for nine years now."
You have free articles remaining.
Matthews has missed two games with injuries this season: A Nov. 26 loss at Pittsburgh after sustaining a groin injury early on against the Ravens ("I thought I probably would have had a big game there," he said of the loss to Baltimore); and last Saturday night's loss to Minnesota after injuring his hamstring the previous week in the Packers' all-in loss at Carolina.
For his part, Matthews said Wednesday he feels like he'll play Sunday at Detroit, although he likely won't play the full game with the Packers out of playoff contention and the coaches needing to get a longer look at some of the team's young outside linebackers.
"That's always my goal every year – being out there for 16 games," Matthews said. "Because I feel like if you put me out there for 16 games, then good things are going to happen. Whether that's sacks, fumbles, fumble recoveries, interceptions, whatever it is – plays that need to be made will be made if I'm out there for all 16 games."
A league source said the Packers are not at all concerned about wide receiver Davante Adams, even though he remained in the concussion protocol, per McCarthy.
The source said the Packers are simply taking more time with Adams, who is not allowed to speak with reporters while in the concussion protocol, and that there is no reason believe he is actually taking longer to recover from this concussion than he took to come back from the Sept. 28 concussion he suffered on a wicked helmet-to-helmet hit from Chicago's Danny Trevathan.
Adams recovered quickly from his previous two NFL concussions, and he was on the sideline arguing about an official's call during Saturday night's loss to the Vikings. He has not yet been ruled out of Sunday's game but with no playoff berth on the line, it seems highly unlikely that Adams will play.
Opponents set
The Packers are locked into a third-place finish in the NFC North (by virtue of the Lions having a better record in division games), so Green Bay's 2018 opponents are set.
In addition to home-and-home matchups with the Lions, division-champion Minnesota Vikings and the last-place Chicago Bears, the Packers will play at the Los Angeles Rams, Seattle Seahawks, New England Patriots, New York Jets and Washington Redskins, in addition to their trips to Chicago, Minnesota and Detroit.
At home, the Packers face the Arizona Cardinals, San Francisco 49ers, Buffalo Bills, Miami Dolphins and Atlanta Falcons.
The Packers' road trip to Washington and visit from the Falcons were set by each of those teams finishing third in their respective divisions. The rest of the schedule is set by the league's rotation formula.
Extra points
Second-year right tackle Jason Spriggs said he suffered a dislocated left kneecap on Saturday night against Minnesota. While it is a significant injury, Spriggs hopes to be ready for the team's first organized team activity practice in May and considers himself fortunate to have avoided a torn anterior cruciate ligament. … Including Adams, seven Packers did not practice at all on Wednesday: Wide receivers Geronimo Allison (illness), Jordy Nelson (shoulder) and Adams; guard Jahri Evans (knee); running back Aaron Jones (knee); linebacker Nick Perry (ankle/shoulder) and tight end Richard Rodgers (shoulder). … Asked about Nelson, McCarthy said "it'll be tough for him to make this week." As for Jones, McCarthy said he "is most likely going to be out for the game unless something changes dramatically." … The Packers signed long snapper Zach Triner to the practice squad. Triner, a first-year player out of Assumption College, a Division II school in Worcester, Massachusetts, was with the Jets this spring. He was previously a lacrosse player at Siena College.