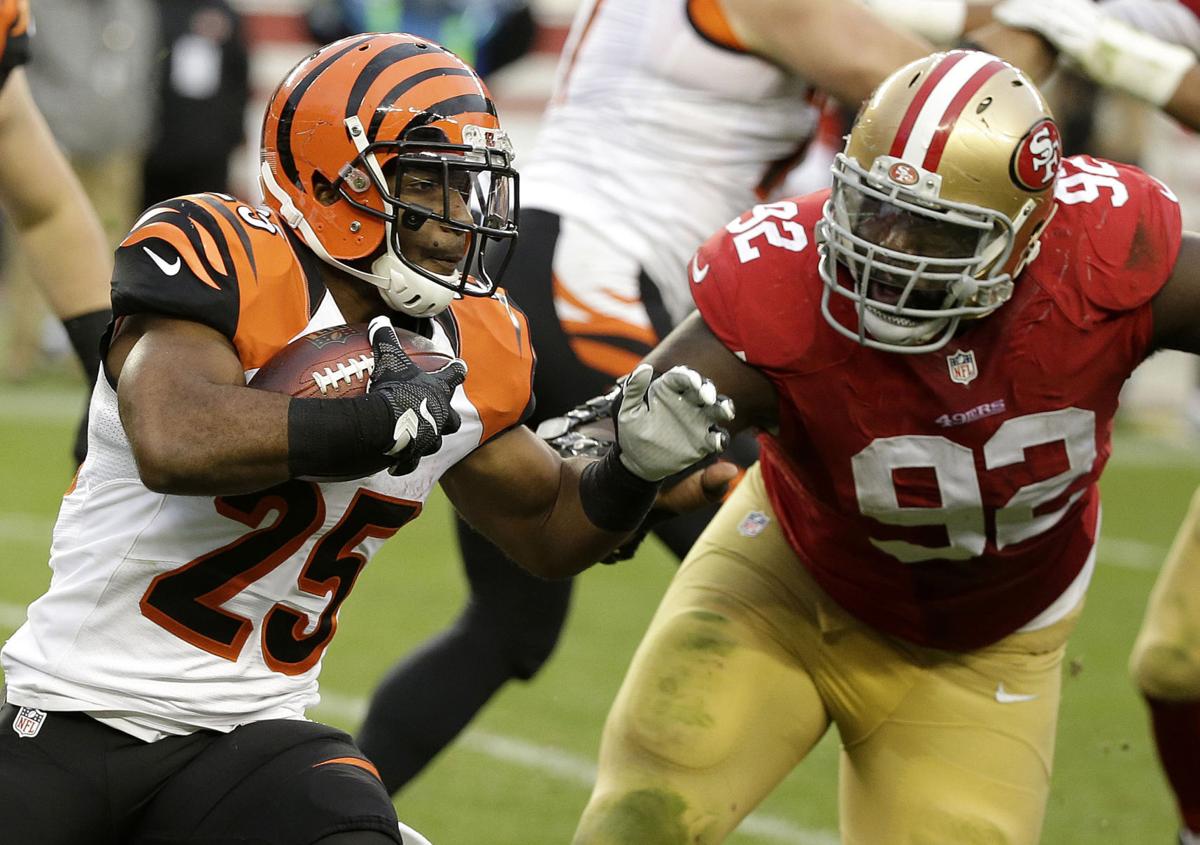 GREEN BAY — The times, they are a-changin'. And so is the Green Bay Packers roster.
The team formerly known for its draft-and-develop philosophy — or rigid ideology, if you prefer — signed its seventh veteran free agent of the year Tuesday, adding ex-San Francisco 49ers defensive lineman Quinton Dial.
The 6-foot-5, 318-pound Dial has played in 46 career games, including 32 starts. He entered the league as a fifth-round pick out of Alabama in 2013 — he was college teammates with Packers Pro Bowl safety Ha Ha Clinton-Dix — and takes the roster spot of Christian Ringo, a young defensive tackle who was released.
Dial, 27, joins former 49ers teammate Ahmad Brooks, who officially signed earlier this week; guard Jahri Evans; tight ends Martellus Bennett and Lance Kendricks; cornerback Davon House; and defensive tackle Ricky Jean Francois as veterans who have been signed after playing with another NFL team last season.
Dial also became the third defensive player to join the Packers in three days, joining Brooks and outside linebacker Chris Odom, who was claimed on waivers from the Atlanta Falcons on Sunday.
Like Brooks, who was deemed expendable by new San Francisco coach Kyle Shanahan and general manager John Lynch, the 49ers' regime change and shift from a 3-4 defense to a 4-3 likely played a role in his exit. The 49ers have remade their defensive front, and Dial was among the team's cuts on Saturday. Dial played most of his snaps at nose tackle last year.
The approach of adding players from outside organizations is a departure for GM Ted Thompson and the Packers, who have long preferred to develop their own draft picks and undrafted free agents. Not since 2006, when the Packers added cornerback Charles Woodson, nose tackle Ryan Pickett, safety Marquand Manuel, linebacker Ben Taylor, wide receiver Marc Boerigter and kicker Billy Cundiff in Mike McCarthy's first year as head coach have the Packers signed so many guys from other teams.
"Well, I mean, you say 'so many guys'. Compared to prior years, maybe," McCarthy said earlier this week, before Dial's addition. "But I still don't think we have so many guys that played elsewhere that, you know, really it's going to change the landscape of our locker room.
"The transition is important to get guys acclimated and I feel good about it. I don't know 'em very well. I haven't really worked with them. So, we'll see how it goes. But they're obviously here for a reason and I'm glad they're here."
Dial joins a defensive line group led by veteran Mike Daniels and 2016 first-round pick Kenny Clark. Dean Lowry (knee), a 2016 fourth-round pick who had a strong training campbefore missing time, should be ready for Sunday's regular-season opener against Seattle, and Francois, who came over from the Washington Redskins in March, will be part of the rotation as well.
The Packers also kept rookie third-round pick Montravius Adams on the 53-man, a mild surprise given the foot injury he suffered on July 28. It's noteworthy that the team decided to cut Ringo, a 2015 sixth-round pick who spent his rookie season on the practice squad before seeing action in eight games last year, instead of putting Adams on injured reserve to create a roster spot.
Adams, who underwent surgery on the foot shortly after his injury and has yet to take part in a practice in pads in the NFL, practiced in part on Monday but likely won't play against the Seahawks.
As for the Packers' free agent approach, Thompson doesn't make himself regularly available to reporters after the final week of preseason, and he once again failed to hold a news briefing after final cuts. But earlier this offseason, he acknowledged that some roster moves date back to how much he and his scouting staff liked a player as a college prospect. With Dial, for instance, he went at No. 157 overall in the 2013 draft, two picks before the Packers took Iowa safety Micah Hyde.
"I hope so. I mean, you kind of try to do a self-evaluation as you g through life, your work, my work, whatever it is. You try to be the best and do the best that you can," Thompson replied earlier in camp when asked if he'd freshened up his roster-building approach. "I would hope that I do some self-evaluation and improve over time. And certainly that would be a good thing to do."