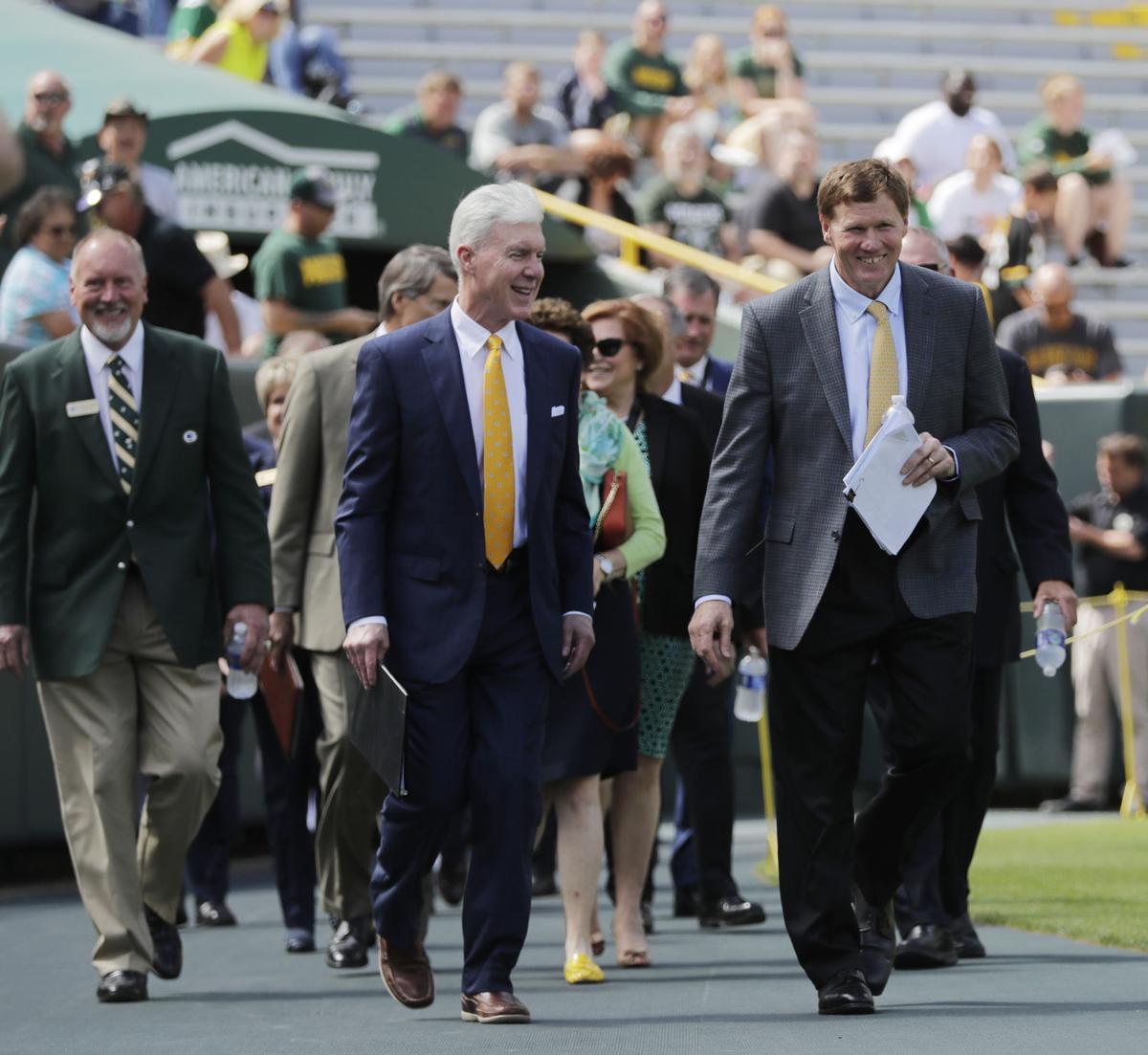 GREEN BAY — It's a new year and a new day at 1265 Lombardi Avenue. Less than 24 hours after their first playoff-less season in nine years came to an end, the Green Bay Packers set about remaking their operation on Monday — in a huge way.
Multiple NFL sources confirmed that the team will have a new general manager and a new defensive coordinator in 2018, as veteran GM Ted Thompson will transition into another role within the organization after 13 years running the team's football operations, and defensive coordinator Dom Capers was fired after nine seasons in charge on that side of the ball.
The Packers also dismissed two longtime defensive assistant coaches — defensive line coach Mike Trgovac and assistant linebackers coach Scott McCurley — and more changes on the coaching staff could be on the way.
The seismic change, however, came in the front office, where Thompson has agreed to move into a different position after directing a regime that saw him draft one likely Pro Football Hall of Fame quarterback (selecting Aaron Rodgers in the first round of the 2005 NFL Draft) and move on from another (trading Brett Favre to the New York Jets in August, 2008) while building a Super Bowl champion (the 2010 team that won Super Bowl XLV) and reached the playoffs every year from 2009 through 2016.
It's unclear what the conversation was like between Thompson and team president/CEO Mark Murphy, or how much of Thompson's decision to step aside was of his own volition. A Texas native, Thompson has spoken in the past of someday wanting to retire and get back to true scouting, perhaps serving as an area scout for an NFL team's college scouting department.
But Thompson, who rarely speaks with reporters during the season, had given no public indication — dating back to his weekly training-camp press conferences — that he was contemplating giving up the GM job. Thompson is set to turn 65 on Jan. 17 and has at least one year remaining on his contract, having signed an extension several years ago that was to carry him through the 2019 NFL Draft.
When asked last July about his relationship with Thompson and his expectations for him being the GM going forward, Murphy replied, "Ted and I, we have a great relationship. As long as he wants to continue to work, and he's still doing a good job — and I think he still does a great job for us — we want him to continue to be our general manager. At a point he decides he doesn't want to do it anymore for whatever reason, then we would do a search." 
The Packers have four clear-cut in-house candidates in director of football operations Eliot Wolf, director of player personnel Brian Gutekunst, vice president of football administration Russ Ball, and senior personnel executive Alonzo Highsmith.
If Murphy wants someone with previous NFL experience as a general manager, he could pursue Seattle Seahawks GM John Schneider or Oakland Raiders GM Reggie McKenzie, both of whom spent much of their NFL careers in the Packers' front office.
Schneider, a De Pere native, built the Seahawks into a Super Bowl-winning team after taking over as GM in 2010. Although his contract, which runs through 2021 after an extension, no longer contains a specific out clause for him to return to the Packers, the Packers could still hire Schneider, although they'd almost certainly have to compensate the Seahawks to do so.
It's unclear what McKenzie's contract might contain in terms of a return to Green Bay, but the Raiders are set to move to Las Vegas in 2019 or 2020. And after firing coach Jack Del Rio on Sunday, the Raiders are reportedly poised to hire Jon Gruden as their next coach — which might lead McKenzie to seek his own exit from the organization.
Another former Packers personnel executive, John Dorsey, might have been a candidate as well, but he was hired as the Cleveland Browns GM last month. Schneider, McKenzie and Dorsey all got their NFL scouting starts under Pro Football Hall of Famer Ron Wolf, the Packers' general manager from 1991 through 2001 and Eliot's father.
You have free articles remaining.
While ESPN reported that Eliot Wolf, Gutekunst and Ball could all remain with different titles, two NFL sources insisted that the team will conduct a search for a new GM and that there will be a clear-cut general manager overseeing the football operation, just as then-team president/CEO Bob Harlan did when he hired Ron Wolf in November 1991.
The news of Thompson's shift to a different role in the organization came roughly four hours after news broke that Capers was no longer the team's defensive coordinator. Capers was fired by head coach Mike McCarthy following Sunday's season-ending 35-11 loss at Detroit, a league source confirmed.
Meanwhile, that NFL source said the departures of Trgovac and McCurley are likely not the last on defense. Assistant head coach/linebackers coach Winston Moss has been invited to interview for the vacant Detroit Lions head-coaching position, which came available when Beloit native Jim Caldwell was fired Monday. But even if Moss doesn't get the Lions' job, it's possible he won't return to Green Bay, the source said.
Two NFL sources said that although McCarthy was planning to consider some internal candidates to replace Capers — safeties coach Darren Perry and cornerbacks coach Joe Whitt are believed to be the two in-house candidates — the opening should attract plenty of outside applicants as well.
The Packers finished the 2017 season 26th in scoring defense (24.0) and 22nd in yards allowed (348.9). They were 17th against the run (112.1), 23rd against the pass (236.8), 28th in third-down defense (allowing a 42.8 percent conversion rate) and 31st in red-zone defense (allowing a 65.2 percent touchdown rate).
The last time the Packers missed the playoffs under McCarthy, significant staff changes followed. After that season, McCarthy fired third-year defensive coordinator Bob Sanders and most of the defensive staff, then hired Capers. The only holdovers from the previous staff were Moss, Whitt and McCurley, who was in an administrative role at the time.
The only other coordinator McCarthy has fired was special teams coordinator Shawn Slocum after the 2014 season. Special teams coordinator Mike Stock retired — although he may have been encouraged to do so — after the 2008 season.
Earlier this season, Capers gave no indication that he was planning to retire. So it's unclear whether, at age 67, he will pursue another coaching job. Capers' nine-season stay with the Packers was the longest of his 32-year NFL coaching career, which has included two head-coaching jobs with the expansion Carolina Panthers (1995-'98) and Houston Texans (2002-'05).
"If I ever feel like I can't come in and give as much as I've got and do the kind of job that you want to do," Capers said at the time, "then I won't do it anymore."
In his nine seasons in Green Bay, the Packers had a top-10 defense only twice — in his first two seasons of 2009 and 2010. After that, the Packers finished in the lower half of the 32-team league in scoring defense and total yards allowed four times in the next seven years, although the 2014 defense was among the league's best during the second half of that season, which ended with the Packers melting down at Seattle with a Super Bowl berth there for the taking.
At day's end, though, it was the major shift in the front office that signaled a significant change atop the Packers' organization. At the start of training camp, Thompson had evaded questions of whether he might be heading into his final season.
As it turned out, it was.
"I think sometimes as you get older and having played — not that playing football is harmful to you — there are a few places where I limp a little more than I used to and that sort of thing, but otherwise I feel good," Thompson said on July 31. Asked how long he planned to stay on as GM, Thompson replied, "I don't know. We'll see. Stay tuned. ... I'm just going along Humpty Doo."