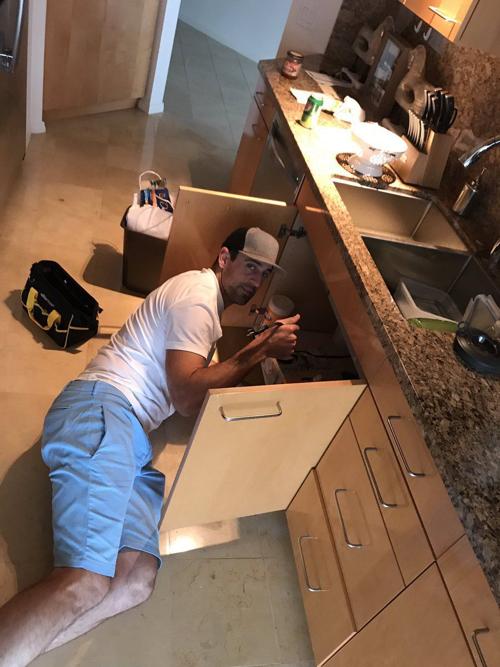 GREEN BAY — Sam Dekker couldn't argue. When Aaron Rodgers — his friend, college football-watching buddy and amateur plumber — called him an "idiot" on Saturday afternoon from beneath his kitchen sink, well, Dekker had to agree with the two-time NFL MVP.
The two were hanging out in Dekker's new home in Los Angeles — the former University of Wisconsin basketball star was traded from the Houston Rockets to the Los Angeles Clippers during the offseason — when Dekker headed to the kitchen to make lunch. When his sink backed up, he summoned Rodgers to figure out what was amiss.
Little did anyone know when Dekker shared on Twitter a photo of the Green Bay Packers star quarterback on his kitchen floor, and as the picture went viral over the weekend, how simple the fix was.
"All it was was, he went under there and somehow my disposal unplugged," Dekker said this week. "So that was literally the only fix needed."
Rodgers, speaking to reporters Wednesday in advance of Sunday's regular-season opener against the Seattle Seahawks, gleefully went into greater detail about the affair, which happened while Rodgers and the other Packers veterans had the weekend off following the preseason finale.
"I've actually fixed my own garbage disposal before. There's incredible tutorials on YouTube," Rodgers said. "So I did that at one point. Fixed it.
"Sam, he just got traded to L.A., I was hanging out with him Saturday. He was having some sink issues, asked for my help. He's 23 years old. I know he's engaged and taking the next step to being an adult, but he's not quite there yet. So I went under the sink.
"What the tutorial told me was to test the switch first, (and then) what kind of rumble you hear or lack of rumble tells you what's going on with the garbage disposal. So, I flipped the switch and nothing happened. (That) means two things: One, it's completely broken and it needs to be changed out, or two, it's not plugged in."
You have free articles remaining.
"It wasn't plugged in," Rodgers said with a laugh. "So, that's the picture of me holding the plug as I call him from the other room, and said, 'Hey, idiot, it wasn't plugged in.'
Bulaga back to work
One day after he suffered his right ankle injury in practice, Bryan Bulaga said he expected to be ready for the regular-season opener. On Wednesday, he took a significant step in that direction by taking part in all the drill work during the portion of practice open to reporters.
Bulaga, who sustained the ankle injury in practice on Aug. 23, was officially listed as a limited participant in practice, so it's unclear how much of the 11-on-11 work he got after reporters were ushered out of the Don Hutson Center.
Outside linebackers Clay Matthews (groin) and outside linebacker Nick Perry (ankle) both practiced in full, while cornerback Davon House (hamstring), cornerback Kevin King (groin) and defensive tackle Montravius Adams (foot) were all limited.
The only player on the 53-man roster who didn't take part Wednesday was newly signed defensive lineman Quinton Dial, who had not yet arrived in Green Bay when practice began.
Backup offensive lineman Don Barclay (ankle), who is on injured reserve, was seen working out on an elliptical machine.
High praise for Watt
Dekker wasn't the only former UW star Rodgers talked about Wednesday. He also had high praise for Houston Texans defensive end J.J. Watt, who has raised more than $27 million for Hurricane Harvey relief efforts in Houston and was extremely hands-on in the distribution of supplies in the immediate aftermath of the flooding there.
"I've been really impressed watching what J.J.'s done in Houston," Rodgers said.
"He started out trying to raise a couple hundred thousand and now they're at $20-plus million. It just goes to show you when people come together with a common cause, you can do some pretty amazing things."