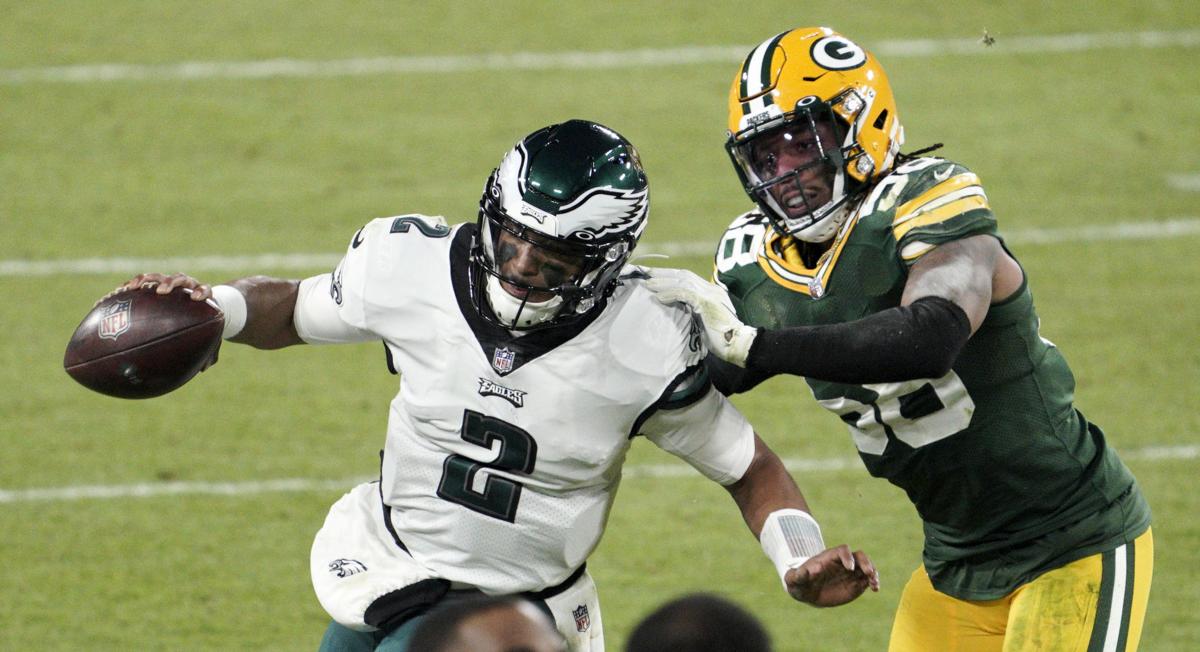 GREEN BAY — Za'Darius Smith felt something needed to be said.
So the Green Bay Packers defensive captain, along with fellow outside linebacker Preston Smith and nose tackle Kenny Clark, went to Packers defensive coordinator Mike Pettine last week with a request, and a promise: Simplify the pass-rush approach, and we'll deliver.
"We told him, 'If we can keep it simple, man, we will get after the quarterback.' And he did that for us, and as you can see, we had a field day," Za'Darius Smith said after the Packers recorded seven sacks of Philadelphia Eagles quarterbacks in their 30-16 victory Sunday at Lambeau Field. "Anytime you go upstairs and go knock on our coach's door in his office … it changed a lot. We're just glad Coach listened to his players.
"I think everybody was getting a little frustrated. Nobody up front was having the type of year that they want, so we were going to communicate with him. … We're just glad we got the opportunity to do that."
How much of the pass-rush success was that meeting and how much of it was that the Packers were going against an offensive line in disarray and a quarterback who'd been sacked more than anyone else is hard to say. The Eagles were starting their 11th different offensive line combination in 12 games this season, while starting quarterback Carson Wentz's four sacks Sunday gave him a whopping 50 on the year. Rookie backup Jalen Hurts, who came on in the third quarter, absorbed three more sacks.
Asked whether he was OK with the players approaching Pettine about changing his plans defensively, head coach Matt LaFleur said he liked the communication but emphasized that the coaches have their reasons for doing things the way they do.
"I think you have to understand too that there's a lot of hours that we put in as coaches in studying the tape each and every week," LaFleur said. "Certainly, the more you can get everybody on the same page, the better off we're going to be. I'm not saying I'm always receptive to guys sharing their opinion. I always tell them that we'll always listen, but I can't guarantee we're always going to do exactly what you guys want to do.
"But I definitely think that there is an openness there, and that we have to be willing to listen."
Laying it on the line
For a guy who had thrown the 400th touchdown pass of his career, Aaron Rodgers was full of a lot of self-loathing Sunday evening.
With good reason. The Packers quarterback has been raving about how well his offensive line has played this season, and he did his guys no favors by hanging a sack on their stat sheet after he failed to gain a yard on his second-quarter scramble. Because statistically a zero-yard play, it was technical a sack — credited to ex-University of Wisconsin linebacker T.J. Edwards.
That sack, coupled with the one the line allowed on the opening possession, gave the Eagles two on the day, marking only the second time this season that Rodgers was sacked twice or more. He'd been sacked four times by Tampa Bay on Oct. 18, but in the other 10 games this season, opponents had finished with zero or only one sack. Even with the two sacks Sunday, Rodgers still has been sacked only 13 times entering the final four weeks of the season.
"What kills me when it comes to sacks is the 'Elvis Sack,' and I had one today," Rodgers said, explaining that the name comes from ex-Kansas City Chiefs quarterback Elvis Grbac, who apparently had a penchant for running out of bounds and into statistical sacks when ex-Packers quarterbacks coach Tom Clements was on the Chiefs' staff. "You get a carry for zero yards and they put it down as a sack. I'm kicking myself because I should have just thrown the damn ball away. So it was really a one-sack game and just a stupid play by me there to not be able to get a yard."
Even with Rodgers' gaffe, the Packers line still had terrific day. With center Corey Linsley on injured reserve with a knee injury, LaFleur moved usual left guard Elgton Jenkins to center, moved right guard Lucas Patrick to left guard, moved right tackle Billy Turner to right guard, and started ex-UW tackle Rick Wagner at right tackle. Only left tackle David Bakhtiari was at his normal spot.
LaFleur opted for that lineup instead of starting Jenkins at center and rookie Jon Runyan at left guard while leaving the rest of the line intact.
"It's never sexy being an offensive lineman, but we would not be able to produce the yards, the points, get a win without the efforts of those guys. Because it always starts up front," LaFleur said. "Those guys did a damn good job."
Said Rodgers: "The line did a really nice job. I'm proud of Elgton in his first game starting at center, did a great job. Obviously Dave is a rock over there. Lucas moving positions and then I think I called Jon Mr. Reliable last week, Mr. Reliable this week was Rick Wagner. Very night job at right tackle."
Not so special
Jalen Reagor's 73-yard touchdown on a punt return marked the second such touchdown allowed by the punt team, marking the first time since the 1964 season that Green Bay has given up two touchdowns on punt returns in a single season. LaFleur acknowledged the mistake on punter JK Scott's 52-yarder was troubling.
"We can't have that happen," LaFleur said. "I don't think that was JK's (Scott) best punt by any stretch. He knows we've got to be more consistent in that regard. But also, just the coverage. You can't have that happen. Reagor is a talented returner. I know he's a rookie, but he's a guy that we definitely had a high regard for throughout the evaluation process when we were going through it in the draft prep.
"You just can't have that happen. We've just got to get better. We've got to make sure we've got the right people in there to go down and make a play. Because that can't happen. That can get you beat."
Health watch
The Packers lost a host of players to injury during the game, including tight end Jace Sternberger (concussion), wide receiver Equanimeous St. Brown (concussion), safety Raven Greene (shoulder), defensive end Billy Winn (triceps) and returner/running back Tyler Ervin (ankle).
Ervin was just returning from broken ribs, and he'd already missed time with a concussion and with a wrist injury. If he can't go next Sunday in Detroit, recently added wide receiver Tavon Austin, who was inactive Sunday, will likely take on his role.
"We're going to have to have some guys step up," LaFleur said. "It was a physical football game. We lost a few guys tonight."
---
Photos: Aaron Rodgers reaches career milestone as Packers down Eagles