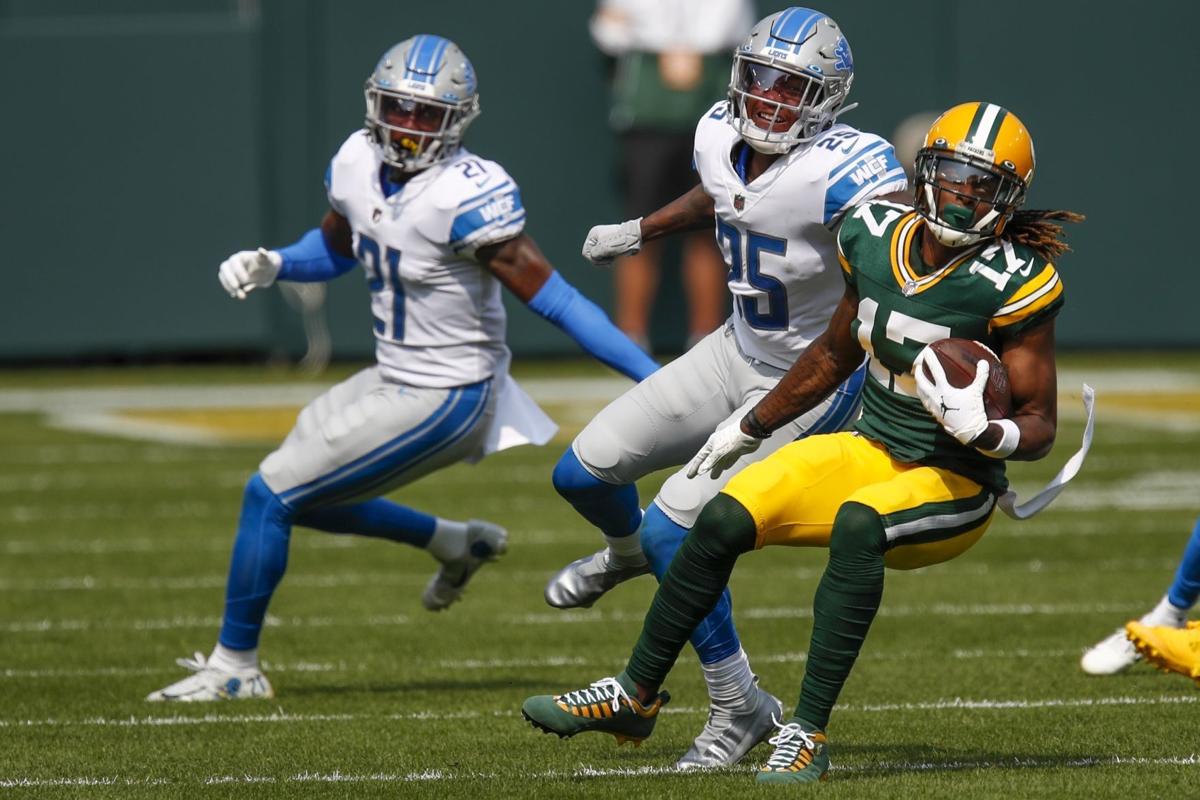 GREEN BAY — There was a valuable lesson Davante Adams took from watching the Green Bay Packers go 4-0 without him while he battled a painful toe injury last season.
"Yeah, man," the three-time Pro Bowl wide receiver said Wednesday. "They don't need me. They don't need me. That's what it boils down to."
"We need Davante. We always need Davante," quarterback Aaron Rodgers countered. "He's so damn talented."
Adams, of course, was joking. The lesson he actually learned — one that might prove valuable this week, with his status in doubt for Sunday night's showdown between the Packers (2-0) and New Orleans Saints (1-1) at the Mercedes-Benz Louisiana Superdome because of a hamstring injury — was that no matter how badly he wants to play, sometimes it's smarter to take a seat and trust your guys to pick up the slack for you.
That's certainly what Adams did during last Sunday's 42-21 win over the Detroit Lions, departing during the third quarter because of the hamstring but wisely staying on the sideline — with some urging from coach Matt LaFleur and the team's medical staff — as the Packers pulled away.
"It probably wouldn't have been too smart (to play through it). I think we made the right decision," said Adams, who caught 14 passes for 156 yards and two touchdowns in the Packers' season-opening win at Minnesota but had only three receptions for 36 yards against the Lions before departing. "We all came to the conclusion that would be best, but just the gamer in me just always wants to get out there and try to fight through anything — for my team, for myself. I don't ever want to take any time off."
Adams' toe injury, which came during a Week 4 loss to the Philadelphia Eagles in which he'd caught 10 passes for 180 yards at the time of the injury, forced him to take four games off last season. During those four games, the Packers remarkably averaged 409.3 yards of offense and 32.5 points per game in victories over the Dallas Cowboys, Lions, Oakland Raiders and Kansas City Chiefs.
In those games, the Packers got meaningful contributions from Aaron Jones, Jamaal Williams, Allen Lazard, Marquez Valdes-Scantling, Jake Kumerow, Robert Tonyan and Marcedes Lewis, who all made crucial plays. Several of those players, as well as versatile running back Tyler Ervin and rookie tight end Josiah Deguara, would need to step up this time around.
"I think what we learned (from those games) was maybe just how damn talented he is. He's a game-changer. And he changes the way defenses play," Rodgers said. "In the time that he was out, we saw some different types of defenses based on their respect — or maybe lack of respect — of the other guys we had on the squad. I think what it allowed us to do was see what we had with those other guys.
"If Tae can't go, obviously we need Allen and Marquez to do what they've been doing so far this season, and get more opportunities for sure. But Bobby, 'Big Dog,' Deguara hopefully coming back, 'Swerve' — we're going to need some more production in the passing game from those guys."
Adams did not practice Wednesday, and whether he suits up all this week remains to be seen.
"It's feeling better. I think we're making good progress every day. But we're just going to wait it out and see," Adams said. "It'll probably be a decision that's made later in the week, just to get a full assessment, give me the full amount of time I need to get right, to a real comfortable spot. Obviously, I don't think we're there just yet, but we're making great strides on the way there."
Both Adams and Rodgers expressed confidence that, while they would prefer Adams to practice, they could get by without any.
"I don't think it's problematic at all. If he doesn't practice, I would feel completely comfortable if he wakes up Sunday morning and says, 'I'm going to play,'" Rodgers said. "I think we all feel great about it. He's in the meetings, so the mental part is not anything you worry about. It's physically, is he going to be ready to go and feel good and confident? But if he does by Sunday, shoot, I want him out there and I don't care if he practices at all."
For his part, Adams said he won't take any unnecessary risk despite wanting to play. Instead, unlike 2015, when he played through an ankle injury he later admitted was more debilitating than he let on, he will sit if it's the right call — and let his guys do the rest.
"It shows how mentally tough they are and how they're able to just adjust on the fly and make things happen based off of unfortunate circumstances (for me) that can turn into a fortunate circumstance for guys who are going to get more opportunities," Adams said. "Having that adversity, me being able to experience that along with them, it's a little bit test of character.
"Last year just showed that we have the right type of guys on our team all around. … Just that mentality shows that we're a really tough squad."
Extra points
Like Adams, nose tackle Kenny Clark (groin) did not practice. Clark was injured in the opener at Minnesota and didn't play against Detroit. … Center Corey Linsley, who left the Lions game with a thumb injury, took part in practice, as did Deguara, who didn't play against Detroit because of shin and ankle injuries suffered against the Vikings. … Offensive lineman Billy Turner, who hasn't played in the first two games because of an Aug. 30 knee injury, practiced in full. LaFleur wouldn't say if he would start at right guard and Rick Wagner would start at right tackle against the Saints. … The Packers added tight end Nakia Griffin-Stewart to the practice squad. An undrafted rookie from the University of Pittsburgh, he spent training camp with the Vikings.