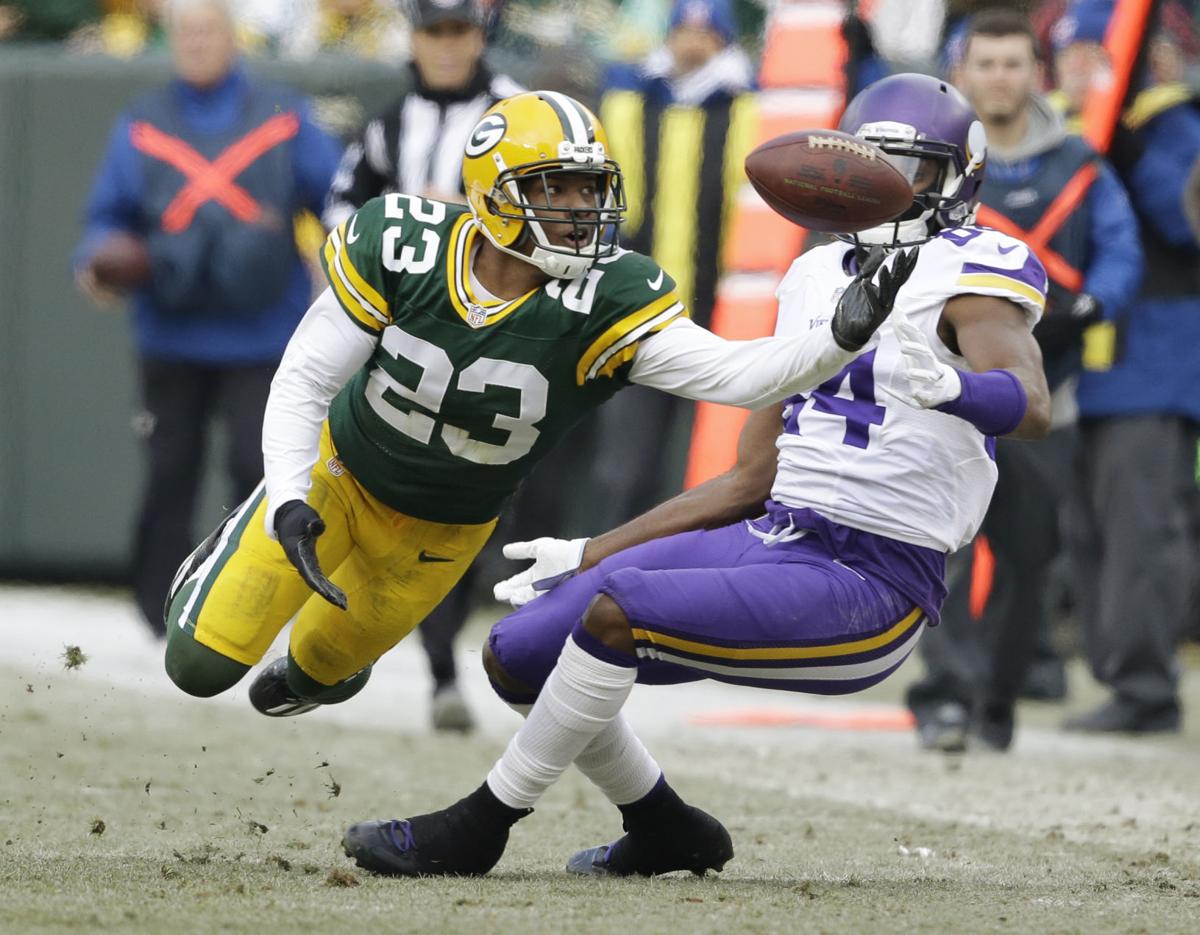 GREEN BAY — Joe Whitt did not want to say much of anything about Damarious Randall on Thursday evening.
Whitt, the Green Bay Packers thoughtful, straight-shooting and eloquent cornerbacks coach, has held forth on many topics during his nine years in his current job. Rarely has he held back when speaking with reporters.
But a week after Randall pouted on the bench during the third quarter after being yanked from the win over the Chicago Bears — and was subsequently sent to the locker room by coach Mike McCarthy — Whitt clearly wanted to talk about anything but the incident involving the third-year cornerback.
"We're moving forward," Whitt said multiple times. "This is family business, and we've taken care of it. We've moved forward, and that's where we are."
But maybe Whitt didn't have to say anything at all Thursday. Maybe he said everything he needed to say three weeks earlier, when he spoke at length about another third-year cornerback: LaDarius Gunter, a former undrafted rookie free agent who served as the team's No. 1 cornerback last year — ahead of Randall — and had just been released days earlier. Calling it "hard" to tell Gunter he'd been let go, Whitt compared the approach he takes as a father to young athletes with the approach Gunter took during his two-plus seasons in Green Bay.
"I look at it like I tell my kids when they're playing sports," Whitt said. "The No. 1 thing I tell them is I want them to be is a good teammate. And that's what (Gunter) was first. He was a great teammate to everyone in there. The No. 2 thing is I want you to work hard. Well, he worked extremely hard. The No. 3 thing is I want you to be coachable. He did everything I asked him to do, OK?
"Now, I tell my kids the No. 4 thing is I don't want you to pout. When I put him in those hard situations, he never complained, he just went and did it where some guys do complain and pout. And the last thing I tell my kids is to have fun. And he brought great energy to that locker room.
"He's going to be a player that is going to play a long time in the league. He's just a good young man, and I was proud to be able to work with him the time that I did."
Reminded of those remarks on Thursday, Whitt said it was "not necessarily" fair to suggest Randall wouldn't have been sent to the locker room had he been espousing those qualities Whitt had outlined when discussing Gunter. Whitt also said he felt Randall was playing well before the touchdown that appeared to play a role in his benching.
Randall is expected to play Sunday against Dallas. Whatever punishment he received remains an "internal matter," as McCarthy called it initially and Randall said repeatedly on Wednesday.
"He's a young player," defensive coordinator Dom Capers said of Randall. "Young players are going to make mistakes and learn from them. So we felt that Damarious has done that, and we're moving forward. That's the way you grow, is you learn from things and so then you put it behind you and you use it to move forward in terms of going out and getting the job done."
It appears Randall will be part of the defensive rotation against the Cowboys, although Whitt said he liked what he saw from second-year corner Josh Hawkins, who took Randall's spot against the Bears.
Veteran linebacker Clay Matthews said Randall addressed the defensive players earlier in the week and told them that "he'll put this behind him."
"He said (in the meeting) just moving forward he'll act more like a pro and be more accountable. I think that's all you can ask for," Matthews said. "We're all growing in this thing, we're all teammates. We all have the utmost confidence and faith in one another, and we need to. The fact that he was able to get up and let us know that he was wrong and he's going to make it right, I think, hopefully, that's what we need from him. Ultimately, his name is going to be called again, and we're going to expect him to make plays against great receivers moving forward."
From the infirmary
Offensive tackles Bryan Bulaga (ankle) and David Bakhtiari (hamstring), who've yet to play a single snap together this season, were in pads and took part in practice on a limited basis. But because reporters aren't allowed to stay for 11-on-11 periods, it's unclear how much each did in team drills.
That goes for running back Ty Montgomery (ribs), defensive tackle Mike Daniels (hip) and wide receiver Davante Adams (concussion), too, as all were also listed as having been limited. Cornerback Davon House (quadriceps) and linebacker Nick Perry (hand) practiced in full and appear good to go.
"Those guys putting themselves in position to get healthy," offensive coordinator Edgar Bennett replied when asked about Bulaga, who reinjured his ankle in the only game he's played (Sept. 24 against Cincinnati) and Bakhtiari, who hasn't played since doing the splits late in the Sept. 10 opener against Seattle. "But the guys that have stepped out onto the field, they have done a good job and have been improving day by day. And that's where the focus is at right now."
Cowboys Quarterback Dak Prescott talks about year two of his career and previews the Week 5 game between the Cowboys and the Packers.