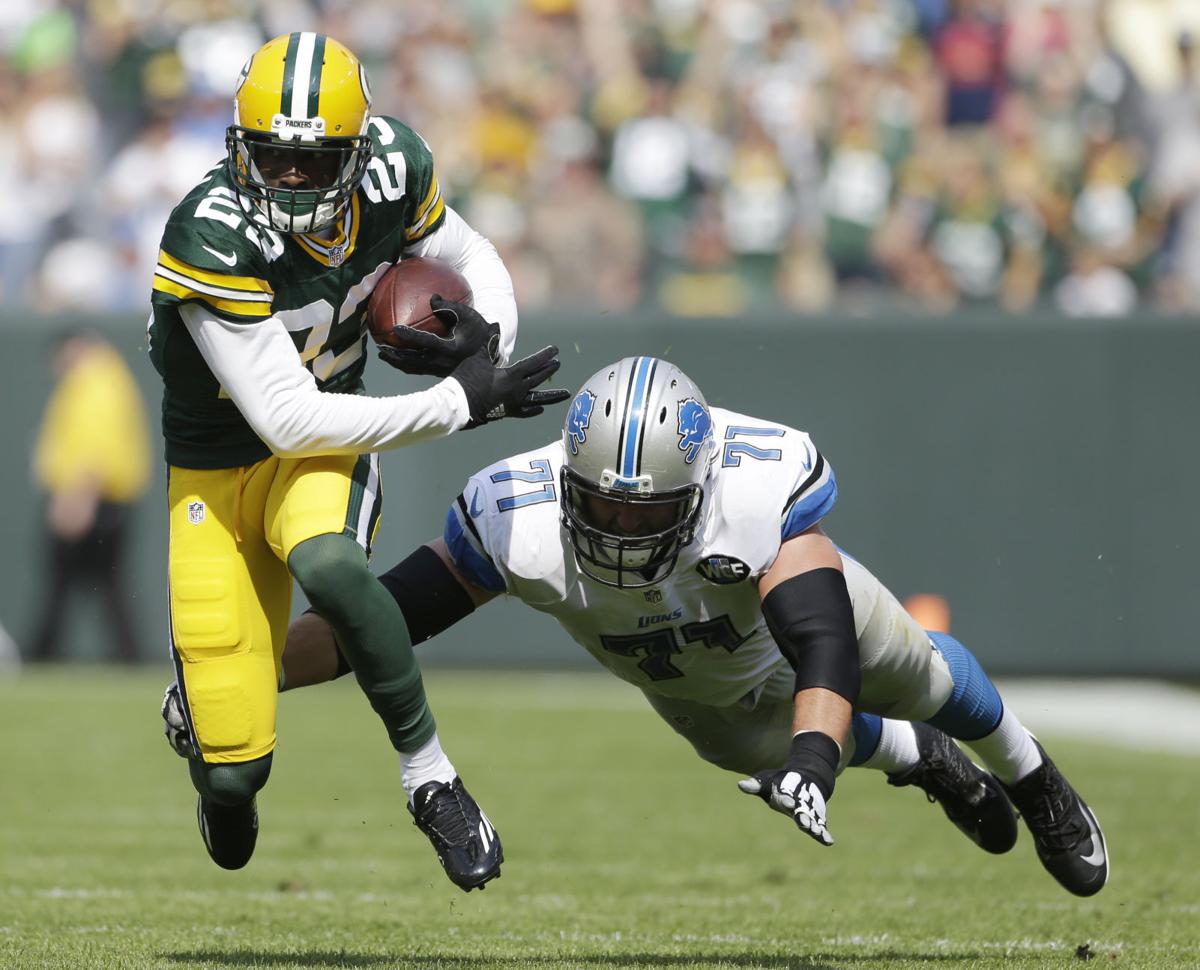 GREEN BAY — When he looks at the film, Damarious Randall sees a couple of uncharacteristic mistakes that led to uneven performances the past two weeks. When the Green Bay Packers second-year cornerback looks in the mirror, he sees the same, self-assured kid who won't let a couple of inconsistent showings put a dent in his confidence.
And when he looks at the New York Giants' receiving corps — first during ESPN's "Monday Night Football" broadcast, then on film Tuesday — he sees a wonderful opportunity to play like he knows he can against one of the top pass-catching groups in the NFL.
Put it all together and you get a player who expects to make more big plays — like the fourth-down stop he was part of at the end of the team's season-opening win at Jacksonville, like the rip-it-away interception he made in the Packers' pre-bye victory over Detroit — and allow fewer of them.
"I see a guy that was a little bit off his technique, a guy that was a little banged up. But, you know, that's part of the NFL and that's part of being great and that's part of me wanting to be great," Randall said Monday after mentioning he'd spent much of his bye week doing "self-evaluations" in the wake of back-to-back up-and-down performances. "I see a guy that's going to bounce back, because I know myself.
"I'm just looking forward to the challenge this Sunday — a Sunday night, prime-time game against the Giants. They have a great, great receiver corps and a great quarterback. I'm looking forward to it. In this league, you're only as good as your last game. Everything that's in the past is in the past. Each and every week, I'm going to put each week behind me and keep on focusing on how I can get better."
The 2015 first-round pick certainly hasn't allowed self-doubt to creep in, despite being primarily responsible for Vikings wide receiver Stefon Diggs' big game (nine receptions, 182 yards, one touchdown) in the Packers' prime-time loss at Minnesota Sept. 18, and despite being one of several players who were at fault during Lions wide receiver Marvin Jones' big day (six receptions, 205 yards, two touchdowns). While Randall also made some plays in both those games, his mistakes have drawn more attention.
You have free articles remaining.
"That's life for a cornerback in the NFL," defensive coordinator Dom Capers said. "(Staying confident) is what you have to do.
"You have to have that kind of temperament, that kind of attitude. You're not going to make every play. They're going to get some plays in there on you as a corner, especially. You've got to find a way to come back and make your plays."
The Packers will especially need Randall to do so on Sunday night, as they're expected to be without No. 1 cornerback Sam Shields for a third consecutive game. Shields, sidelined since sustaining the fourth concussion of his NFL career in the opener at Jacksonville, plans to return this season but likely won't be cleared to face the Giants, whose star receiver, Odell Beckham Jr., is looking for his first touchdown catch of the season and will be motivated to bounce back after a career-low 23 yards on three catches in Monday night's loss to the Vikings. In four games, Beckham has 22 receptions for 303 yards.
Giants quarterback Eli Manning also has veteran Victor Cruz (16 receptions, 245 yards, one touchdown) and rookie Sterling Shepard (20 receptions, 263 yards, two touchdowns) at his disposal, so the entire secondary will be challenged.
"That's a three-headed monster. I've been watching them play, and they're great," Randall said. "Shepard is a rookie but he doesn't play like a rookie, Cruz is a crafty veteran and everybody knows about 'OBJ.' "
After limiting Jacksonville's Alan Robinson in the opener, Randall injured his thumb against the Vikings and then was sick against the Lions, though he still took responsibility for his performances and didn't blame the injury or illness for not being up to par.
"I know we've been struggling — me in particular has been struggling. The great thing about that, I'm not struggling because of the receivers. I'm struggling because of myself," Randall said. "I know I'm going to bounce back. That's really the best part about the bye week — to know that it's me. If it was the other way around, then I'd be in trouble. If I was doing everything perfectly great and was still getting passes caught on me, that's when I'd be worried and probably thinking my name might be coming down here soon.
"Maybe I've just got to focus more. Maybe I've just got to put in more work in the film room. … One week I have a great week against a Pro Bowl receiver and then the next week I didn't have a great game against the Vikings or a very great game against the Lions. That just goes to show that every receiver at any given time can catch a pass on you and any receiver can make plays. We're in a passing league, and that's why corners get paid a lot of money.
"People are going to talk. So I'm just going to let them talk. And just know that Damarious Randall isn't going anywhere."
Jason Wilde covers the Packers for ESPN Wisconsin. Listen to him with former Packers and Badgers
offensive
lineman Mark Tauscher weekdays from 9-11 on "Wilde & Tausch" on 100.5 FM ESPN Madison.